Princess Diana Is Having a Resurgence As a Fashion Muse
Photo: PHOTO BY JAYNE FINCHER/Getty Images
In her Archive line for Marks & Spencer, Alexa Chung models a pale-pink blouse that looks very similar to the Emanuel-designed style Princess Diana wore in her engagement photos, taken by Lord Snowden. And WAH Nails creator Sharmadean Reid, who once wrote a zine article titled "Princess Di was Really Fly," collaborated with ASOS on a line entirely inspired by her this fall, which included a sleeveless wrap dress and a pinstriped power suit.

At 33 and 32, respectively, Chung and Reid are barely old enough to remember Diana in her prime. But they're part of a cohort of younger designers who have been influenced by her. In the past year, designers as varied as Ryan Roche, MSGM's Massimo Giorgetti, and Cozette McCreery and Sid Bryan — the provocateurs behind the London label Sibling — have cited Princess Diana as an inspiration for their collections. And while they didn't specifically name-check her, Mulberry's Johnny Coca and Osman Yousefzada evoked her country and city dressing at LFW this week — Coca showing horsey looks in Prince of Wales check and hunting tweed, and Yousefzada with a dress that seemed like a 2017 update on her ruffled David Sassoon maternity gown.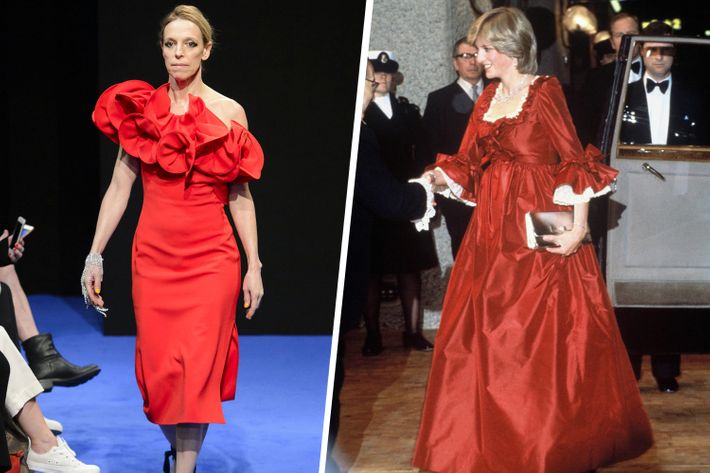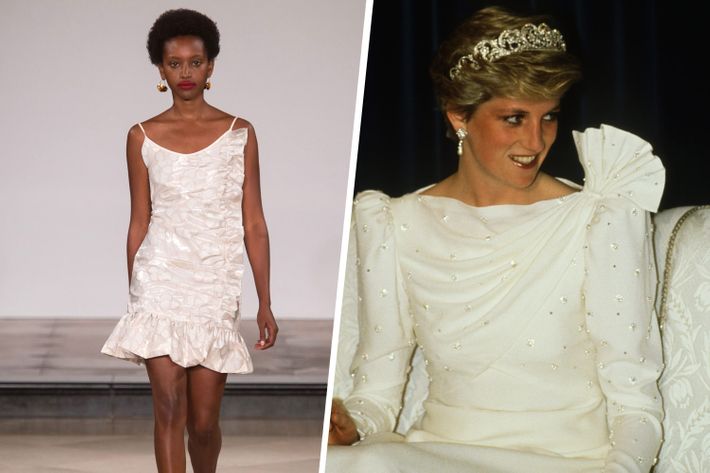 Just as her muse status among designers is cresting, Diana is the subject of an exhibit opening today at Kensington Palace titled "Diana: Her Fashion Story." The show includes some of her best-known looks, including that pink Emanuel blouse and the Atelier Versace dress she famously wore on the cover of Harper's BAZAAR in 1991, skintight and icy blue. There are also numerous looks by her favorite designer, Catherine Walker, including a Jackie Kennedy-esque pink suit and the so-called "Elvis" gown, named for its intricate embellishments worthy of the King.

Diana's appeal to London's young and avant-garde designers might be a bit less clear at first glance. But in a sea of seething neon rebellion, the Sloane Ranger look that Diana helped make globally recognizable almost feels like an appealing alternative to explore. (Not to mention that practically every British designer, from McQueen to Westwood, has had a go at tweaking classic English codes.) And don't forget that many of these designers came of age during the height of the Princess of Wales's fame — she left an enduring imprint on British fashion, but has a particular nostalgic appeal for those in their 30s. Perhaps we'll see even more of an impact next season, as the show, which features 25 pieces from her iconic wardrobe, will doubtless draw a new generation of admirers.

Click through the slideshow to see some of Princess Diana's wardrobe pieces now on display at Kensington Palace.