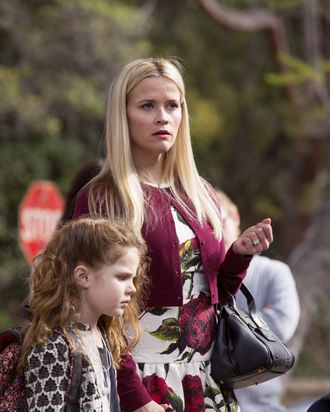 Photo: Hilary Bronwyn Gayle/Courtesy of HBO
Reese Witherspoon cemented her status as a type-A role model early on in her career, taking characters that might otherwise have been unlikable and imbuing them with self-possessed (if off-kilter) charisma. After playing high-school politico Tracy Flick in Election (1999) and bubbly law student Elle Woods in Legally Blonde (2001), Witherspoon would be forever associated with those relentless heroines, a beacon of inspiration to overachieving try-hards at all stages of the education system. Now, after many years spent avoiding similar typecasting, Witherspoon is finally stepping into the shoes of another high-strung go-getter: fiery stay-at-home mom Madeline McKenzie on HBO's Big Little Lies, who greets the petty dramas and internecine politics of the first grade with the grit and perseverance of a battlefield general.
From the beginning of the first episode, we learn that Madeline is the kind of woman whose thirst for petty drama knows no bounds: an athleisure-clad SUV warrior who isn't afraid to tell people what she thinks of them, no matter the consequences. "Things never blow over when Madeline gets involved — they blow up," we hear one of the townspeople say. Or as her husband puts it: "Agitation is her preferred state." Madeline is a queen of snarky put-downs and vengeful schemes, mistress of the Chardonnay-sipping side-eye and passive-aggressive hair flip — fiercely loyal and relentlessly petty in equal measure, unafraid to make a mountain out of a molehill if the molehill happens to be in her way at the carpool lane. "I love my grudges," Madeline declares at one point. "I tend to them like little pets."
Big Little Lies is a sumptuous murder mystery set in Monterey, California, a rich, progressive, largely white town where beautiful housewives nurse their broken marriages inside multi-million-dollar glass mansions. In the first episode, we learn that someone has been murdered at a school talent night, but for the rest of the season, we don't learn who was killed (although we do hear police testimony from various townspeople, weighing in on the drama like a judgmental Greek chorus). Instead, we spend time getting to know our likely suspects, all parents of first-graders at the local school: Madeline and her bearded, beta husband, Ed (Adam Scott); her beautiful, fragile best friend, Celeste (Nicole Kidman), and Celeste's aggressive husband, Perry (Alexander Skarsgård); her nemesis, the high-powered corporate type Renata Klein (Laura Dern); new arrival Jane (Shailene Woodley), a young single mother with a mysterious backstory; and Madeline's ex-husband, Nathan (James Tupper), and his new wife, Bonnie (Zoe Kravitz), a free-spirited yogi who seems to have been laboratory-engineered to push Madeline's buttons. As Madeline puts it, "She's so pretty and free-spirited and bohemian and all-loving that sometimes I want to …" "Punch her in the face?" Jane offers. Exactly.
While Madeline is clearly way too involved in other people's lives, there's something noble about how fully she commits to things — a sense of self-directed purposefulness that will resonate with anyone who has ever been told to slow down or chill out or let it go. (One can totally imagine Madeline hitting the yoga studio in a freshly screen-printed "Nevertheless, She Persisted" T-shirt.) In the premiere, Madeline befriends newcomer Jane, and instantly becomes her staunchest defender when Renata's daughter Ammabella accuses Jane's son Ziggy of bullying (which he denies). Watching Madeline go after Renata is like taking a crash course in Petty Mom Warfare: In an upcoming episode, she retaliates against Renata by bringing all the popular kids to see Frozen on Ice at the same time as Ammabella's birthday party, navigating classroom politics with the same raised-jaw determination of Tracy Flick hanging posters or Elle Woods marching to get a stolen bulldog back.
Over the course of the six episodes released to critics, all of the female leads prove themselves to be far more interesting and complex than they appear at first, from the smarmy Renata to the delicate, aloof Celeste. At times, the unpeeling of these layers can feel like a standard murder mystery convention: Appearances are deceiving! Nobody is what they seem! But what's especially refreshing about Madeline is that she's not mysterious at all. She's just human. As we get to know her, we learn what makes her tick: We see how her micromanaging parenting is rooted in a fear of loss and a deep sense of inadequacy, how her affection for Jane flows from her own difficult past, how her fierce loyalty and her pettiness go arm in arm, how her flaws and her best traits are inextricably bound up with one another. While the other women bury their darkness, Madeline wears hers on the surface like armor. Take it or leave it, what you see is what you get.
While Witherspoon has played all sorts of characters on-screen, it's pretty clear that there's a lot of Tracy/Elle/Madeline in her: She has been a major behind-the-scenes power player for years, producing her own projects first under her Type A Films banner ("Little Miss Type-A" was a childhood nickname) and then her production company Pacific Standard, which co-produced Big Little Lies.
She did this because she saw a lack of interesting female roles in the industry, and instead of waiting around for other people to fix that situation, she set out to create them herself. "I was warned that on the crazy chance Pacific Standard would acquire any good scripts, we would never make it past our first few years in business because there just wasn't a market for buying female-driven material," she said in a Glamour Woman of the Year speech in 2015. "But like Elle Woods, I do not like to be underestimated." As Willa Paskin writes in Slate, Madeline is such an impressive performance partly because it feels so authentic: as if Witherspoon is "donning her own personal Batman suit and playing gloriously to indomitable type."
As a culture, we don't particularly like ambitious, decisive women who wear their effort on their sleeves — the Madeline McKenzies or Elle Woods or Tracy Flicks (or, yes, the Hillary Clintons) of the world. We like cool girls who makes things look easy, like Bonnie, or enigmas like Celeste, because women are more tolerable when they are puzzles to be solved instead of the ones out there doing the solving. Which is why it feels so thrilling to see Witherspoon owning her type-A truth once again — taking an unlikable archetype and embodying it with grace, nuance, and humanity.