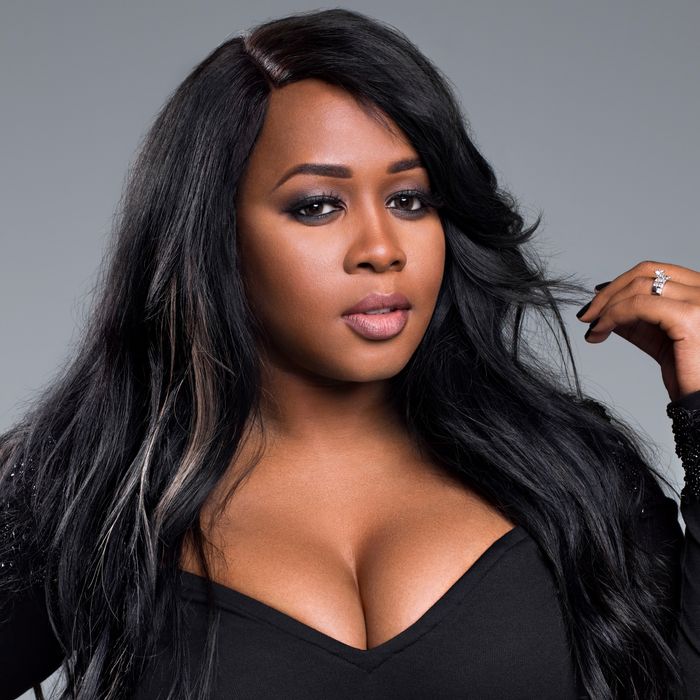 Remy Ma.
Photo: Piotr Sikora for VH1
At the end of last month Remy Ma had a miscarriage. She was experiencing an ectopic pregnancy — the egg had attached itself to her fallopian tube — and Remy was bleeding and in pain. She underwent emergency surgery, had her tubes removed — and then pulled out her phone in the hospital bed and shared her story on Instagram. To her 3.4 million followers, Remy appeared emotional and vulnerable, but not ashamed — wearing a hospital gown and cap, oxygen wire still wrapped around her nose. The video has over 1.3 million views.
The video has also come to represent a new beginning for the rapper — a refocusing of how she plans to use her talents to connect with and speak to her fans. Remy Ma is now a rapper with a message, but wasn't always that way. After rising to fame in the early 2000s in the Bronx, she went to jail in 2008 on assault charges for a fight that involved a shooting outside of a New York City club, and subsequently served seven years in prison.
Today, she's sitting in the lobby of the Royalton Hotel in midtown Manhattan, after coming from an early-morning radio interview and promoting her new rap album Plata O Plomo, a joint effort with Fat Joe. Remy is playful and relaxed, but most of her older fans likely still remember her as the aggressor, the hot-headed spitter who publicly beefed with Fat Joe right before she went to prison. To many, their reunion is as surprising as her newfound candor on social media.
At 36, Remy's found herself in an unusual position: between the old fans who remember her harsher days and the new ones discovering her for the very first time. So she's focused on taking control — over her image and her career. Sharing her miscarriage was a first step, and after reading music-business books in prison, she's now completely independent and funding her own projects. As she explains in the following conversation, Remy is reintroducing herself as the woman she became while no one could watch.
First, tell me about that Instagram post. Why did you decide to share your miscarriage with your fans?
I had been really depressed and then my husband said, you're not the only woman going through this. And, like everything else that he said, I did not want to hear it. But then, a light bulb went off. I was like, you know what, you're right. Why doesn't anybody talk about it? I've never heard anybody say oh I've had an ectopic pregnancy. Or I've had two ectopic pregnancies and now I can't have children. You're embarrassed, ashamed, disappointed.
Have you had two ectopic pregnancies?
Something happened to me when I was 17 where I had to get my Fallopian tube removed. I was so young, I didn't want any kids anyway. I was like, no problem, take it out. I literally did not think about it. It was just something that wasn't important to me then. But when it happened again as a married woman who loves her husband and wants to give her husband all the children in the world and expand my family, that broke my heart. I was devastated.
But when I went to see the doctor, he was like, don't worry about it, your ovaries are fine, your eggs are fine, your uterus is fine, it's just your fallopian tubes. You can still have a child if you do in vitro. So I'm like, okay, in vitro is minimum like $12,000. I'm in a financially stable situation where I can do that, so it wasn't until I put it out there that I was like, if I didn't have to money to cover in vitro I'd never have children. It was a double blow, like, why is it like that? That's something right now that is very dear to me and I feel like something needs to be said. Like how can I use my health insurance to take life, but I can't use it to get life? How? It's just like the weirdest shit.
You wanting to say something about miscarriages reminds me of the song "What's Going On" from your first solo album, where you rap through your conflicting feelings about having an abortion. That came out in 2006, which seems crazy to me now. No one talked about that stuff in public then, especially not in rap.
You know, when I did that record — it was something that I was really going through. It's the same reason why I opened up about the ectopic pregnancy: People don't talk about these subjects. You wouldn't be in a group of women, like yeah, I had that abortion over the weekend. It's something you do privately. You slide past the protesters outside and you do whatever you do and then you go home and you're in pain and you cry to yourself or whatever you're going through by yourself.
… Rappers rap about everything under the damn sun, so I felt like it was something that I just wanted to address. You make certain songs the soundtrack to your life and people go through things besides just breaking up or partying.
Are these things that you're going to bring into your music more?
I'm not saying I'm going to be one of these great conscious rappers now, but now [because of social media] I can do a party song and then talk on a real level about close shit. So that's what I want to do. I'll talk all this craziness in my music, but when I have your attention and you're listening to me, I'll talk about what I want to talk about, and what I think we need to address.
I saw you on Instagram Live from your car this morning.
Yeah, I was trying to be in a happy mood, but I have real bad road rage. I like sharing my family with my fans, but my son hates it. Like I am literally blocked on all his social media. It's totally shitty. When I went to visit Facebook not too long ago I was like, could you guys get me into this page? They were like, sorry we can't. So I catfished him. I literally made a fake page with some random young girl's picture that I thought he would think is cute, but then I said something and he figured out I was on it. He went through everyone he wasn't sure of and now I'm blocked again.
Let's talk about your album with Fat Joe that comes out on Friday, Plata o Plomo. Why didn't you want to come out with a solo project first?
Because our chemistry is amazing. People say, what was Joe doing all this time? I'm like, he was waiting for his other half, duh. We're perfect together.
It honestly feels like that. I mean, no one heard from him until "All the Way Up" blew up again this summer. But when you first went to prison you were in a major fight. How did you get over that?
While I was away, I changed, you know? I wasn't the same person before. When I went to prison I was 25 years old. I was just thinking, this is somebody that I love dearly that I grew up with and I didn't want to come home and still not be seeing him. So I had someone reach out and get his number and then I called him from prison. It was weird. I'm like hey he's like hey. So I'm like what's up, he's like what's up. He's like, No, Rem, just get to the point. Just say what you want to say. And I'm like I miss you and I'm sorry and I don't hate you and I love you. He's like, I miss you and I love you too.
What else has changed after prison?
Everything used to get under my skin and now I'll just be like, that's life. I'm so much more unbothered. There's this song called "Dreaming" on the new album where I say, "I used to be in a cell dreaming I was home and now I'm home dreaming that I'm back in the cell." It's like the craziest shit ever. I used to want to go home so bad that I used to have nightmares that I was home. I had regular clothes, my hair would be done, my makeup would be done, I'd be partying, chilling with my friends, and then I would wake up and be still in fucking prison. And those were the worst dreams ever. And then seven years goes by and I'm home, I've been home for two years now, and I have nightmares but it's in reverse. Now I dream that I have on state issued clothes again, it's freezing in my fucking cell, I'm using a blow dryer to keep warm, and I can't leave. And then I wake up and I'm home. So it's like, this is something that just traumatized me so much on so many different levels. I want to talk about stuff like that.
I heard you're writing a book with your husband Papoose.
We're doing a self-help book on relationships. I want it to actually not be funny, but for people to really use it. There's things that you do in any relationship where it's like compromising and putting others before yourself and just loving unconditionally. You don't be like, that guy over there is cute, sorry, this relationship is over. When I hear what he's saying I'm like, wow, babe, that's really deep, and then I go back to my writing and I'm like, okay, how can I make this deeper.
And have you started thinking about the next solo album? It's been a decade since the first one. How will you bridge the gap between where you came from and who you've become?
The song "Conceited" on There's Something About Remy was inspired by people always telling me that I'm so much prettier in person or that I've lost so much weight since they saw me on TV. I don't even know if that's a compliment. Were you watching me on TV thinking I was ugly? So that song was about feeling good about yourself and knowing that there's something desirable about everybody.
I touched on that point with my first album, but I think it went over some people's heads and they missed it. With my sophomore album, which I'm calling Seven Winters and Six Summers, I'm going to make sure I drive that home. I don't want to use my gift for nothing anymore. That's something that I also learned with time, the power of my celebrity, the power of my voice, the power of my opinion. Before, I was just like, I don't give a fuck, I'm not nobody's role model, raise your own kids. Nah, that's not right.