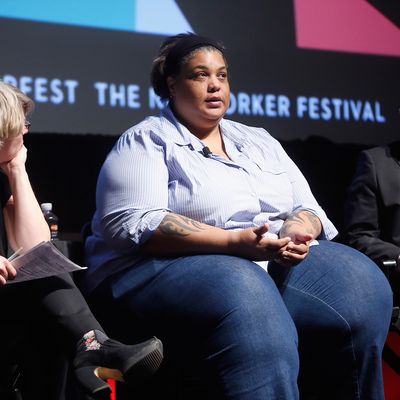 Roxane Gay.
Photo: Thos Robinson/Getty Images for The New Yorker
If you've been following the news saga over the weekend involving Milo Yiannopoulos, the Breitbart senior editor and provocative conservative commentator who has become a favorite of the alt-right, you likely already know that he's 1) been uninvited to speak to a core constituency of the Republican Party, and 2) lost a major book deal with Simon & Schuster. While critics of Yiannopoulos might cheer the end of his $200,000 book deal, author Roxane Gay isn't letting Simon & Schuster off the hook for having offered the deal in the first place.
On Twitter, she criticized the book publisher, writing that she will forever think of the company as "malicious," after it decided to publish Yiannopoulos's book on the date her next book, Hunger, is set for release. Gay's book How to Be Heard was previously set for release with TED Books, an imprint of Simon & Schuster, but she pulled the book after the company decided to publish Yiannopoulos.

She elaborated on her Tumblr about her thoughts on the company:
In canceling Milo's book contract, Simon & Schuster made a business decision the same way they made a business decision when they decided to publish that man in the first place. When his comments about pedophilia/pederasty came to light, Simon & Schuster realized it would cost them more money to do business with Milo than he could earn for them. They did not finally "do the right thing" and now we know where their threshold, pun intended, lies. They were fine with his racist and xenophobic and sexist ideologies. They were fine with his transphobia, anti-Semitism and Islamophobia. They were fine with how he encourages his followers to harass women and people of color and transgender people online. Let me assure you, as someone who endured a bit of that harassment, it is breathtaking in its scope, intensity, and cruelty but hey, we must protect the freedom of speech.
Yiannopoulos came under fire over the weekend once his comments on pedophilia resurfaced. It was then that the Conservative Political Action Conference rescinded its invite to Yiannopoulos to speak "due to the revelation of an offensive video in the past 24 hours condoning pedophilia." Not much later, Simon & Schuster announced that they, too, would be cancelling the book deal.

Read Gay's comments in full on Tumblr.
Full disclosure: New York Media has a four-book publishing deal with Simon & Schuster.