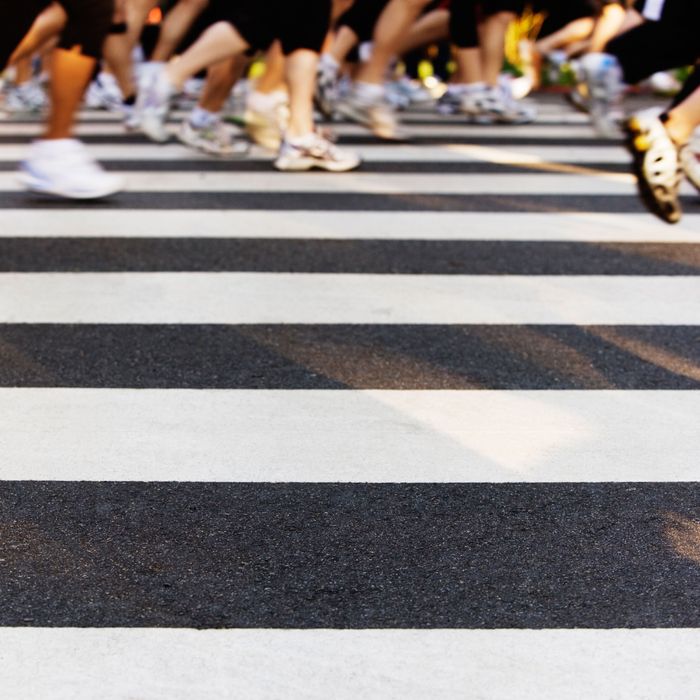 Photo: Ron Koeberer/Getty Images/Aurora Creative
To hear sneaker commercials tell it, every race is an inspiring story of endurance, one in which you push yourself to your limits and emerge victorious, no matter the outcome. In the case of Jane Seo's experience running the Fort Lauderdale Half Marathon, that particular race is a story of sloppy cheating, winning second place, then getting caught in your lies by a guy who runs a blog called Marathon Investigation.
Per the Miami New Times, New York-based Seo, 24, finished the race on Sunday with a time of 1 hour and 21 minutes, winning second place. (Her trip was reportedly sponsored by Sunny.org, a Fort Lauderdale tourism site.) She was confronted by the race timer, who had noticed that her pace was much faster in the second half of the race; this was unusual, but Seo approached race director Matt Lorraine and convinced him that she was the rightful second-place winner.
But then Derek Murphy of the blog Marathon Investigation got involved. Beyond Seo's suspicious pacing, he looked at the information from the race she had plugged into the exercise-tracking app Strava, and it turned out to be manual rather than GPS-based. Later that day, she entered in a GPS entry of her traveling the race course, though the pacing and heart rate reflected someone traveling by bike.
Most damning of all, he zoomed in on a photo of her watch postrace and found that it had only recorded 11.65 miles (a half-marathon is 13.1 miles long and Murphy added that her particular model of watch tended to overestimate the distance traveled).
Seo posted an apology on her now-private Instagram, in which she admitted to cutting the course and chalked it up to not feeling well that day. However, Murphy hypothesized that her cheating was an attempt to get a slot on the elite Performance Team of the Dashing Whippets running group, of which she was a member.

Seo has since been disqualified from the race and removed from the group. As for Murphy, somebody get this guy his own true-crime show.