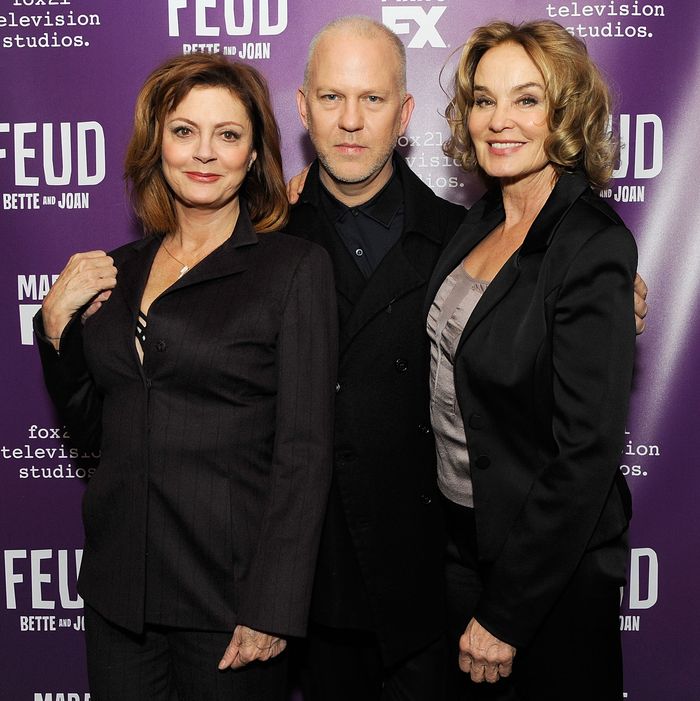 Ryan Murphy and Feud stars Susan Sarandon and Jessica Lange.
Photo: Rabbani and Solimene Photography/Getty Images
Ryan Murphy's made a career creating shows about complicated, interesting women, from American Horror Story to Scream Queens to his forthcoming Feud. But the screenwriter, director, and producer is a champion for ladies offscreen too, which he made sure to mention during his acceptance speech for the Distinguished Artisan Award at last night's Make-Up Artists & Hair Stylists Guild Awards in Los Angeles. In 2016 he launched the Half Foundation, which, he said, "is dedicated to ensuring that 50 percent of all the directorial slots in my company go to women." Murphy continued: "The industry average statistic for women in our business is deplorable. Only 15 percent of the slots go to women, despite the fact that women make up over 50 percent of our population. I don't understand why we consider women to be the minority when they are the majority in this country. It's time to change that and it's a mission statement for me and my career."
Murphy is hell-bent on changing the ratio of behind-the-scenes inclusivity beyond gender, too. "Among directors in my company we have a new rule that 50 percent of all department heads and their crews must be women, people of color, and folks from the gay, lesbian, and trans community," he said. He then recounted a heartfelt moment from the filming of the pilot for Feud, which stars Susan Sarandon as Bette Davis and Jessica Lange as Joan Crawford and premieres on FX March 5.

I was brought to tears one day, literally brought to tears, when we were doing a scene set at the 1963 Academy Awards. [Hair and makeup] crews were in charge of 300 extras that day, turning them into glamorous 1963 Academy Award attendees. More important to me than the work was who was making it. I saw when I looked out women, men, gay people, people of color, trans people — artists all. I thought, this is the world that I want to work in and create in, and this is what every department needs to look like. This is the way that our industry should be behaving and looking today.