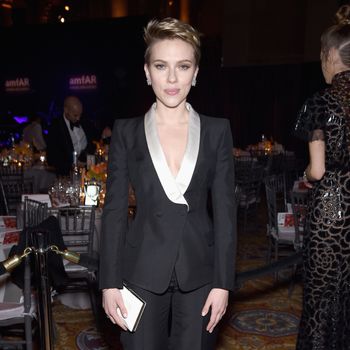 Scarlett Johansson.
Photo: 2017 Getty Images
Monogamy isn't all it's cracked up to be. Or at least it's not a "natural" way for people to behave in society, according to Scarlett Johansson, who shared her views on relationships, marriage, and children in the latest issue of Playboy. In the interview for the March-April issue, which appears to have been conducted prior to news of Johansson divorcing her second husband, Romain Dauriac, the actress talks of marriage in mostly reflective terms. She says that while marriage is beautiful in concept, it's not something she believes is a 'natural' state for people, given the tremendous difficulties people face committing to it.
"[Q:]You've said that you aren't sure humans are designed to be monogamous.




[A:] Well, with every gain there's a loss, right? So that's a loss. You have to choose a path. I think the idea of marriage is very romantic; it's a beautiful idea, and the practice of it can be a very beautiful thing," the actress says. "I don't think it's natural to be a monogamous person. I might be skewered for that, but I think it's work. It's a lot of work.




And the fact that it is such work for so many people—for everyone—the fact of that proves that it is not a natural thing," Johansson continues. "It's something I have a lot of respect for and have participated in, but I think it definitely goes against some instinct to look beyond."
The state of marriage changes a relationship, no matter how long a couple may have been together, Johansson adds. "I have friends who were together for 10 years and then decided to get married, and I'll ask them on their wedding day or right after if it's different, and it always is," she tells the magazine. "It is. It's a beautiful responsibility, but it's a responsibility."
Though Johansson and Dauriac reportedly split over the summer, news of their divorce broke at the end of January, so the topic likely didn't come up in the interview. Recently, the two were spotted out and about at an art opening looking quite pleasant and not-at-all sick of each other. Their united front, however, might just be a front, if the hiring of certain divorce attorneys is any indication of things. Johansson has reportedly hired Laura Wasser, who represented Johnny Depp in his drawn-out and bitter divorce from Amber Heard. Wasser also represented Johansson's first husband, Ryan Reynolds, during Johansson's first divorce. So, there's that.