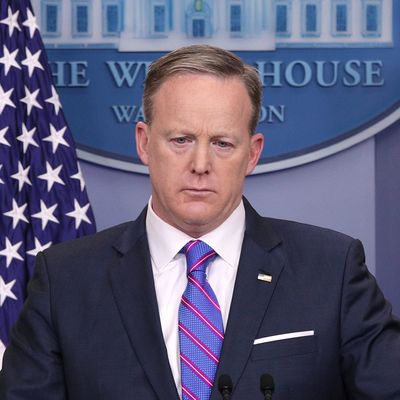 Spicey is looking much sharper these days.
Photo: Alex Wong/Getty Images
Sean Spicer's first White House press briefing was a little rough. Not only did he lie to reporters and then leave without answering a single question, but he wore an ill-fitting light-gray pinstripe suit that his boss hated. "Doesn't the guy own a dark suit?" Trump reportedly asked aides.
With his job on the line, Spicer took action. On Monday, those watching his daily press briefing noticed that he "seems to have acquired a jacket that fits" (although there was still some debate about his tie). His suit sat flush with his collar, and according to PIX11, that's all thanks to BookATailor, a New York–based custom men's clothing company that sells suits out of the back of cars and outsources all its tailoring to Bangkok, Thailand.
"He lives right near our showroom that's how we got lucky and why he stumbled in there," said the company's owner, former DJ Jacomo Hakim. "I said great let's go meet him, and I'll fix him up." After a two-minute fitting, Spicer's measurements were sent off to Thailand, and within four days he had a new wardrobe. A "timeless product" for a timeless man.