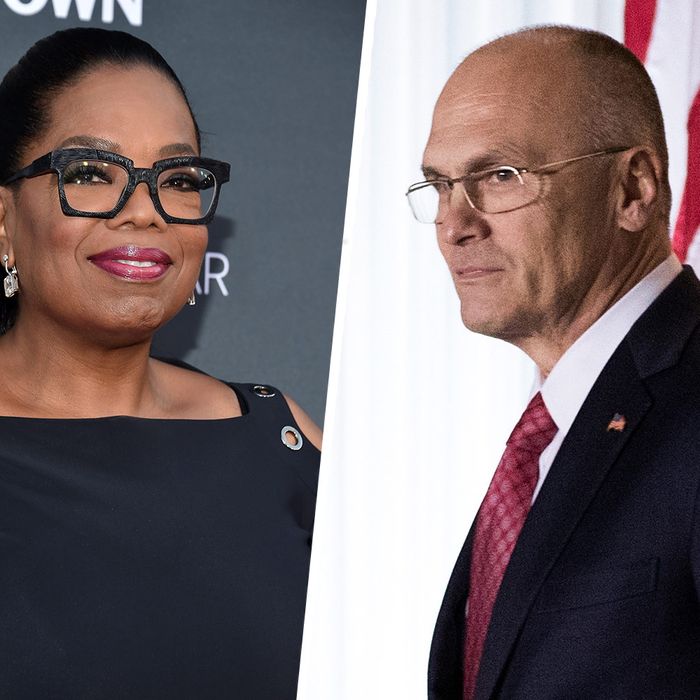 Andrew Puzder's ex-wife, who accused him of abuse, appeared on Oprah.
Photo: Mike Windle/Drew Angerer/Getty Images
In March of 1990, the ex-wife of Andrew Puzder — Donald Trump's pick for Labor secretary — appeared on an episode of The Oprah Winfrey Show as a victim of domestic violence. Lisa Henning (who is now Lisa Feinstein) wore a wig and glasses on the show and went by the name Ann, but two friends and a spokesperson for Puzder and Feinstein confirmed it was her. Although she didn't mention Puzder by name, she said on air that he'd abused her when they were married — a claim she'd made during the couple's 1989 divorce.
Puzder has denied her claims, and in a statement to the Cut, Feinstein said she "impulsively filed for divorce and was counseled to file allegations that I regretted and subsequently withdrew over 30 years ago." But according to Politico, senators in both parties have viewed the Oprah episode as part of their evaluation of Puzder as a potential member of Trump's cabinet.
"I've arranged for senators on the committee to see that," Lamar Alexander, a Republican senator from Tennessee, said of the episode, which is called "High-Class Battered Women." "I thought that was a reasonable request. No reason not to see it. That happened 27 years ago. His former wife has said it was all not true. She has reiterated that in a heartfelt letter to members of the committee and has been willing to talk to members of the committee, so I don't think that's an issue."
But Senator Patty Murray, a Democrat, said she was "deeply troubled" by the tape. "It was important for us to know all of the information about any candidate that comes before us," she said of senators' requests to view it.
The tape isn't the only thing that could put Puzder's nomination in jeopardy — he's also admitted to hiring an undocumented housekeeper and has been accused of mistreating his employees at restaurants he oversaw as the CEO of CKE Restaurants. At the time of writing, four GOP senators are undecided on Puzder, which means his confirmation hangs in the balance.