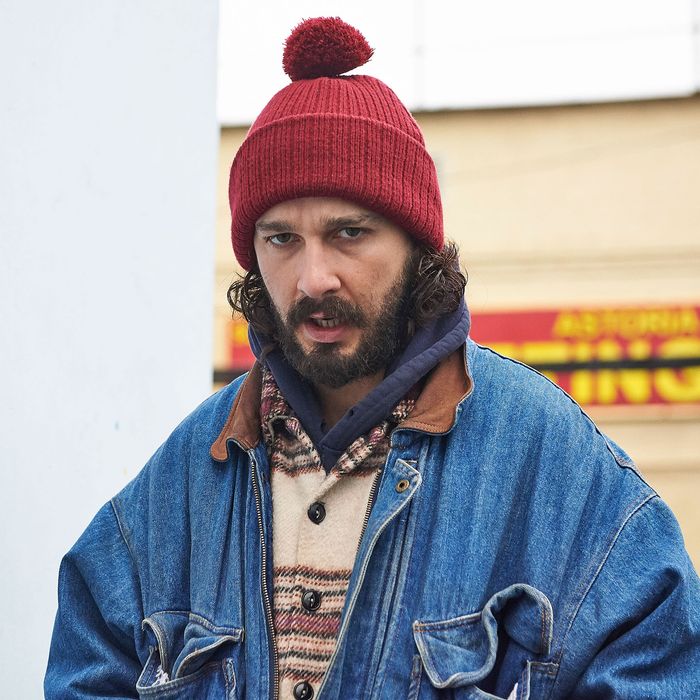 Shia LaBeouf.
Photo: James Keivom/NY Daily News via Getty Images
Only a few weeks after it first debuted, Shia LaBeouf's anti-Trump livestream slash performance art piece, dubbed HE WILL NOT DIVIDE US, has been taken down from its perch at the Museum of the Moving Image. The piece, which went up on the day of Donald Trump's inauguration, invited participants to shout "he will not divide us" into a camera, and was meant to run over the course of Trump's time in office (whether four years, eight years, or sooner). The piece quickly attracted neo-Nazi trolls, and LaBeouf himself was arrested after a altercation with one. "The installation created a serious and ongoing public safety hazard for the Museum, its visitors, staff, local residents, and businesses," the Museum of the Moving Image said in a statement explaining their decision to close the installation early. The statement continues:
While the installation began constructively, it deteriorated markedly after one of the artists was arrested on the site of the installation and ultimately necessitated this action. Over the course of the installation, there have been dozens of threats of violence and numerous arrests, such that police felt compelled to be stationed outside the installation 24 hours a day, seven days a week.
LaBeouf has responded to the news in a typically sedate manner by tweeting, "The museum has abandoned us."