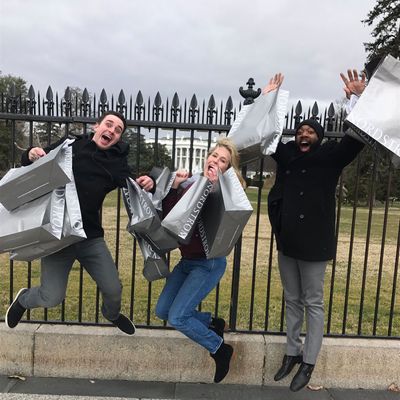 Chelsea Handler and friends.
Earlier this week, the president of the United States tweeted angrily at Nordstrom for dropping daughter Ivanka Trump's eponymous brand. Though Ivanka had said she would be stepping away from her fashion line once her father became president, he insisted that she had "been treated so unfairly" by the department-store chain. Looking past the general absurdity of the situation, it highlighted the concerns about Donald Trump's many conflicts of interest. It also served as a springboard for a new form of protest: shopping at Nordstrom.
Chelsea Handler tweeted out a photo of herself and two companions jumping gleefully outside the White House, their arms full of Nordstrom bags. It was captioned: "A Gay, a Muslim, and a Jew hit Nordstrom and then hit @WhiteHouse to give the finger to @realDonaldTrump." Michael Moore responded to a Trump tweet with, "OK!! SEE YOU THERE!! JUST AS SOON AS I FINISH MY SHOPPING AT NORDSTROM!!" And Mia Farrow went for a simple and straightforward, "I've never plugged a store but Nordstrom is great." Celebrities aren't the only ones getting in on the action. Websites have run roundups of Nordstrom products to buy, including our own. And plenty of ordinary anti-Trump folks are responding to the president's condemnation of the store by advertising their plans to shop there on their social-media feeds. "I'm going shopping at #Nordstrom tonight—just because," one such tweet read. "Don't really need anything, just seems like the place to go. #TheResistance."
The desire to publicly proclaim your feelings about the president's actions (for or against) is understandable in the current climate. And while personal style can certainly be political, shopping at a luxury department store is not a means of resisting against the government.
By contrast, take a look at what presumably caused Nordstrom to drop Ivanka's line in the first place: a boycott. #GrabYourWallet, a campaign that launched last fall, encouraged people to cease buying from retailers that carried Ivanka Trump products. When Nordstrom confirmed they would no longer be selling her line, a spokesperson explained, "We've said all along we make buying decisions based on performance. In this case, based on the brand's performance, we've decided not to buy it for this season." (Neiman Marcus followed suit for the same reason shortly afterward.)
Placing direct economic pressure on a company forces them to focus on what they care about: their bottom line. Take the recent backlash against Uber dropping surge pricing near JFK airport when the New York Taxi Workers Alliance announced a work stoppage to protest Trump's immigration ban. The #DeleteUber campaign led to CEO Travis Kalanick resigning from Trump's advisory board shortly afterward. Sometimes, boycotts take a bit longer to be effective. Back in November, Nordstrom responded on Twitter to a viral letter condemning them for selling Ivanka Trump products, writing, "We hope that offering a vendor's products isn't misunderstood as us taking a political position; we're not. We recognize our customers can make choices about what they purchase based on personal views & we'll continue to give them options." Later that month, a leaked internal email from co-president Pete Nordstrom to employees affirmed that they would continue to sell her brand. Ultimately, Nordstrom did not part ways with Ivanka Trump because they felt a kinship with protesters in pink "pussy hats," they did it because they crunched the numbers and realized that her mid-priced nude pumps weren't bringing in business anymore.
Withholding cash as protest is one thing, but it's also worth considering where it goes when you spend it effusively. Following Trump's election, nonprofit organizations that are dedicated to directly fighting his policies have seen massive upticks in charitable donations. Right after the immigration ban, the American Civil Liberties Union received a record $24 million from donors. Some retailers have donated part of their proceeds to charities, so that each purchase does benefit a cause. Meanwhile, Nordstrom has also seen gains without taking any sort of political stance: their stock jumped 7 percent since the Trump tweet, and, per Forbes, Nordstrom heirs Bruce Nordstrom and Anne Gittinger are now $115 million richer.
Symbolically, Nordstrom is also a peculiar vehicle for protest in this political climate. It is a luxury department store: not a mom-and-pop shop, or somewhere more accessible like J.C. Penney or Sears. Donald Trump ran a populist campaign; his message resounded with white working-class voters, where celebrity endorsements failed. Just as it felt mockable and out of touch when his supporters attempted to boycott Hamilton, shopping-as-protest only feeds into the pervasive stereotype that Trump detractors are "coastal elites."
The first few weeks of the Trump presidency have revealed exactly how serious he was about his campaign promises, with sweeping executive orders, and one potentially catastrophic cabinet member sworn in after another. They've also revealed a vast and engaged opposition. Over 3 million people marched on Inauguration Weekend, with many more turning out to protest other Trump actions since. Membership in leftist organizations is growing rapidly, and an unprecedented number of women are planning to run for office. There are numerous ways to actively oppose the Trump administration and help those who will be most affected by its policies. By all means, buy whatever you want from Nordstrom — but don't make the mistake of thinking it's a political action.