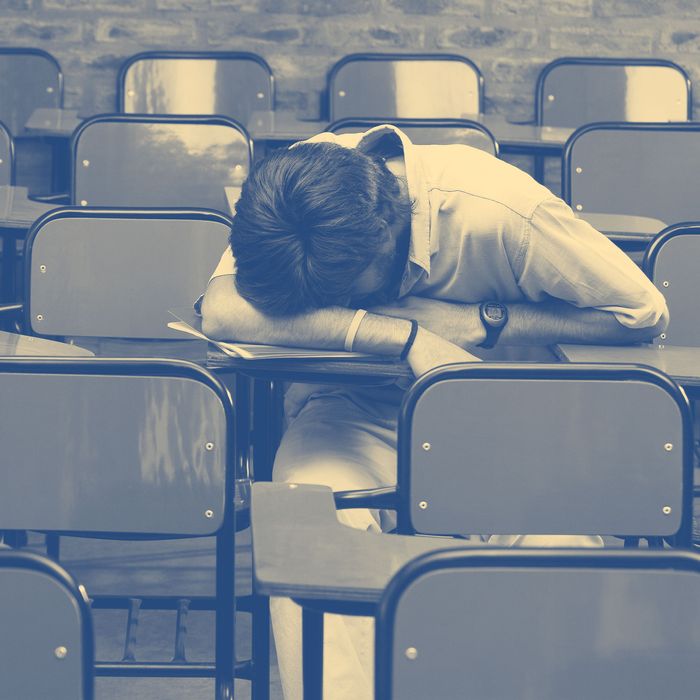 Photo: Glowimages/Getty Images
Yes, fine, in a lot of ways it's harder than ever to be a teen – they're losing sleep over social media, and that whole internet thing is making them worse at flirting, and also they're leaving the safe cocoon of childhood around the same time that the whole world is going up in flames.
Counterpoint, though: At least they can take naps in school. Research has shown that the majority of teenagers these days aren't getting enough sleep, which can cause a host of health and academic issues — and as The Wall Street Journal recently reported, teachers and administrators are now coming up with some creative solutions:
Nap clubs, where students meet and rest quietly, have cropped up in some high schools. Some are trying quiet rooms, where no speaking or technology are allowed. And wellness centers that offer everything from cozy couches and free tea to sleep-health consultations are available at some public schools.
"Some parents and educators may balk at high-school nap times, saying that they coddle students," the paper noted, but the science doesn't lie: Studies show that napping really does leave you more alert and better able to learn. As Science of Us has previously reported, that's especially true if the napping takes place in the afternoon, when it's likelier to contain more memory-boosting sleep, as opposed to the morning.
Regardless of when it happens, though, sanctioned naptime definitely seems like something that would've made high school a little more bearable. "It's like a therapeutic study hall," one teacher told the Journal — which, to be totally honest, sounds a lot more useful than actual study hall ever was.