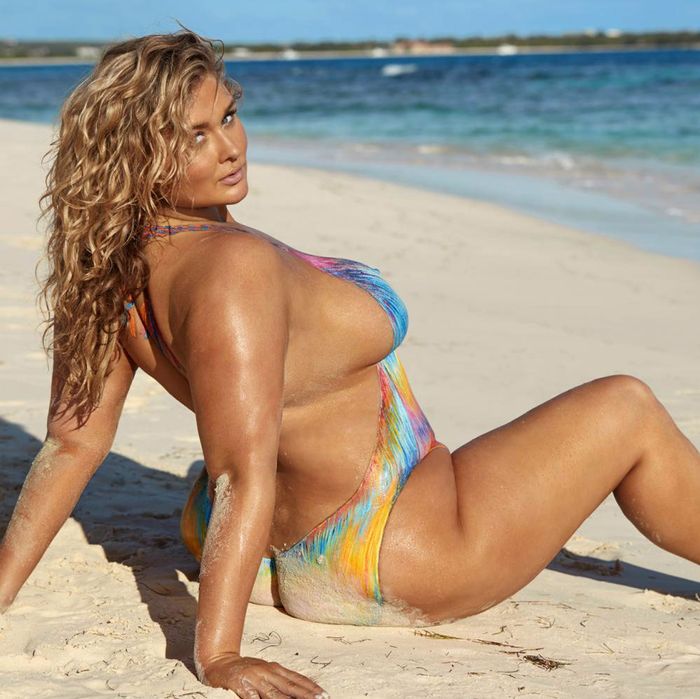 Hunter McGrady in Sports Illustrated.
Photo: Courtesy of Sports Illustrated
Last year, the cover of Sports Illustrated's swimsuit edition featured a non-sample-size model, Ashley Graham, for the first time. And this year, 23-year-old Hunter McGrady has made it into the magazine, too — as its curviest swimsuit model yet. McGrady stopped by the Cut's offices on an unseasonably warm February day to chat about being photographed in nothing but body paint, and to explain why she thinks the industry is starting to embrace women of all sizes.
How does it feel to make it into Sports Illustrated?
Definitely surreal. I feel like I'm still living in a dream, and I need someone to pinch me. It's been a goal of mine since I first started modeling and even knew what Sports Illustrated was. It's the pinnacle of someone's modeling career.
Can you tell me about some of the feedback you've been getting from the shoot?
I've been getting amazing feedback, actually. So many media outlets have picked it up, which has been such a blessing because it's time that this message gets out there to all the women. That's all I really wanted — I wanted women to feel positive and I wanted them to feel confident when they picked up this magazine, and that they could relate to me in some way. It's been overwhelming, in the best way possible.
What does it mean to you to be the magazine's curviest model yet?
It's awesome. It's the best compliment of all time. I'm like, Yes! I love holding that title.
And speaking of, you appear in the magazine wearing nothing but body paint. What was that like?
It took 12 hours, so we started at 2 a.m. and ended at 2 p.m. I had three girls working on me. Joanne Gair is the main artist, and she's been doing it for like 20 years. It felt like I was wearing a full swimsuit, though. It was amazing. I was just running up and down the beach completely naked, but I forgot. It took an hour and a half to get off, and again I had three girls taking it off with me. We were rubbing special soap on, breaking it down. It was pretty crazy, but I was running on adrenaline the entire time, so the 12 hours just flew by for me.
Ashley Graham landed the cover last year, and now you're gracing the pages this year. Do you feel like there's a shift in the industry, where magazines are starting to recognize that people actually want to see real women?
Oh, absolutely. Every designer is starting to get onboard, which is amazing. Michael Kors just walked Ashley down the runway for New York Fashion Week, which was a huge deal. The industry is definitely shifting and we're only going to see more of that — I'll make sure of it. It's happening quickly because people are realizing, hey, this is something we need to talk about. All the stores need more plus-size sections, and I would love to see makeup ads get onboard, shoe companies get onboard, because why not? Beautiful women are beautiful women.
What's the biggest misconception about being a curvy model that you'd like to clear up?
That we just don't take care of ourselves and that we can eat whatever we want, which is so not true. I work out, I eat well, I take care of myself. It's so crucial, so important. I love to do circuit training, and because I travel so much, I love to do things with just my own body weight. Squats obviously are amazing, lunging, sit-ups, all that kind of stuff. And if I can, I bring my exercise bands with me and incorporate that as well.
And do you have to do that in hotel rooms since you're traveling?Yes, of course. I've mastered the chair workout. My trainer that I worked with three months before Sports Illustrated basically told me all you need is a chair. You can squat down to the seat and then get back up. You can do where you're starting on the floor and then lift yourself up on the chair, where you're standing on it and then go back down — step-ups. You can do so much with just a chair, it's pretty incredible.
What's your diet like in a typical day?
Recently I have been living off of Chopt. They're amazing. They have quinoa bowls, salads. And I kind of live off of Seamless here in New York, so it's my go-to. I love eggs for breakfast, and avocado toast is my favorite of all time.
I heard that when you first started out as a model, you were a size 2 and you were told that you'd need to lose even more weight.
Yes, when I was starting out, I was extremely thin. They told me I kept having to lose weight around my hips, which was impossible. I mean, I physically could not make that happen. And of course, at 16, when you have a dream of becoming a model, that's devastating. I got turned away at one of my first jobs that I booked because I was "too big" showing up as a size 2.
How did you come to embrace your natural body?
It got ingrained in me that you can't make everybody happy. Someone's always going to want to change something about you. As I started getting older, my hips started to grow. I just started to get taller, I started to get thicker. And you know what? That was okay — I was starting to become a woman. That was so exciting to me. Yes, I have stretch marks around my hips, but because they were growing and I'm a woman. That's fine and everybody has it. I wasn't going to beat myself up about it because I can't make everybody happy. This is me, and I'm not going to be changing for anybody.
Last year, Ashley Graham told us that she doesn't like the term "plus size." What are your thoughts on it?
I completely agree. Models are models. I hate having to describe it or say it every time I say I'm a model, because sometimes people look at me sideways until I say, I'm a plus-size model. And then they're like, ohhh. Why is that? We're putting people in categories. We worked so hard to get away from that, and that puts us back quite a few years. It'd be amazing to just be able to say, I'm a model. Because I am. I do the same thing as all the other girls.
What message do you hope to send to other women?
I just want women — who look like me, who don't look like me — to feel confident in their skin. I want them to wake up and know that they're beautiful, that they're special, and that they're important, and to live the life that they have. We have one of these lives. It's as easy as: Either love yourself, or don't. And you just have to make that decision.
Have you heard from any women who have felt inspired by you?Oh my gosh, yes. And it's been overwhelming. It brings me to tears every time. I had a girl at the Sports Illustrated launch come up to me and tell me how I've helped her overcome an eating disorder. And that, to me, was the best thing. Throughout that entire night, that's what sticks out to me.
And what is next for you?
Oh my goodness, I would love to do something like a beauty campaign. I think that would be awesome. I would love to do a cover of a magazine. I find that there are a lot of actresses on the covers of magazines now — which is amazing, but I would like to see some more models and I would love to see some curvy girls on there.
This interview has been edited and condensed.