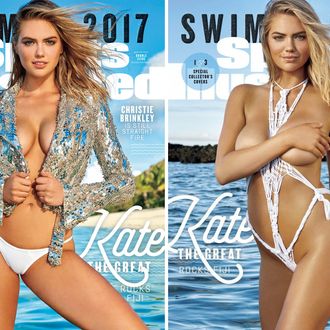 Kates Uptons.
Photo: Courtesy of Sports Illustrated
The annual Sports Illustrated swimsuit issue – which is apparently still exciting for men despite the existence of the entire internet – is here. Per People, "the theme of this year's issue centers on body diversity and age inclusion." The theme is especially well-communicated on the three different covers, which feature Kate Upton, Kate Upton, and … Kate Upton.
As Jezebel points out, there has been talk in "Page Six" that Upton demanded a cover this year; as of last week, sources said that the three covers would feature Serena Williams and Christie Brinkley, as well Upton. Come publication day, it was three Uptons, one of whom was involved in a game of cat's cradle that went horribly wrong.

Though in Upton's defense, she tried to mix it up by only doing the hand bra on two of the covers.