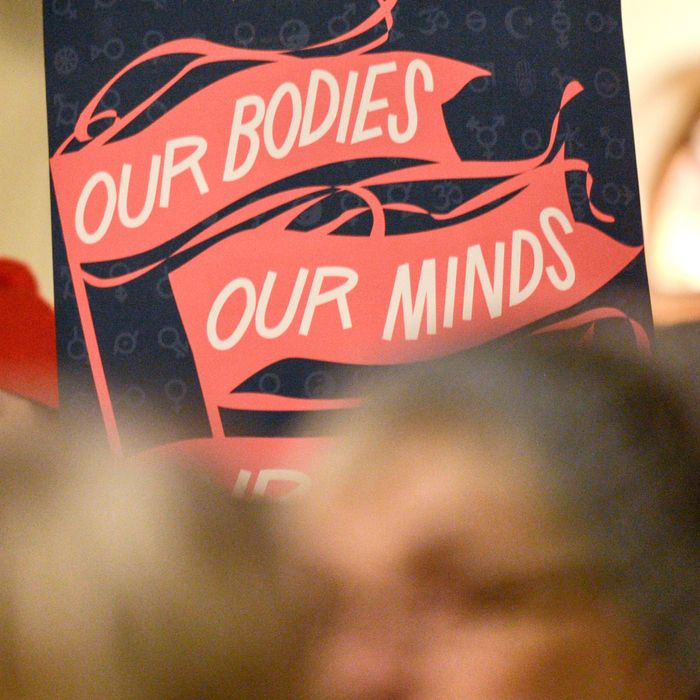 Spouses and family members can block abortions under new law.
Photo: Artur Widak/NurPhoto via Getty Images
Last week, Arkansas governor Asa Hutchinson signed into law a bill that bans one of the most common — and safest — abortion procedures used during the second trimester. Now, the Daily Beast reports the law also includes a clause that allows a woman's spouse or family to block the procedure by suing the abortion provider.
Going into effect later this year, Arkansas Act 45 prohibits a practice called dilation and evacuation in which fetal materials are removed from the womb through surgical instruments, according to the Daily Beast. It's used in 95 percent of second-trimester abortions, and also frequently employed during medical tests and after miscarriages (so that fetal tissue can be removed to prevent infection).
Under the new law, the procedure is illegal when used during abortion, thereby essentially blocking abortions after the 14 week mark. But it also goes a step further to restrict a woman's access to the procedure, by giving her family a say in whether or not she can get an abortion.
Per the Daily Beast:
With no exception for rape or incest, and a clause that allows a woman's spouse or parent to sue an abortion provider, the law potentially allows the fetus's father to sue even in cases of spousal rape or incest, abortion rights activists say.
Reuters notes that "near identical" dilation and evacuation laws have been adopted in Louisiana and Mississippi. Meanwhile, similar bans in Kansas, Alabama, and Oklahoma have been hit with legal challenges, and have not yet been implemented. Opponents of the Arkansas law are planning to fight the ban in court, as well. Rita Sklar, an attorney with the American Civil Liberties Union's Arkansas chapter, told Reuters, "The law puts an undue burden on a woman's constitutional right to obtain a second-trimester abortion, and I think the legislature knows it and doesn't care."