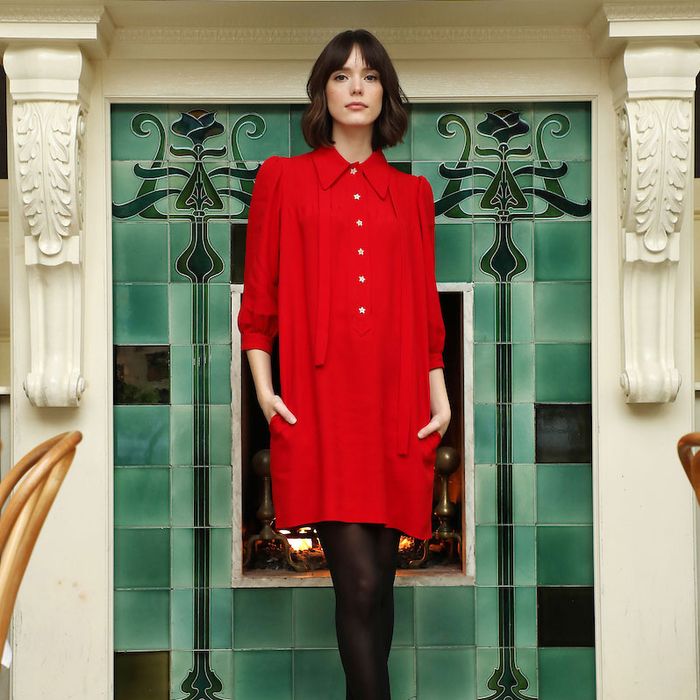 Stacy Martin.
Photo: Courtesy of Miu Miu
Stacy Martin is an actress and the face of Miu Miu's first-ever fragrance. You've seen her in Nymphomaniac and next year, she'll be in Vox Lux with Rooney Mara and Jude Law, and Kirsten Dunst's directorial debut, The Bell Jar. Until then, you can catch her in the ads for Miu Miu's new scent L'Eau Bleue, where she plays hide the perfume with a kitten. She talks to the Cut about why she stopped going to Barry's Boot Camp at 5 a.m., why filming a sex scene is not erotic, and the famous hairstylist who ended up adopting the Miu Miu cat from the TV commercial.
How I start my mornings: I wake up and I make a coffee. I grind the coffee and use an AeroPress. At the moment, I wake up pretty late. I don't always eat breakfast. But if I do, I'll do an oatmeal in the winter or boiled eggs.
After that, anything that will be simple and get me out to do what I need to do for the day. I hate spending too much time idling around. I keep it easy and use good products that are good for my skin and stick to them. I can't be bothered to try this for a week or that. I don't want to discover I have a rash on my neck. I like to be simple. I don't like taking risks. So right now, I like Kiehl's Calendula Foaming Face Wash. Then I use Bioderma Crealine and Kiehl's Ultra Facial Oil-Free Lotion.
How I sweat: Being active in the day helps me feel good the rest of the day. I do a lot of yoga and discovered Ballet Barre. I was here for a month and discovered it at Equinox. There's something about doing something very physical that makes you feel better afterward. I feel good exercising but I'm not a fanatic either. I haven't done yoga for a week but I'm not going to beat myself up for it.
I did dance as a kid, so Ballet Barre felt a little familiar. But my muscles forgot. It shocked me how difficult I was. I realized how fit I was before and could do all these good, amazing things. And now, the instructor is like, Higher, higher, and I'm like, I can't.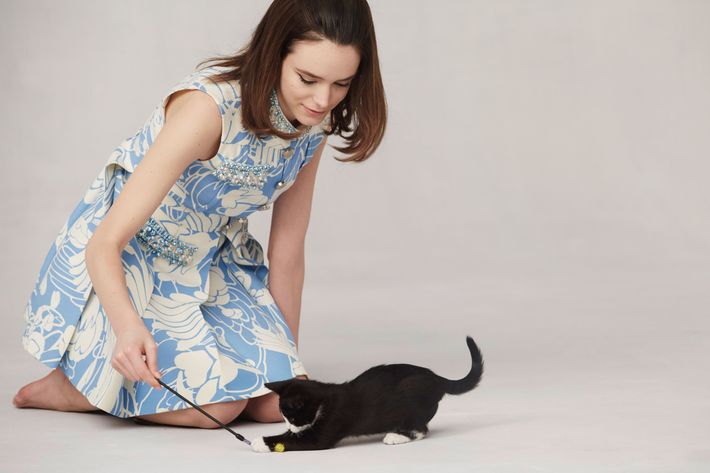 To me, wellness is: Not one set thing. Wellness scares a lot of people. There are many ways to just be healthy and happy. It's become such an idealized thing. If you're miserable because you're forcing yourself to only eat certain things, you're going to cave eventually. You should just do what's right for you and not the wellness ideology because there is no right or wrong way.
It's more of an American thing, the perception of taking care of oneself. Everyone here is aware of that. In England, we are catching up on that. You can juice anywhere. It's definitely more present in London. I think in Paris, it's still an exotic notion but it's catching on.
But it's also seen differently there. In Paris, you eat, you really sit down for dinner. The social aspect is much more present than it is in America. For French people, that's a healthy thing to do. You can still have a salad, but it's a different way of thinking.
How wellness has changed for me: It's changed because of work. I travel so I need to be aware. If I know I'm going to be jet-lagged or tired, I need to make sure I'll drink water and do all those classic things people tell you. I used to be like, Nah. But it's actually true. It's to be well for myself. I could go to Barry's Boot Camp, but is that what I want to do? I did get hooked on it for a bit. But I was so exhausted all the time. It's so intense. I think that level of wellness is too much for me. I'd rather eat a good fried chicken. I'd rather not go to Barry's at 5 a.m., because sleep is just as important.
My wellness tip: Jet lag is terrible. I'm experimenting now to see if choosing which flight you take will help. I find red-eye flights really hard. I love sleeping. I like being under a duvet and properly sleeping. If I take a red-eye, I know it won't work. One thing I do is that as soon as I'm on the plane, I also change the time [on my phone], so if I looked at it on the plane, I'm already mentally thinking about it.
Someone told me, you have to eat whatever the next meal is when you arrive at a place, whether it's lunch or dinner. Take that meal. Your body has to adjust to it. It's about physically timing your body to a certain time zone. I used to think, Oh, that's silly. But it's not. It works.
On working with cats: I'm definitely a dog person. I don't know any cat breeds. Kittens are super playful, but you can't take your cat out. The thing with animals is that they don't know what they're doing. They could be anywhere. They don't have the concept of shooting a campaign.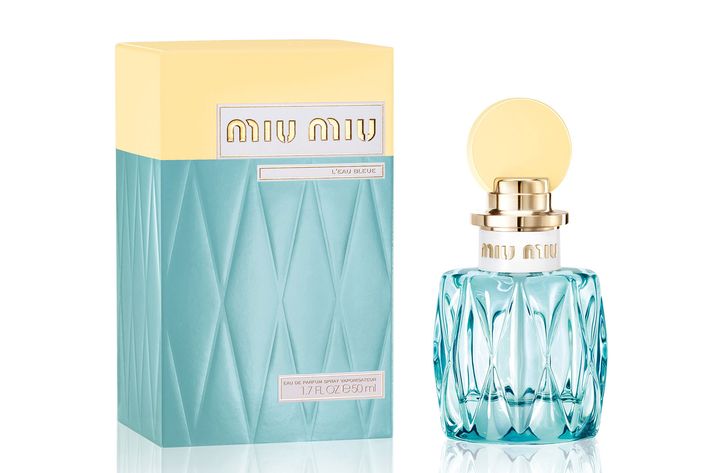 On the Miu Miu set for Miu Miu L'eau Bleue, which is more fresh, green, and spring-ier than the original, we had two cats. One was a ginger cat, and the other was Truman. The ginger was super sleepy, while Truman would run around and the wrangler would make sure that he would stay in a certain vicinity. It's fun, it makes you work in a different capacity. Like there's a cat running around, so don't fuck it up.
Guido Palau kept saying, I'm going to adopt [the ginger cat]. I was like, Yes, absolutely! But are you, really? And he did. I saw him and he showed me pictures of his cat. So now that cat has dream grooming and the dream life.
On filming sex scenes: I don't rewatch my films. I like the process and working with and collaborating with the director and crew members. The pleasure for me lies there and not in the watching of it. But filming a sex scene is nothing like real life. Nothing whatsoever. It's very difficult and even talking about it is quite strange. But filming them can be a technical, strange, non-erotic experience.
For Nymphomania and the way it was filmed, it was almost like a mathematical problem. It was done using body doubles. I was so grateful to have one. It was like, you had to do XYZ and then do this and show this and be here, and do that. A lot of sex scenes are ludicrous in cinema. Unless, it's necessary to the story, it's very awkward. I did a film where I have sex all the time but that was because it was the core of the story. But if it's just out of nowhere, like silk sheets and body parts melting into each other. Like, what is going on? What are you doing?.
My wellness struggle: To be more aware of what I'm eating, especially if I'm traveling. I was a vegetarian for quite a while. I would love to be able to go more that way.