The island of Hilton Head in South Carolina is shaped like a sneaker, and Stan Smith lives on the laces, right off the river. Inside his house, the six-foot-four retired tennis player with the straightest back I've ever seen walks out of the second of his two closets and into the living room carrying five pairs of Stan Smiths, the sneaker, but he still can't find the one he's looking for. He has 40 pairs in 30 different styles, more or less.
The sneaker's fame — and its longevity — takes even its namesake by surprise. You see, the Stan Smith is really the most basic of all possible sneakers. Its narrow white leather body is cushioned at the front with an almost-orthopedic round toe. Its three understated Adidas stripes are nearly missable perforations, as if they don't care to be recognized, and it has just two spots of color, most classically in green: a tab on the back of the ankle and Smith's face printed on the tongue. They are essentially anonymous, the saltine cracker of tennis shoes. They were endorsed by Stan Smith just after he won his first Grand Slam singles title in the summer of 1971 and just before he won his second, and last, the next year. He was, in other words, no Serena Williams, not even a Rod Laver.
Nothing about Smith or the simple design of the sneaker itself — neither has changed much since 1971 — explains how Adidas was able to sell 7 million pairs by 1985. Or how that number had grown to 22 million pairs by 1988. Or why Footwear News named it the first-ever Shoe of the Year in 2014. Or how it surpassed 50 million shoes sold as of 2016. Or how the sneaker grew far beyond its start as a technical athletic shoe and became a fashion brand, its basic blank slate evolving and taking on new meaning and purpose.
In the United Kingdom, soccer fans in Liverpool and Manchester fight over who got into Stan Smiths first. In Greece, Smith says, where it is traditional to give babies white shoes on the day of their christening, Stan Smiths became the white shoe of choice. There's a professor of theoretical physics in Sweden who owns more than 200 pairs. Both Will Arnett and Hugh Grant have said they kissed their first girl while wearing Stan Smiths. Stan Smith the man once met a reporter from GQ Japan who told him he's worn his eponymous shoes every day for the past 13 years. (Smith's response: "I said, 'You gotta be kidding me.' ") More recently, they've been taken up by Céline's Phoebe Philo, as well as Marc Jacobs, A$AP Rocky, and North West, coming to define both a retro and minimalist movement in fashion just a few years after they were sold on the bargain shelves.
"Margie!" Smith calls out to his wife of 42 years, who's planning his surprise 70th-birthday party in the kitchen. "You know that shoe with the white bag? Do you know where that is?"
Smith's U of blonde hair is brushed perfectly down, as is his mustache, which he's had since he could grow it, except for a few weeks when Adidas happened to take the picture that would go on to appear on the tongue of every Stan Smith shoe. His red-and-gray-checked shirt is neatly tucked into blue pants that match his blue suede Stan Smiths. It's his eyebrows that stand out, the only unruly thing about him; each single hair living its own best life, swooping in and curling out, flailing like one of those blowup guys outside a car dealership, just trying to find somewhere to land.
For the community of the sneaker-­obsessed, there is an event called "unboxing" — its closest relative is porn. It goes down on YouTube: A reviewer, or whoever's first to get his hands on a new release, analyzes the sneaker from the moment he opens the shoe box. The person comments on how it looks tucked into the packaging, how it feels when touched for the first time, examining and fawning over each of its new and improved features.
Smith seems to know about this. Margie brings him the shoe, and he leans forward from his plush floral-printed chair toward the white bag, which also has his name on it, and begins the unboxing ceremony. "So this is kind of neat."
He pets the bag, rubbing it between his fingers: "This is a parachute material." He uses both hands to take the shoe box out and then slides one palm across the top. "And there's a special white box, with three stripes made of holes, just like my shoe." He opens the box: "You see this paper? They had special wrapping paper made with my signature on it." It's the same signature you'll find on all Stan Smiths; there's a single, extra-tall S that acts as the first letter for both his first and last name, a firsty-lasty so sure of itself it is ever connected in writing. Finally, he lifts the paper and pulls out the shoe. It's the very pair of structured white leather sneakers with a green back tab and three understated stripes you can't walk but five blocks in New York without seeing.
But here the leather is grayer and thicker. The picture on the tongue is different too. Smith has a mustache in it, as he does sitting in front of me today. He looks much older. "So they sent me this shoe with my current picture." He smiles wide. All his teeth show. "I like the old one better." Smith is the only person in the world who owns this pair. They were sent to him in January 2014, in the very early stages of what has become the greatest sneaker-revival story of all time.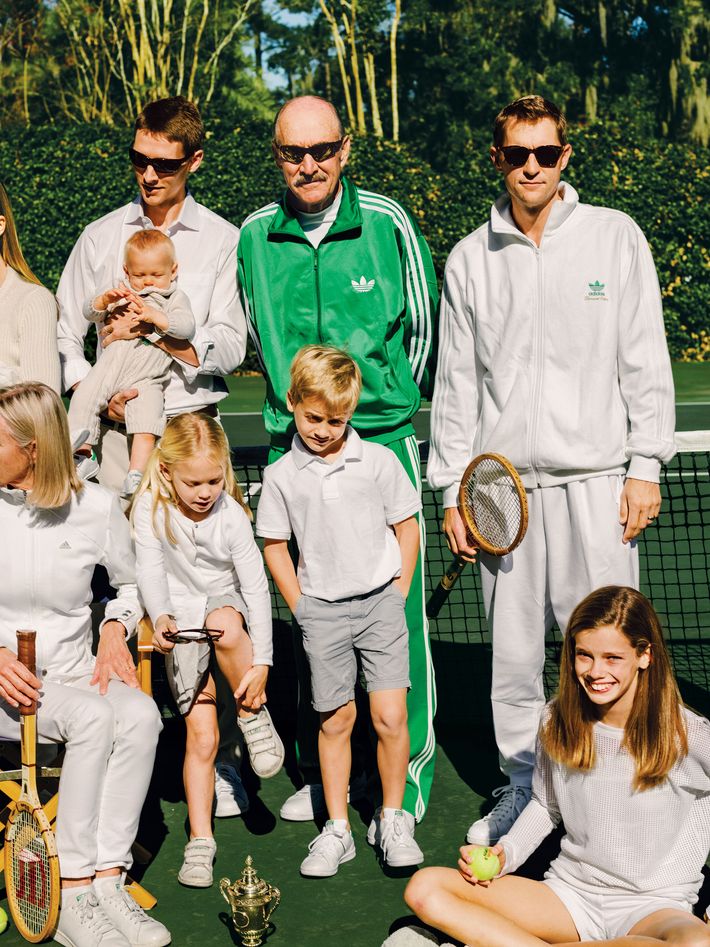 "My life, timing-wise, has been magical," Smith says from the grandpa chair in his living room. As a tennis player he was more lucky than legendary, picking up a racket for the first time in high school and only quitting basketball to pursue it full time as a senior. The year Smith turned 16, he says, the amateur-­tournament age group changed from 15 and under to 16 and under, so he remained at the top for an extra year. The year he graduated from college, 1968, tennis turned pro, so he could start making money on the same tournaments he'd already played in school as an amateur. And then, soon after his first Grand Slam singles title, Adidas happened to be looking for an American player to represent its shoes.
The sneakers weren't even designed with Smith in mind. Adidas heir Horst Dassler made them in 1965 for the French tennis player Robert Haillet. (Some juicy history: The brand that eventually became Adidas was started by Horst's father, Adi, and his brother, Rudolf. The two outfitted Jesse Owens for his four gold medals in the 1936 Berlin Olympics. But the brothers fought. Rudolf had an affair with Adi's wife, and the company split. Adi Dassler shortened his name and opened Adidas — in Europe the first syllable is still emphasized — and Rudolf left to start Puma across town. To this day, the rival sneaker companies are both headquartered in the 23,000-­person town of Herzogenaurach, Germany, where the two Dasslers grew up.) It was the most technically advanced tennis sneaker of its time, one of the first made of leather in a field of canvas, with a herringbone bottom designed for use on clay courts.
When Haillet retired in 1971, the young Dassler decided to replace him with Smith, who he thought could help anchor the brand in America. Smith wasn't a strange choice at the time: He was 24 years old, had just won the U.S. Open, and was ranked the No. 1 player in the world, and when Dassler approached him, he was about to sign with Converse in a multiplayer deal.
With his Adidas contract, Smith became one of the first American tennis players to receive an endorsement deal. It was the very beginning of the modern brand-athlete pairings that would, a little over a decade later, lead to Michael Jordan's very own Air Jordan line, and three decades after that, to LeBron James's reported $1 billion lifetime endorsement deal with Nike. But when Smith was playing, none of that existed yet. If you made it to the Roland Garros main draw, you would get "six shirts, a vest sweater, a regular sweater, socks, and that's about it," he says, counting the items off on his fingers. "You wanted to get in the main draw, so you could get the full set of clothes."
His agent, Donald Dell, negotiated the picture of Smith's face on the tongue, a savvy move that made the man inseparable from the sneaker, but Haillet's name remained on the shoe until 1978, when Smith took over for good. It was by then the premier tennis sneaker. Smith remembers being beaten by opponents wearing his face on their feet. "I didn't think it was appropriate," he says. There was an Argentine player named Ricardo Cano, Smith recalls, who was signed to another brand but wore Stan Smiths anyway and drew the other company's logo on the side of the shoes. The Stans were just that much better.
Smith retired from tennis in 1985. How the sneakers, 43 years after their creation, became suddenly ubiquitous is a case study in how "cool" is created and disseminated from image-makers to mainstream consciousness. In the mid-'90s, while Nike consumed the American sneaker market, a small circle of offbeat celebrities and influential marketing professionals latched onto the shoe as a sort of anti-fashion fashion statement, part of a Waspy, but not too Waspy, vintage style they helped pioneer: tucked-in Brooks Brothers shirts with ill-fitting corduroys or khakis. It helped if you drove a vintage Mercedes.
Stan Smiths fit perfectly with this aesthetic. Here was a shoe that you could buy new, but it looked the same as it had in 1971. The skateboarder Rick Howard wore Stan Smiths in a 1993 skate video sponsored by Girl Skateboards, a company co-founded by Spike Jonze. Mike Mills, who recently directed 20th Century Women, but back then designed album covers for the Beastie Boys and Sonic Youth, was more into Rod Lavers, another Adidas tennis sneaker from the '70s, but his friend Roman Coppola, who founded the ad agency the Directors Bureau and who later wrote Moonrise Kingdom with Wes Anderson, preferred Stan Smiths. "I've owned a few pairs over the years, but don't remember any specific movement or discussion around it," he says. His sister Sofia Coppola wore them, too. By the early aughts, branding experts such as Andy Spade, who had launched and popularized his wife Kate Spade's company, were starting to reinterpret the retro-nostalgia look for the likes of J.Crew, Warby Parker, and Shinola, to great financial success.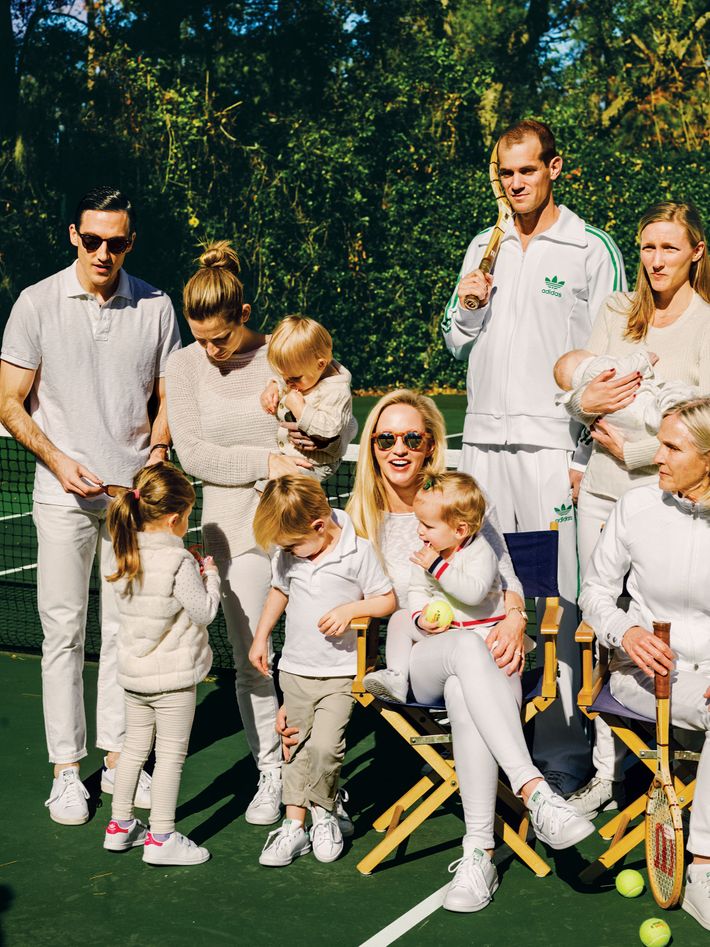 Then came Phoebe Philo, the creative director of Céline. In March 2011, Philo took her bow on the Céline runway at the end of the fall-winter ready-to-wear show in Stan Smiths along with low-slung black trousers and a gray turtleneck, hair tucked in. The timing could not have been better. Philo was at the peak of her influence and power. Every editor and professional fashion woman from New York to London to Paris was shopping at Céline between the shows. Kanye West had just name-dropped her in his comeback album, My Beautiful Dark Twisted Fantasy, and was so completely bewitched by her ideas that he performed wearing women's Céline. It was right after the label came out with the luggage bag but just before it became the only bag that seemed to matter. At this height, Phoebe Philo on the runway wearing Stan Smiths was like a gift. Here was something Philo did that everyone could copy for only $75; you could even buy a pair on Amazon. The shoes took on a new meaning. J.Crew started carrying them. The Stan Smith became fashion's most important sneaker.
At the time, though, Adidas saw things a bit differently. While the sneaker was becoming popular in the fashion world, it was still sold almost exclusively in sporting-goods stores and often at a discount. "We weren't really happy with how it was seen and where it was found," says Torben Schumacher, Adidas' vice-president of product. Adidas wanted to recalibrate how the shoe was presented.
To do that, Schumacher and Adidas decided to take the sneaker entirely off the market. "The idea of not having the model wasn't really something that went down well," says Schumacher, especially since it was just starting to get recognized by this new trendsetting crowd. (Smith's first thought: "That's interesting. I don't really like that too much.") Still, Schumacher and his team at Adidas spent a year and a half convincing the rest of the company of the merits of the plan. Adidas couldn't truly reintroduce it to a new higher-end clientele, Schumacher argued, if it was still readily available in the bargain bin. "We wanted it to get the respect it deserved and the conversation about it that it deserved and for it to be seen as a commodity item," he says. "We thought it needed something bold and drastic to prepare everyone for the story again." By the time Adidas stopped selling the Stan Smith to places like Foot Locker, the company already had a plan of how and with whom it was going to bring it back. In 2012, the sneakers disappeared.
They began reemerging, subtly but purposefully, the next year — notably in the November 2013 issue of Vogue Paris, for which Gisele Bündchen posed naked, apart from white socks and Stan Smiths ("One of our sons saw that, we had no idea," Margie says. "It was funny"). On January 15, 2014, they went back on sale in higher-end, fashion-focused stores like Barneys New York and the Parisian boutique Colette, still for under $100. They were instantly devoured. Later that year, Philo formally announced the Stan Smiths return, once again wearing them while taking her runway bow, this time with wide-leg pants and a camel sweater.
The trickle-down was immediate. In 2015, Adidas sold 8 million pairs of Stan Smiths. Adidas won't confirm how many it sold in 2016, but some industry experts throw around numbers like 15 million — more than double what it moved in the shoes' first decade of existence — the same side part and crooked smile leading them wherever they go.
Smith is the first to recognize Philo's importance. He brings her up on two different occasions over the course of our time together. "She was one of the first to start wearing the shoe," he remembers. "And then Pharrell Williams," who basically bowed to Smith when they met at the U.S. Open this summer and now regularly designs his own versions of the sneaker, as does Raf Simons. "Those cost like $400 or something, and it's the same shoe! It's really weird, actually."
For Smith, the sneakers are far more successful, monetarily, than he ever was in his tennis career, during which he made "$1.7 million, or something like that. I read it once," he says. "The shoe has certainly been more than that." In the beginning he collected an annual sum for his endorsement. These days, though, he's paid in royalties.
Smith's contract with Adidas expires about every five years (he'll sign next in 2018). So why does Adidas keep Stan Smith around? Why does it need him when it has Phoebe and Gisele and Pharrell and Raf and Kanye? Turns out this 70-year-old former tennis player, who was really more of a doubles star, who has eyebrows like the flailing blowup guy at car dealerships, is the only thing that makes its shoe the original. Which is especially valuable when everybody else in the business is trying to knock off its success.
Adidas was able to fend off a spot-on copy from Skechers, but there is no patent protection on the white leather tennis shoe. Common Projects essentially built a brand getting as close as it possibly could to the Stan Smiths and selling them for $300. Prada makes a version, and so do Rag & Bone, Isabel Marant, Saint Laurent, and Gucci. But Adidas's version has Stan Smith. "I keep telling people I'm a fashion icon," Smith says, then tilts his head back and laughs.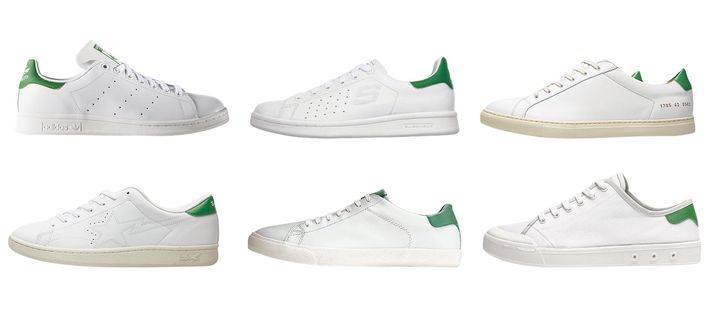 While Stan Smith the shoes are having a moment, Stan Smith the man is keeping busy as the touring pro at Sea Pines Resort, a gig he's had for the past 45 years. He has a hospitality group that plans programming during tennis majors, and he's the president of the International Tennis Hall of Fame. He's starting to work on a book about his shoe's great comeback. He has four kids and ten grandkids.
He's also the co-founder of the Smith Stearns Tennis Academy, where fifty 12-to-18-year-olds from around the world trust Smith and his coaches with making them good enough to play college tennis. These days, he gives personal lessons only when he wants to, staying after class to help players work on their serves and shouting out advice, like when to go in for the volley. All the kids call him Stan. For Christmas, he gifted a pair of signed Stan Smiths to each one of them.
And, of course, he has that endorsement deal with Adidas, where he's very likely been on the payroll for longer than anyone else working there today and where he's committed to making appearances at about eight events a year. In the past two, he's been to Dubai, Amsterdam, Athens, Tokyo, Paris, London, and New York, delighting people just by showing up.
He knows that you probably didn't know that he's an actual living person, or that if you had at one point heard that he was a tennis player, you most likely thought he was already dead. "I'd love to sit here and say the success of the shoe has been totally because I'm such a great guy or I'm such a great player or whatever. But, you know …" So what is it like when a shoe named after a man is way more famous than the man born with the name himself? To have your name mean so much beyond who you actually are? When you Google Stan Smith, only one of the first 100 images are of the man.
Once, when Smith was in Rome and he saw his shoes in all black for the very first time, he decided to buy a pair, the first time he'd ever done so. "I used my credit card," he says, looking for recognition, but "the guy was not impressed." Now he's taken to walking into the Adidas Originals store in Soho whenever he's in town and introducing himself, just to get a reaction. "The guys are surprised," he says, but "they know me now."
*This article appears in the February 6, 2017, issue of New York Magazine.