OJ Jenkins refers to herself as "She"-zekiel Elliott.
She stands about six inches shorter than her male counterpart, Dallas Cowboys rookie running back Ezekiel Elliott, but she's just as fast as him on the field, quicker even, and is at this moment bubbling over with ecstatic energy in front of a crowd in the Jostens Center at the ESPN Wide World of Sports complex in Orlando. Despite being so hoarse from coaching and playing that she can barely talk, Jenkins, whose real first name is Odessa, is leading a call-and-response chant with gusto to a group of 220 women, all of them tackle football players like herself.
"I," they say after her, "LOVE," they repeat again. "FOOTBALL!" they finish. The convention center ripples with excitement, some women up and out of their seats, hands clapping and feet stomping, like they're bearing witness at church instead of preparing for a two-day career and networking forum. The women are all dressed down in warm-up gear: red and blue gym clothes, knee socks, and slip-on sandals, and the four panelists seated onstage light up as they holler. The players do the chant again, for symmetry and emphasis. I. LOVE. FOOTBALL.
Collectively, the 200-plus players have spent thousands of their own dollars to get to Orlando from around the world, all in order to play and coach in the fourth annual Women's World Football Games. To spend a week in Orlando playing the game the way God intended — full-contact, 11-on-11, and on a regulation-size field — many of the women in the room have taken time off work, have had to hire babysitters for their kids, and have left their families behind. To sweeten the deal, and to attempt to reach their frequently alienated female fanbase, the NFL organized the first-ever women's career forum for the players — one that will put them in the pipeline for job openings at the NFL after they retire from the sport. Though the forum was optional and scheduled between and before their practices and games, on both days, almost every single woman showed up to participate. They really do love football.
Jenkins sits back down, her role as designated hype-woman finished for at least this part of the day. In her place, the woman of the hour — the NFL's director of football development, Sam Rapoport, in black jeans and a blonde ponytail — asks the players to turn their attention to the day's second panel discussion, featuring Carolina Panthers head coach Ron Rivera and Kathryn Smith, the newly former quality-control special teams coach for the Buffalo Bills. They're here to advise the group — made up of women from Russia, China, Australia, Japan, Italy, France, the U.S., plus about 15 other countries — on how to become professional coaches for the NFL.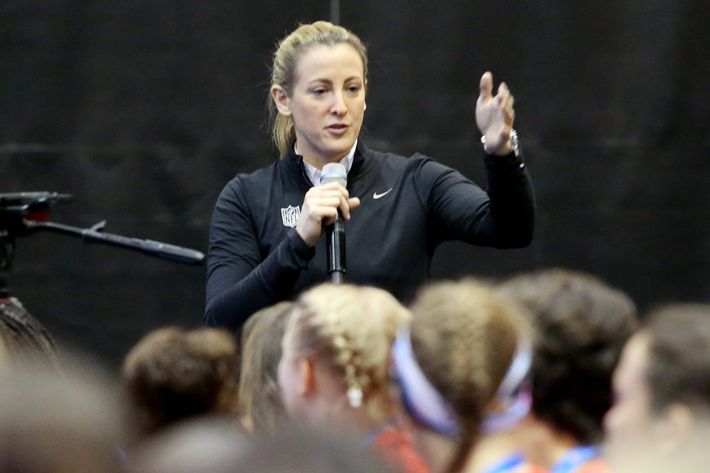 "I came in, I coached, and that's it," Smith says, when she is asked about challenges a woman might face when coaching men. "The players didn't treat me any differently or act any differently because I was a woman." Only a week after the panel, the Buffalo Bills announced that Smith, along with 13 other coaches who had worked under Rex Ryan, had been let go from the organization. The NFL had gone from having its first-ever full-time female coach to having none only a year later. Roughly 30 percent of the NFL's front-office jobs are held by women, but after Smith's departure, officiator Sarah Thomas became the only woman to hold a role in football operations. As a liaison between the women's tackle football players and the NFL, Rapoport has made it her duty to try to change this ratio. But with the league's history of alienating its female fans in mishandlings of domestic-violence cases, and with viewership on the decline, it's fair to question how much of a priority making a more gender-equitable talent pool really is for the NFL. Or if this Orlando career fair — like dripping players in pink for breast-cancer awareness in October — will do little more than be a very visual PR move to appear less hostile toward women.
In a breakout session after the panel, Ron Rivera tells a group of players, who are leaning in to absorb his guidance and taking notes in leather-bound notebooks gifted to them by the NFL, "Women are becoming a force: as customers, as clients, as viewers, as fans. You'll be the ones controlling whether the young guys play the game." He's right: As more of the sport's safety concerns are unearthed, it will more than likely be women — mothers — who determine whether their sons should play the sport at all. "Our support for you can't just be a token."
Looking around at the faces reading Rivera intently, I can tell that every woman wants so badly to believe him.
Jenkins is slight, not much taller than five-six, and wears her hair cropped and clean. When you talk to her, her face modulates fluidly between emotions — joy, excitement, thrill, concern. She, like Rapoport, knows almost everyone at the Women's World Football Games, and can't make it ten yards without someone stopping her to say hello. She engages them all, flashing a coy grin. At one point while we chat, a player interrupts to say, "She's a mean coach. I'll tell you some stories." The woman is laughing, though, and Jenkins cocks an eyebrow at her. "Oh really? I'm mean?"
Jenkins grew up in a "not so hot" area of South Central Los Angeles with three siblings and a lot of cousins. Her female cousins and sister weren't close enough in age for her to play with them, so she naturally gravitated toward hanging out with the male members of her family.
"We played football in the streets," she tells me as we walk from the career forum to the team's first practice. "It was either you were an athlete or you were a gangster. There was no in-between. At any given time, it was me and ten boys. If I wanted to play, I had to play like they did."
Jenkins's natural "in" with the boys turned into a childhood playing street football. "I was part of the 'we,' even though I was a girl. 'Hey, OJ, we got tryouts next week,'" she says. Jenkins played football through middle school, but going into high school, she knew that she had to start thinking about college, which meant putting football on the backburner and playing basketball instead. She attended Cal Poly San Luis Obispo on a basketball scholarship, but says she never stopped thinking about football. "I never lost love for the game," she tells me wistfully. "It's a truth-teller."
This romanticism over the life-changing properties of football is shared among almost every woman I meet in Orlando. Collette Smith, 45, a defensive back who started playing for the New York Sharks when she turned 42, broke into tears when I asked her what it felt like to play her first game. "I didn't recognize who I was. It was the most exciting thing in the whole world. I loved myself after I started playing football. For a 42-year-old woman to begin to love herself, I kept thinking, 'What can that do for a kid? A little girl?'" When Smith retired three years later, she took on a role at the Sharks doing PR for the team, began coaching defense, and coaching high-school boys. Football is now the primary force in her life.
Allyson Hamlin, a retired quarterback from the D.C. Divas, showed me a photo of her team meeting Barack and Michelle Obama in the White House after they won their 2015 league championship. "I've seen my dad cry twice in his life and that was the second time." Hamlin's dad, like Jenkins's male siblings and cousins, did not see the barriers and limits often foisted onto female athletes at an early age. "I was lucky because my parents always made me feel like I could do anything." This included playing tackle football, just like the boys. Or in Hamlin's case, better than the boys.
Rapoport describes Hamlin as "one of the first legends of the sport." In her day job, Hamlin is a homicide detective for the Prince George's County Police Department, which means she does little else besides play football and investigate murders. While New Orleans Saints quarterback Drew Brees made an estimated $49 million last year, unlike the male pros, every woman who plays tackle football has to maintain some sort of day job to make their passion sustainable. "There was a time in 2009 where we opened up 16 murders in the first 14 days of the year," she tells me. "I was at work for five straight weeks and I missed a lot of practice." Most of the time, Hamlin says, she's working "60-, 70-, 80-, 90-hour weeks." The guys on her squad come to see her play.
"Never have people come to watch us and not been blown away," she says. "'Oh, you're actually playing football?' 'Well, yeah, what'd you think I was talking about? What'd you think I was doing three days a week?'"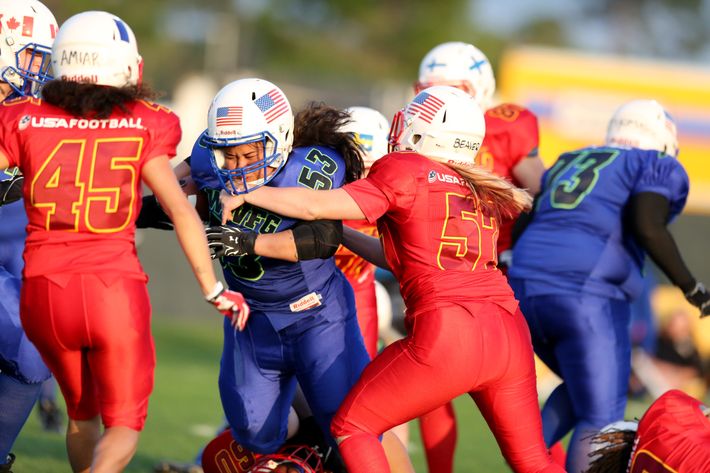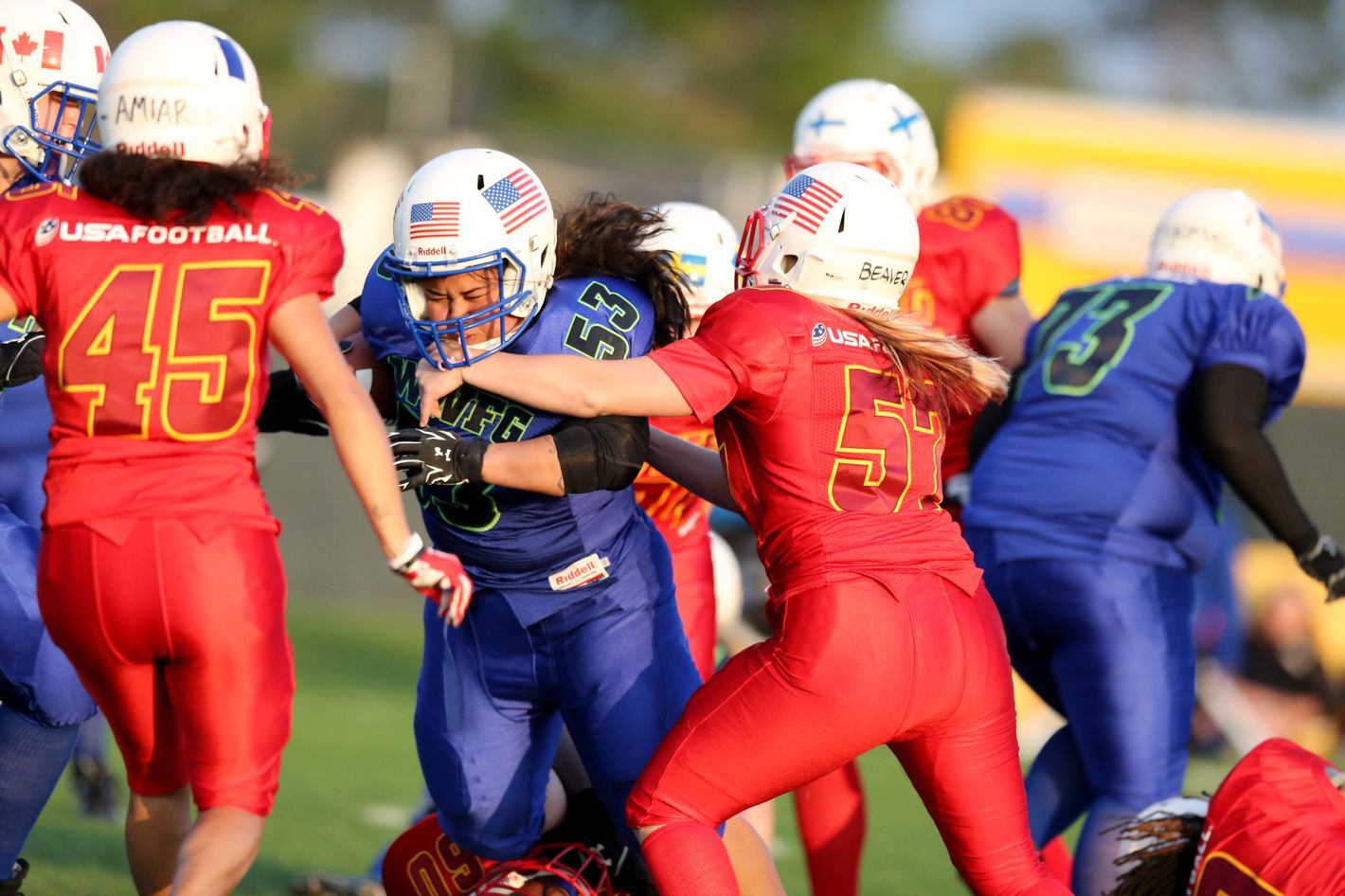 Women's football — like basketball, soccer, hockey, softball, and basically every other women's team sport — has fought for equal recognition since the first league got off the ground 17 years ago. Most people are familiar with the Legends Football League, formerly and more colloquially known as the "Lingerie League," which is exactly as it sounds: 7-on-7 full-contact football where the female players — some of them Division I athletes with years of athletic experience and talent — wear bras and underwear while they play. Mitchell Mortaza, the league's founder and chairman, has told his players, who do not get paid, "No one is here to watch you play football."
The women who have come to Florida to participate in the Women's World Football games, practice with their local teams three times a week, and play eight games in a season, compared to the men's 16. The fees to play football are, at minimum, $800 seasonally, and that doesn't count the expense of their gear, insurance coverage, and the price to fly to tournaments like this one. But their love for football is what keeps them coming back, and now, with their chance to build a post-retirement career at the NFL, the promise of the sport is even more enticing. But there are still doubts.
"Nothing happens overnight," Mori Taheripour, a negotiations lecturer at the Wharton Business School and a frequent diversity consultant for the NFL, told me between panel sessions. "We haven't seen much of a change in corporate America, and they've been going after this for forever and ever. Sports has been infinitely slower to move." The players were a little more direct. "They need us," Collette Smith tells me, a sentiment echoed by Kandice Mitchell, an assistant athletic director at Atlanta Public Schools and a linebacker on the Atlanta Phoenix: "These are the people they need to be talking to. These are the women who left their jobs, who are losing pay, these are the women who are paying to be here. We want to do it. That's half of the battle fought right there."
Scott Pioli, the assistant general manager for the Atlanta Falcons, spoke on two panels at the women's forum. "Yes, you are women," he said during a discussion on player pathways into scouting jobs, "but there are plenty of men in this business who have less experience than you." This fact gets repeated all week — the NFL may be an organization overrun with men, but not every man working in the NFL has actually played football. The women gathered at the forum all had hands-on — even heads-on — experience, which could be invaluable to understanding coaching, the game, the field, and the players.
But is the NFL, an organization plagued by controversy and reputational missteps over the past several years, particularly with incidents that have all but alienated women, even equipped to handle gender diversity in the league? Women account for an estimated 45 percent of the NFL's 150 million fans, and female viewership was, over the past few years, at an all-time high, but has recently begun to slip again. Do these women actually need the NFL to succeed? Or is it, like Smith pointendedly says, the NFL who needs them?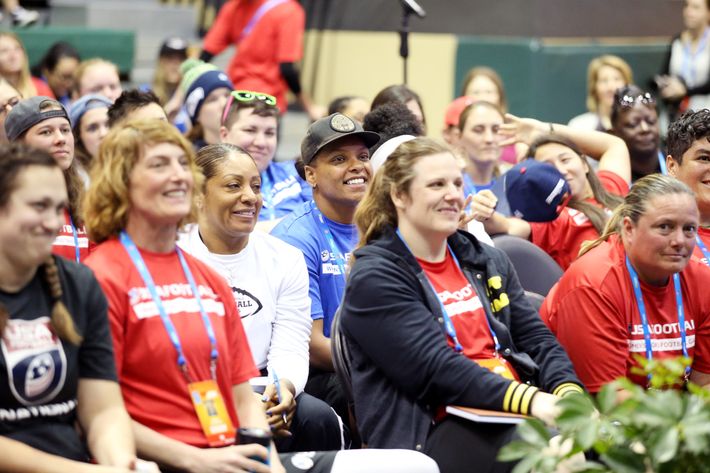 In 2014, former Baltimore Ravens running back Ray Rice coldcocked his then-fiancée in an elevator, video of which surfaced on TMZ four days later. NFL commissioner Roger Goodell suspended Rice for two games for the incident, claiming later that he "didn't get it right" about Rice's suspension. In interviews with the Washington Post following the mishandling of the case, two women who had been married to NFL players said that the league was in the business of covering up cases of domestic violence. The pair described the NFL as an "intensely secretive organization, where loyalty extends only in one direction — everyone protects the NFL brand, but the NFL protects its own interests over everything else." As a response to the fallout from the Rice case, the NFL instituted a baseline six-game suspension domestic-violence policy, one that league officials have been lenient with on more than one occasion. The policy has only been in place for barely three years of the league's 96-year history.
Add that to the increasingly troubling safety concerns impacting the number of boys (and girls) just playing the sport, the league's consistent issues with underpaying and undervaluing its cheerleaders, its flimsy outreach and social-awareness campaigns for cancer and domestic violence, and it's any wonder that women would want to play football — let alone work for the game's reigning league — in the first place.
And yet, in Orlando, on the field, I meet a mother-daughter duo from New Zealand who flew all the way to America to take part in the Women's World Football Games, with the hopes of one day potentially turning their current hobby, in a country where American football is all but unheard of, into a career. Twenty-one-year-old Aroha Tulloch tells me her dream is to one day move to America to play football.
"To come here and play where this sport was born? That would be huge."
"You think all those girls are dykes?"
On the bleachers along the sidelines of the women's practice field, a small crowd of high-school football players in maroon and white warm-up gear are gathered.
"Heyyy-ll yeah," one of the boys responds, causing the whole group to erupt into performative giggles. I had been watching the women practice, and was surprised to hear the boys could even tell the players were women on first sight: After all, it's hard to discern what gender a person is under all the protective gear football players are required to wear. Women's tackle football follows almost exactly the same rules and regulations as men's football, which means helmets, shoulder pads, girdles, the whole nine yards. There are very few immediately distinguishing characteristics.
The boys, who had come to Pro Bowl Week with their football team from Houston, didn't chuckle for long. I asked a tall boy next to me if he'd ever watched women play football before. "Dude," he responded, crinkling his face, "I never knew that girls even wanted to play football."
It's a good question. Why would a woman want to play football? The reality for so many female athletes is that the opportunities for long, meaningful, and well-paid careers in their sports are practically unheard of in comparison to men's. When the career forum concludes, Rapoport encourages the players to begin shaping up their résumés and really sit down and consider why they would be interested in working for the NFL. But after seeing the incalculable wealth of talent and passion for football that these women possess, the more pressing question is, well, what would be in it for them?
"I know for a fact that I'm ready to be a coach in the NFL. I know for a fact that I can do the job," Jenkins told me, and I don't doubt she's right. "I want to be the head coach of the Dallas Cowboys," she says, a nod to her NFL analogue's home team. "It's my destiny."
Back on the field, the pimply teen boys explode into a chorus of "OHHHHH" as a linebacker delivers a debilitating hit to the opposing team's tight end. "All power to them girls," the tall boy says to me, and as he talks, a charmed smirk appears on his face.