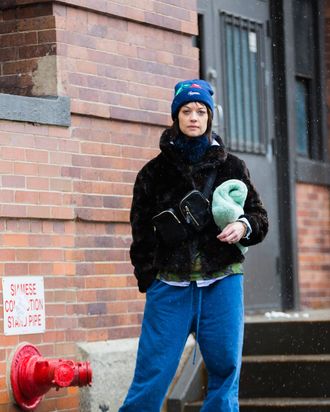 Photo: Nabile Quenum/Nabile Quenum
Street style: What is it?
If I am on the street, does that mean I am participating in street style? If I just conveniently need to pick up a roll of Tums at a bodega in the Meatpacking District and a rogue "photog" captures me wearing my street clothes, could I be a street -style star? Is the economy of street style sustained by my laconic daily clicking-through of street-style slideshows during Fashion Week, which happens to take place 57 weeks a year? Shouldn't I be doing my job instead of looking at people wearing purposefully askance finery in urban settings? Is street style a job?
I work at this website, and still, I don't know.
But what I do know is that clicking through street-style slideshows has led me to find the first ever (unofficial) Dirtbag Fashion Icon, and for that, I would be willing to get fired from all the jobs in the world.
The three founding principles of Dirtbag Fashion are: be comfortable, be weather-appropriate, and don't follow anyone's rules. For Laura Cassidy, who seems to work for Trump's least-favorite retailer, Nordstrom, all three of these tenets are exhibited with what your mom might call, "Capital-A attitude." She combines generous denim sweatpants, Timberlands to jump over the sludge, a fanny pack worn across her chest (so that wallet, roll of Tums, and phone are easily accessible), and several layers of "men's" shirts in camouflage and pinstripes — all under a furry jacket. I think Cassidy is also carrying a clutch that looks like a spare towel for mopping up wet countertops. I can't count the number of times I've needed a towel and not had one at the ready.
To warm her neck, Cassidy threw on a deep blue loop scarf (technical term) and a Supreme beanie for her head. Her face is saying, "I hate you," and her body posture is also saying, "I hate you," but face, body, and outfit together telegraph, "But I'm comfortable and warm, which is more than most of these bitches around me." Through the hundreds of thousands of street-style photos I've clicked through in the several dozen fashion weeks that happened this month alone, Laura Cassidy is the first street-style star with whom I feel a cosmic connection, because for her, comfort appears paramount. Laura, congratulations. When fashion people talk about "street style," I'm pretty sure (?), they're talking about you.