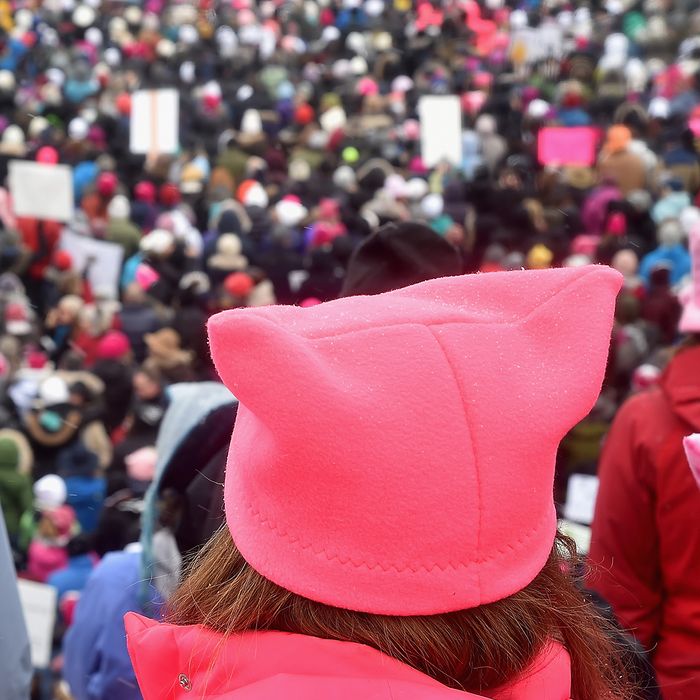 Photo: Alberto E. Rodriguez/Getty Images
It's happened: A parent has complained to officials at a Long Island high school about the presence of the pink so-called "pussy hats" on campus. After a newly founded club focusing on women's issues began selling the hats during lunch, a parent complained to the school staff about the presence of politics on campus. As a result, the student group has suspended the selling of the pink hats, according to NBC 4.
The ubiquitous pink hats that women wore at the Women's March on Washington and in "sister marches" nationwide have become a multi-cause symbol of solidarity for many. Though they're not associated with any particular political organization, their presence at the Women's March and adoption by many feminist and anti-Trump activists has lent the hats a malleable, political tint that's "pro-woman," at the least. To one of the students, though, the hats are more than just "politics." "The hat represents feminism and equality for all," Isabel Peters told NBC 4. Still, the hat's political undertones irked at least one parent at Pierson Middle-High School in Sag Harbor. "During lunchtime, I don't want my daughter subjected to a political issue at school," Janice D'Angelo told NBC 4 after filing a complaint with the school.

It's unclear whether the students will continue their fundraiser off school grounds.