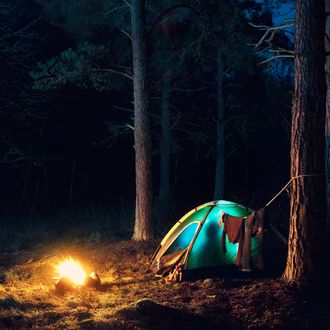 Photo: Per Mattisson/Getty Images
You know what sounds pretty good right now? Being surrounded by the coziness of some big, tall trees, preferably if those trees cut off access to cell reception. In addition to forcibly separating you from Twitter, sleep researcher Kenneth Wright of the University of Colorado, Boulder, claims that a sojourn into the woods will help you sleep better, too.
The Guardian reports:
Wright sent five hardy colleagues … on a six day camping trip to the Rocky Mountains one December. They left their [flashlights] and gadgets behind, and had only sunlight, moonlight and campfires for illumination. The campers went to bed on average two and a half hours earlier than they did at home, and racked up nearly 10 hours of sleep per night compared with their usual seven and a half hours.
Caveat: This was a tiny experiment, and a follow-up was not much larger. Derk-Jan Dijk, the director of the University of Surrey's Sleep Lab, sounded mildly skeptical in his comments to the newspaper, and cautions against reading too much into these findings. "I don't think the take-home from this study should be 'let's go camping,'" Dijk told The Guardian. Instead, he advised, the takeaway is the common-sense notion that we "should look carefully at the environment in our homes and our bedrooms, at the light and temperature in the evening, and see how that affects our decision to go to sleep." Even indoor kids can take that advice.