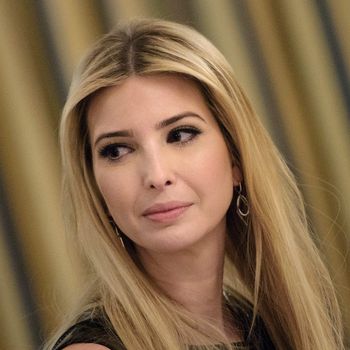 Department stores are dropping Ivanka Trump's line.
Photo: BRENDAN SMIALOWSKI/AFP/Getty Images
Just a few days after news broke that Nordstrom and Neiman Marcus are dropping Ivanka Trump's line, the New York Times reports that T.J. Maxx and Marshalls are also moving to distance themselves from the first daughter's brand. A note from TJX Companies, the parent company of both stores, literally told employees to throw Ivanka Trump signs in the garbage.
"Effective immediately, please remove all Ivanka Trump merchandise from features and mix into the runs," the note read. "All Ivanka Trump signs should be discarded." ("Runs" are the clothing racks where the majority of items hang.)
A spokeswoman for the company confirmed that the note had been sent out, but said it didn't mean Ivanka Trump products would totally disappear: "The communication was intended to instruct stores to mix this line of merchandise into our racks, not to remove it from the sales floor," she said. "We offer a rapidly changing selection of merchandise for our customers, and brands are featured based on a number of factors." She declined to say whether it was unusual to tell employees to throw away a brand's signs.
Both Nordstrom and Neiman Marcus have said they dropped the line based on its sales performance, and Ivanka Trump's company has commented on the Nordstrom news. "We believe that the strength of a brand is measured not only by the profits it generates, but the integrity it maintains," a spokesperson for the line said. Trump also jumped into the fray, defending his daughter the way he knows best: on Twitter.
Ivanka, meanwhile, has remained silent, although back in October she seemed surprised that anyone would want to boycott her clothing line because of things her father has said and done. "I prefer to talk to the millions, tens of millions of American women who are inspired by the brand and the message that I've created," she said, adding that she's "never politicized that message." Hmm.