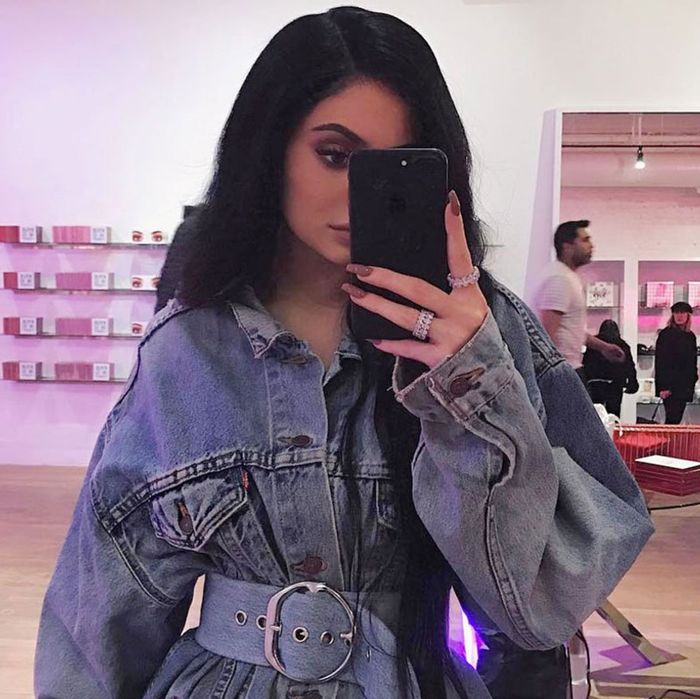 Kylie Jenner at the pop-up.
Photo: kyliejenner/Instagram
At 10:19 a.m. on Monday, the line for the Kylie Jenner Pop-up Shop on Mercer Street snaked up and down the block and all the way around the corner. It was roughly ten times longer than the queue for Kendall Jenner's V magazine signing last Friday, and about one million times longer than the one for the last Supreme drop. Thousands of girls who looked young enough to still be in school packed tightly together for a chance to get into the store, which was supposed to open to the public at 10 a.m. By 10:21 a.m., Kylie had yet to throw open the Pepto-Bismol pink doors, and an icy gust of wind set off a ripple of high-pitched yelps through the crowd. At 10:23 a.m., it started to snow.
But the Kylie fans would not be deterred. On Sunday night, Kylie implored her followers on Instagram to "Spend it all at the pop up !!$$$", so the huddled masses prepared to wait as long as necessary to pick up lip kits, hats, and sweatshirts bearing catchphrases like "THICK!" Standing about 500 feet from the doors, one tween wearing expertly applied "Peachy" Kyshadow pleaded with her mother for just one more hour.
Kylie, 19, earned an estimated $18 million last year, almost half of which came from her Kylie Cosmetics line of lip kits, Kyshadows, and Kyliners. She earned the rest from her Kylie Shop clothing, endorsement deals, and Keeping Up With the Kardashians. Kylie's expert merchandising strategy has made her the second-most successful woman in her family (next to Kim) and one of the most bankable TV personalities in the world. When she releases new lip-kit colors online, they sell out in seconds. Fans braved the cold this morning because they knew it might be their only chance to purchase items from Kylie's "Valentine's Day" drop.
On the corner of Mercer and Canal, five teenage girls wrapped up in parkas chatted animatedly in line, waiting for the shop to open. "My feet are freezing off," Emma Cupolo, 16, cried. "I can't even feel my toes anymore." Kahlah Shine, 19, threw her hands up to the sky, as if to summon the god Kylie, herself. "The things we do for Kylie Jenner, we are standing in the snow," she sighed. "I lost circulation in my fingers, but it's okay if I get a picture with her." The girls giggled. Emma and her sister Haley, 14, copped to cutting class for the event.
"Our school, they like, called our parents and stuff, but my mom already knows we're here," Emma confirmed. "It's Kylie Jenner!" Haley offered, as a definitive explanation.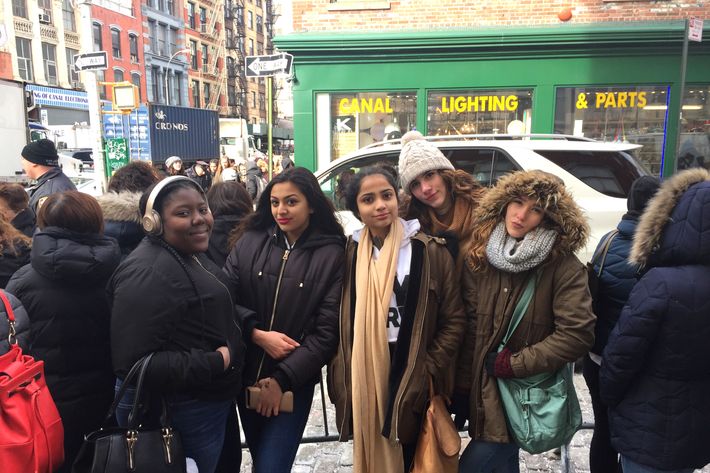 Avni Deshmukh, 13, and her sister Sara, 15, told me that they were visiting on a break from school in London. Both cited Kylie's entrepreneurial streak as inspiring. "It's so weird that she's like, a teen CEO," Avni said, eyes widening.
The girls agreed that Kylie is one of their top-three favorite celebrities. Beyoncé and Nicki Minaj round out "the trio," Avni decreed. What about Kim Kardashian? I asked.
The council demurred diplomatically. "I prefer Khloé, 'cause she changes people's lives with her TV show," Haley answered, referring to Khloé Kardashian's controversial weight-loss reality program Revenge Body. "She inspires me," Emma agreed. Of all the Kardashians, Kylie and her supermodel sister Kendall have had the biggest presence at New York Fashion Week so far, but the whole family will likely attend Kanye West's Yeezy show later this week.
Inside, the Kylie fangirls hoped to purchase "everything." Kahlah had her eye on an orange sweatshirt with flames on the sleeves, while Haley planned to pick up a "SO LIT" T-shirt. Avni favored a white tee emblazoned with one of Kylie's most memorable quotes: "LIKE, REALIZING STUFF." At the beginning of last year, the reality star declared in a video on her eponymous app, "I feel like this year is really about, like, the year of realizing stuff. And everyone around me, we're all just, like, realizing things." In a way, it was.
"She's so philosophical," Kahlah noted, and the crew agreed. By this point, the line had yet to move, so I wished them good luck and headed for warmth.