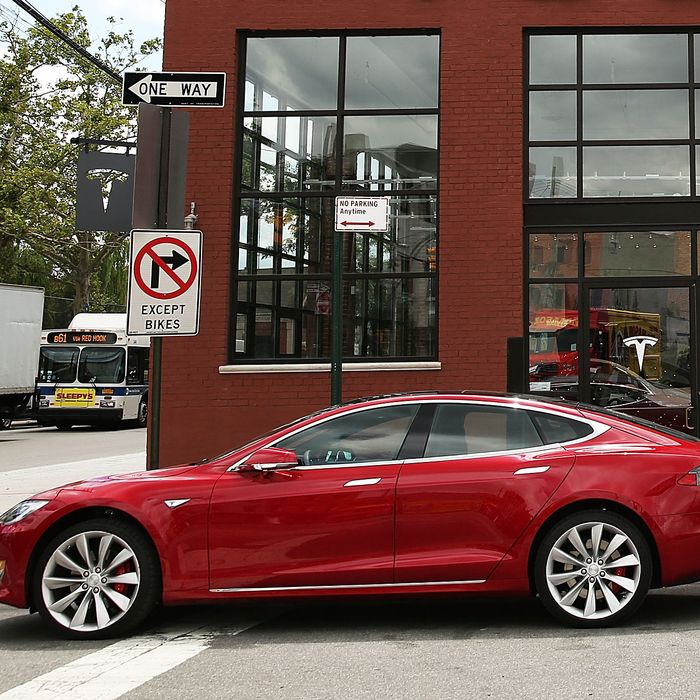 Tesla.
Photo: Spencer Platt/Getty Images
A female engineer at Tesla, the car company led by Elon Musk, has sued the company, alleging "pervasive harassment" that ranges from being paid less than men to working in an environment where inappropriate sexual behavior is tolerated.
AJ Vandermeyden talked to the Guardian about her personal experiences at the car manufacturer, where she is still employed as an engineer:
Vandermeyden recounted to the Guardian an incident in 2015 when she said a group of roughly 20 men standing on a platform above her and a female colleague began taunting as they walked past.

"They all started hooting and hollering and whistling," she said. "That can't happen without somebody noticing … It's disturbing."
The inappropriate sexual comments weren't the only problems at Tesla, Vandermeyden alleges. She began working at the company in 2013, and when she was promoted to a department dominated by men, she claims that she was paid less than her male colleagues for equal work.
Vandermeyden told the Guardian that whenever workplace issues arise at the company, Tesla's response is usually "We're focused on making cars. We don't have time to deal with all this other stuff."
Vandermeyden filed her complaint last fall and much like the recent allegations of former Uber employee Susan Fowler, she claims that when she brought up the "pervasive harassment" with higher-ups, she was told "she needed to achieve a performance standard in the factory that was unattainable and not expected of male engineers," the Guardian reports.
When approached for comment on Vandermeyden's suit, Tesla sent the Guardian the following statement: "[Tesla] understands the importance of fostering an inclusive workplace that is reflective of the communities we call home," while acknowledging that "there is more we can do to promote diversity." They continued, "As with any company with more than 30,000 employees, it is inevitable that there will be a small number of individuals who make claims against the company, but that does not mean those claims have merit."
Vandermeyden still works at Tesla and says she doesn't want to leave, but she has concerns that that might change. Meanwhile, Elon Musk recently denied claims of labor abuse and dismissed efforts by Tesla employees to unionize.
UPDATE 3/1/2017: A Tesla spokesperson has sent the following statement:
"Tesla is committed to creating a positive workplace environment that is free of discrimination for all our employees. Ms. Vandermeyden joined Tesla in a sales position in 2013, and since then, despite having no formal engineering degree, she has sought and moved into successive engineering roles, beginning with her work in Tesla's paint shop and eventually another role in General Assembly. Even after she made her complaints of alleged discrimination, she sought and was advanced into at least one other new role, evidence of the fact that Tesla is committed to rewarding hard work and talent, regardless of background. When Ms. Vandermeyden first brought her concerns to us over a year ago, we immediately retained a neutral third party, Anne Hilbert of EMC2Law, to investigate her claims so that, if warranted, we could take appropriate action to address the issues she raised. After an exhaustive review of the facts, the independent investigator determined that Ms. Vandermeyden's 'claims of gender discrimination, harassment, and retaliation have not been substantiated.' Without this context, the story presented in the original article is misleading."