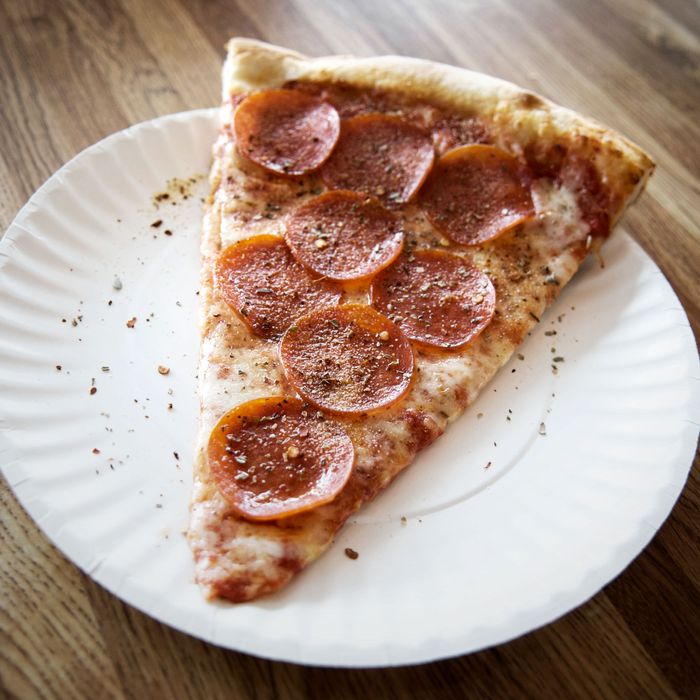 Photo: picturegarden/Getty Images
Get Sex Diaries every week.
New York's Sex Diaries series asks anonymous city dwellers to record a week in their sex lives — with comic, tragic, often sexy, and always revealing results. This week, a recently heartbroken account executive who's usually attracted to men who won't be in New York long-term: 27, straight, single, UES.
DAY ONE
3 p.m. I cancel my spin class for tonight because I'm feeling bummed. I just found out my best friend is moving away from the city for a great job in two weeks. I text Liam, a British guy I see once every couple of weeks, and tell him I'm in need of a cuddle and an orgasm. He says he can help.
Liam and I met on a Tinder date a few months back. Initially I was really into him but once I got the hint that he wasn't looking for a relationship, I scaled back my expectations — we've fallen into a pretty comfortable place of being friends with benefits.
7 p.m. Liam comes over to my place. We drink wine, watch TV, smoke weed, and fuck. The sex is some of the best I've had in years; our bodies just work together. He makes me come hard, first by going down on me, and then through sex, when he comes inside of me. We both know how much better it feels without a condom.
I have an IUD for birth control, which means I'm not as concerned about getting pregnant. I should probably be more careful — but the IUD gives me a lot of security.
DAY TWO
6:30 a.m. Liam is really sleepy this morning so I check last night's texts. There's a text from Ethan, this French guy I was seeing over the summer, saying that he's horny and wants to get together. I lie and tell him I was at a work event late last night. I ask Liam if he's too tired for morning sex, and he responds by climbing on top of me. That's what I thought.
Noon Ethan is texting and telling me how hard he was last night. He asks to see me tonight, but I tell him I'm busy. He says "next time" and sends a kissy-face emoji. Ethan and I met on Happn, the other dating app I sometimes use. I slept with him the first night we met for drinks. His French accent makes him so attractive to me. He always texts with names like "cutie," "sweetie," or "hottie." He's really only in it for the sex and that works for me.
8 p.m. I have plans tonight to meet Dylan, the super-smart British guy I've been out with a couple of times. He has a Ph.D. so I'm sure my DVR queue full of Real Housewives would not impress him.
He and I met on Tinder a few weeks back and got to talking about the U.K. (I've always wanted to move to London and I visit at least once a year.) He's in town on a work project until April. I have a real habit for guys who aren't in New York long-term, which really isn't a great strategy since I'm looking for a relationship.
It's our third date. We're going to a bookstore and then for drinks — the Strand, then a dive bar in Union Square. We have a few beers, and he seems to open up a bit more with each drink. We kiss and flirt, but it's really not doing much for me. He's not a great kisser; plus, he has a ton of chest hair. On what date is it appropriate to ask someone to shave their chest?
10:30 p.m. Home alone in bed.
DAY THREE
7:45 a.m. On my way to the office because I have a prospect meeting at 9 a.m. I work at a marketing software company in the sales department — I'm a sales rep that sells to other businesses.

Last night was fun, but I'm just not sexually attracted to Dylan, which is a deal-breaker.
2 p.m. I have a Tinder date with Eric tonight. We have a great back-and-forth banter — I'm immediately interested. One of the sexiest things a guy can do is suggest a time and place to meet up. It's so refreshing. He suggests a bar in the West Village at seven. I can't wait, especially because I've been thinking about my ex a bit.
My ex lives two blocks from me. I worry about running into him just about every time I leave the apartment. I thought he was the love of my life. Moving in together, marriage — all things I thought were in our future. Until one night he didn't come over as planned and I walked into his apartment to see him fucking another girl. It was a pretty ugly conscious-uncoupling, and now I've got some issues letting a guy get close to me. Seems easier not to at this point.
He and I were together for a year. We fell in love really intensely and really fast — just the way I thought it was supposed to happen. Walking in on him and her was such a shock. It changed me; it changed everything.
I found out it was a girl he knew, one I had asked him to stop texting because I had a bad feeling about it. But the funny thing is, cheating isn't as black-and-white as I thought. I really struggled with whether or not to move on. After some therapy and time to think, I knew we had to break up. I didn't want to be a part of a broken thing anymore. I still wonder if I made the right decision. I think I did.
4 p.m. Eric has to cancel our date. He seems really sorry and wants to meet up soon. He works in finance and says Trump's tweets are making his work schedule unpredictable. Grateful that's not my life.
11 p.m. I planned on having one drink at the office for a co-worker's birthday and heading home for an early night, but we end up staying at the office and drinking until ten. I get two slices of pizza on the way home and pass out in bed.
DAY FOUR
8 a.m. I'm hungover and feeling gross.
5 p.m. Power through the day and actually feel productive. Peel out of the office to get in a workout and make myself feel human again. I book a boot camp on ClassPass near the office so I can sweat out the week and feel strong. I text Ethan — he's always good for a short-notice hookup. Ethan says he's meeting friends for drinks but would love to see me later.
10 p.m. I'm drinking a glass of red wine and watching a Netflix documentary. I'm craving Ethan's going down on me, then fucking me from behind.
11 p.m. Ethan's on his way home from drinks so I agree to come by his place in a bit (he lives five blocks away; it's almost too convenient). Homeland doesn't last long before he's going down on me on the couch. He never stops complimenting my body.
Once we're in his room, he continues going down on me until I pull him up on top of me. He fingers me for a while, then puts his mouth on my tits. He's very giving and always wants to make sure I feel good.
Finally, he pushes inside of me and puts one of my legs over his shoulder, caressing my thigh the whole time. I love how deep inside of me he can get.

1 a.m. We lie in bed and chat, then fall asleep naked and spooning.
DAY FIVE
7 a.m. Ethan's not someone I have great conversation with, so I don't usually hang around in the morning. I got what I came for, as did he. It's a nice little arrangement. Before my breakup, I wasn't dating this actively — I met my ex on Tinder a couple of weeks into starting with online dating. I think in some way I'm dating so often as a way to try and replace that person in my life.

I start to sneak out of Ethan's with a kiss and he spanks me on the butt. I walk the five blocks home, take two hits of my vape pen, drink a big glass of water, and crawl into bed. It's entirely too early to be awake on a Saturday morning.

4 p.m. Dylan asks if I want to hang out this weekend. I make up a lie about not being able to.
6 p.m. Meeting friends for drinks in a bit and texting with Liam. It's rare he wants to meet up on the weekends so I'm intrigued …
11 p.m. I'm home from drinks and Liam is on his way. I text him and tell him that I can't wait to suck his cock. He goes crazy for that. He's so good at sexting. He says he can't wait to feel his tongue on my pussy. I'm wet. Small talk doesn't last long — soon Liam is pushing me against a wall in my bedroom and slipping off my thong. I love that he has to have me immediately.
Sex standing up is tiring — he spins me around until I'm flat on my back in bed. He starts to go down on me, and I come quickly because I'm already so turned on. I'm very lucky that I have guys who enjoy going down on a woman. It's the only way I can come.
DAY SIX
10 a.m. Liam and I have morning sex. It's okay — he comes inside me after a few minutes on top. I like that he knows when it's time to leave. He gives me a kiss on the way out.
2 p.m. I go to yoga and am catching up on some work. Eric texts that he's around tonight. Do I wanna get drinks around 7:30? I think that sounds excellent.
10 p.m. Eric and I have a great time. We really connect and get into some deep conversations. We talk about music, our tattoos, art (he used to go to art school), and our families. We have a lot in common, but he's unlike anyone I've ever dated. He didn't graduate from college and surprisingly that doesn't bother me.
He's cute, a gentleman. We go to a couple of cocktail bars and get pizza — very New York. He tells me about his past and I tell him about my ex. Most of the time when I tell people what happened they can't believe it; he's no different. I haven't told any guys I'm dating about my breakup, which was about a year ago, but Eric seems so genuine. We kiss slow and sweet at the last bar and he puts me in a cab home. In New York, though, you can have an amazing time and never hear from someone again. I promise myself I won't get my hopes up, even if I am geeking out to Taylor Swift on my buzzy cab ride home.
1 a.m. I fall asleep thinking about kissing Eric again.
DAY SEVEN
6:45 a.m. I wake up to a text from Eric with a song for my morning, a cover of my favorite band doing a cover of "No Scrubs." I've heard it before but the gesture is sweet. Nice touch, Eric.
2 p.m. Eric texts that he's been thinking about last night, that it wasn't long enough. I agree and we make plans to get together this week. I have a good feeling about this one.
7 p.m. I meet my gay friend Nick for Mexican. I can always share my juiciest stories about the people I'm sleeping with — he loves to hear the details. He decides that Eric is cute, and I'm glad to have his approval. Eric texts to see how my day was. Already, I can't wait to see him again.

Get Sex Diaries every week.
Want to submit a sex diary? Email sexdiaries@nymag.com and tell us a little about yourself.