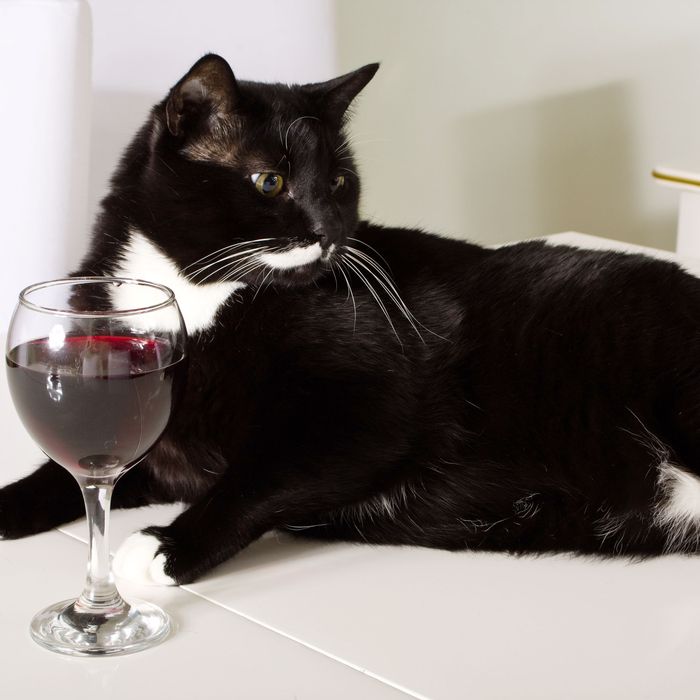 Photo: Branislav Ostojic/Getty Images/Hemera
Back in 2013, a Japanese company began manufacturing wine for cats. A few years later, a similar product emerged Stateside. But if you thought we'd all be able to occasionally enjoy a glass or two of Pinot Grigio peacefully with our feline friends without being subjected to the infighting between cat-wine companies, alas, you were mistaken. The New York Times sheds light on this drama in a new story about the most savage, competitive industry that does not need to exist.
On one side of the ring is Brandon Zavala, who started Apollo Peak two years ago and says that he got the idea of "out of nowhere." The Times describes the alcohol-free wines as "liquid catnip"; his product gets its coloring from beets. His competitors are Taryn Nahm and Kai Pfretzschner, a couple who founded Pet Winery in July 2016.

"I don't mind competition," Zavala told the Times, "but they have cloned our products." Meanwhile, Nahm says their product is differentiated by their use of salmon oil. (This is when you picture a cat swirling a tiny wine glass in her paw, sniffing it, and declaring it "fish-forward.")

And the competition does not stop at cat wines:
Both companies have expanded into the dog wine market: Apollo Peak brews chamomile and peppermint in water. Pet Winery adds salmon oil and bacon extract.
For what it's worth, the Times conducted a taste test with actual cats, who seemed disinterested at best — and likely disgusted with their human overlords at worst.