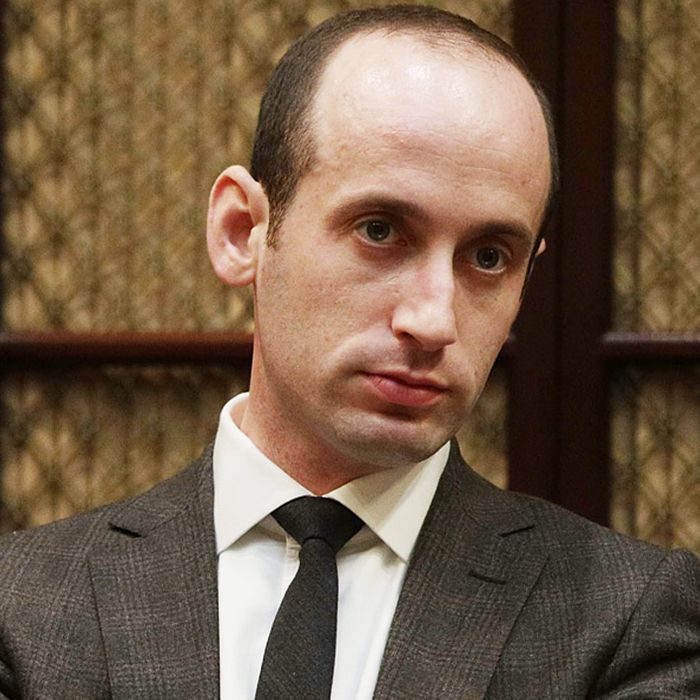 L: Mark Hunter, a.k.a. the Cobrasnake; R: Stephen Miller a.k.a. No Nickname We Are Privy To.
Photo: Getty Images
The year was 2006. Donald Trump was the host of The Apprentice, the Cobrasnake was the premiere photographic chronicler of hipster parties, and I was woefully unaware of how to best style my bangs. Today, Donald Trump is the president of the United States, the Cobrasnake is somehow back in the news, those two things are miraculously connected, and I'm still not sure what's going on with my bangs.
Let's unpack this.
What was the Cobrasnake again?
It was a site of party photos shot by Mark Hunter, who also went by the moniker "the Cobrasnake." Recurring themes included American Apparel apparel (R.I.P.); the MisShapes; Hunter's muse, a teen named Cory Kennedy; women with low BMIs; sweaty hair; and general inebriation. The site is still up, but its popularity has significantly waned since its mid-aughts heyday. In what is actually a very predictable career evolution, Hunter is now trying to become a fitness guru.
Why exactly are we talking about it again?
Following a recent television appearance by Donald Trump's senior policy adviser (and former communications director for then–Senator Jeff Sessions) Stephen Miller, a 2002 video of Miller giving a speech while running for a student-government position at Santa Monica High School surfaced. In it, a young Miller said, "Am I the only one who is sick and tired of being told to pick up our trash when we have plenty of janitors who are paid to do it for us?" He offended many students — one says 4,000 people booed him — was thrown offstage, and did not win the election.
What does this have to do with the Cobrasnake?
Mark Hunter was elected vice-president in the same election. He can be seen giving a speech in the center of the photo below:
What does Hunter have to say about all this now?
Hunter is not pleased with Miller's current work, based on the following statement he gave to Pitchfork:


I was friendly with Stephen Miller when we were both awkward, Jewish 7th graders at Lincoln Middle School in Santa Monica, and I knew him at Santa Monica High School. Samohi was very diverse, which I loved, but it always seemed to bother Stephen and make him mad. At Samohi I learned how to be friends with people who are different from me and it made me a better person.

The Cobrasnake and Cobra Fitness Club have always been about inclusiveness and acceptance of all people. I'm really lucky to have so many friends who have different sexual orientations, genders, races, religions and backgrounds. It is terrible that Stephen is working with President Trump to hurt my friends and make their lives harder.

Stephen wrote a message in my yearbook. He told me to vote for Bush in '04 and for Bush's daughters in '16, '20, '24 and '28, and he also said that he was thankful that I always appreciated his humor. Looking back on it, I don't think I did appreciate his humor in high school. Excluding people or rounding them up because of their backgrounds wasn't funny then and it isn't funny now. It's horrible.

Say, whatever happened to Cory Kennedy?
Based on her Instagram, she seems to be having a pretty nice time.