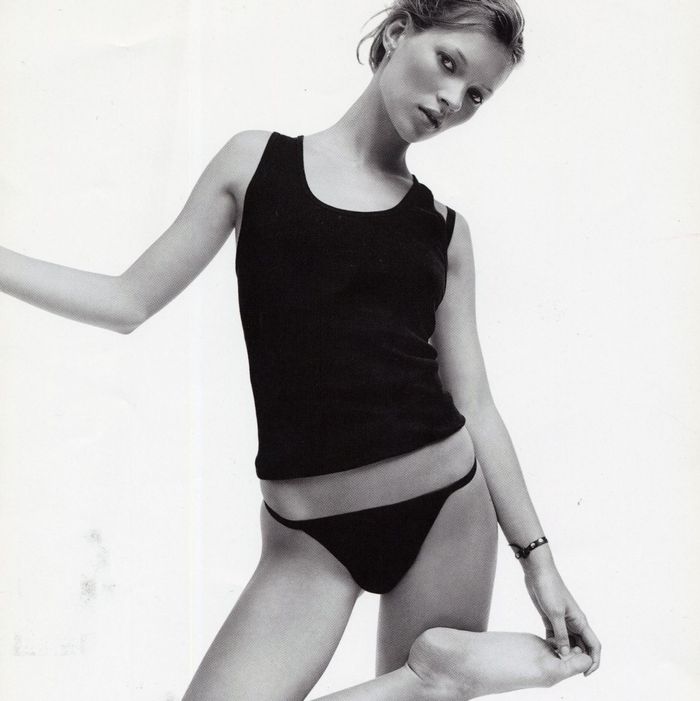 When Calvin Klein's new creative director Raf Simons unveiled his debut ad campaign last month, Instagram (or at least the glamorous section reserved for fashion commentators) exploded. Not only was it the first look at the brand's new made-to-measure label, but it also happened to feature Stranger Things starlet Millie Bobby Brown, among a host of current top models. To understand what this means for the brand, it's helpful to cast your mind back to the time of Stranger Things; the '80s, to be precise, when Calvin Klein the label was just 12 years old (coincidentally, the age Brown is now).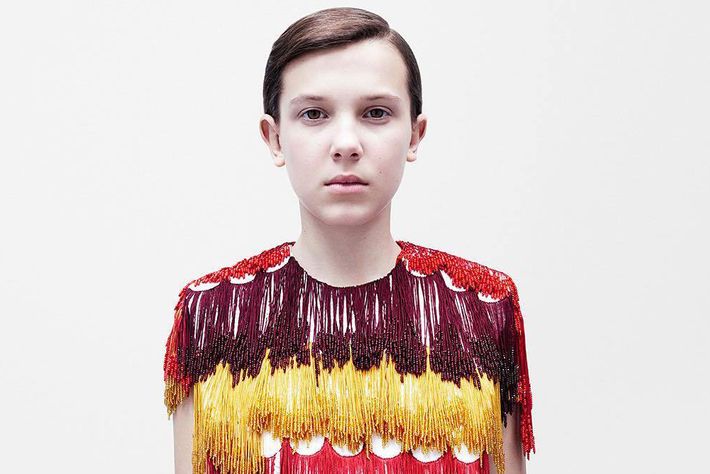 It was 1980, and eponymous designer and provocateur Calvin Klein cast Brooke Shields, then 15, in what was to be the first of many racy ads. "Do you know what comes between me and my Calvins? Nothing," Shields slyly intoned, simultaneously igniting outrage and Shields's career. It also had the effect of forever imprinting Calvin Klein (and those jeans) into the collective consciousness, and set the bar for all the salacious ads that were yet to come.
Brown, at 12, is younger than Shields was at the time — in fact, she's the youngest person to star in a Calvin Klein campaign — and though the tone of her ad is more reserved, it's equally star-making. Her first foray into fashion is the toast of the campaign, which also features such industry veterans as Abbey Lee Kershaw, Jamie Bochert, Julia Nobis, and current favorites like Lineisy Montero, Natalie Westling, and Mica Argañaraz, among others. And from early reactions, it seems that the ads have firmly established the young actress as fashion's latest darling.
Calvin has always had a knack for exalting young talent. In the '90s, there was Kate Moss, who, at 17, starred in the infamous Obsession campaign. At the time, the future supermodel was far from a household name. But that was about to change: Shot by her then-boyfriend Mario Sorrenti, the boundary-pushing ads featured Moss, by measures topless (nipple freed) and sprawled on a couch. "He was obsessed … He basically shot me like that for ten days," Moss told Nick Knight in a recent interview, remembering the experience as the beginning of the end of her romance with the photographer. "We split up after that."
Moss would become synonymous with Calvin Klein's fresh-faced, if subversive, aesthetic, going on to star in ads for the highly successful underwear and denim lines, sharing screen time with Marky Mark (now Mark Wahlberg) for the latter. Those ads were the stuff adolescent fantasies are made of — the two share a topless embrace, clad in the just-sagged-enough denim of the era, riding low to reveal the branded underwear above — making it a locker- and bedroom-wall pinup par excellence.
And of course, there was Christy Turlington. Her breakout moment came with the 1988 Eternity campaign (shot by Bruce Weber), which would be the first of many a successful CK collab. The 1995 Eternity ad, shot by Peter Lindbergh, was so seminal the brand reissued it almost 20 years later, and also reprised it (with Christy's husband Ed Burns in place of original co-model Mark Vanderloo) in an image by Inez & Vinoodh.
More of the many boldface names that have appeared in the ads over the years include: Patti Hansen (whipping her hair back and forth in 1979), Jenny Shimizu (crouching topless among Moss and friends in the famous CK One ensemble shot), pre–50 Shades of Grey Jamie Dornan (also topless), alternately oiled up with Eva Mendez (2009) and cavorting in jeans and nothing else with Kate Moss (2006), and Lara Stone, who originally appeared in an orgiastic, banned-in-Australia ad in 2010, and lately was seen (also NSFW) canoodling with Justin Bieber in the 2015 #MyCalvins series.
And last year's genius "I ____ in my Calvins" Series, shot by Harley Weir and Tyrone Lebon, saw the return of Moss (this time relatively tame), while upholding the brand's grand tradition of controversy. In addition to Kendall Jenner and that grapefruit pic, an upskirt shot of 22-year-old actress Klara Kristin caused especially great consternation. (Caption: "I flash in my Calvins.") Kristin's reaction? "I love this photo."
So "by Appointment," this latest entry in the pantheon of Calvin's advertising is — like Simons's tenure is expected to be — an entirely new direction for the brand. His imagery is demure, ladylike, shot in black-and-white by longtime collaborator Willy Vanderperre. The series, which promotes the designer's surprise made-to-measure collection (the American brand's answer to couture), proves that Raf's already making his architecturally elegant mark — and that his star-launching powers are, too, very much in evidence.
Today, the landmark CK billboard at Houston and Lafayette streets — the site where so many embattled images were gawked at and squabbled over — shows a softer side of the brand. Up-and-coming model Selena Forrest occupies the prime real estate. Given that previous tenants included a 1990s threesome scene, which so scandalized that it was removed, the campaign image from Simons's by Appointment collection is comparatively tame. The left side of the billboard is dedicated to a flat shot of the underwear — artistic, inert, and inoffensive — while the right features Forrest in an ankle-grazing dress with underboob-exposing cutouts. It's barefoot elegance with just the faintest reveal, leaving much to the imagination and teasing Simons's new vision of American fashion.