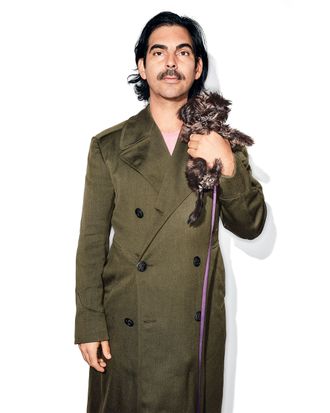 "With Zephulet, it's as if I were a naked girl walking down the street — that's how much attention I get."
Photo: Bobby Doherty/New York Magazine
Mark Maurice, Technology Consultant
What a cute dog!
He's a toy Mi-Ki, a breed that was supposedly created in the 1980s as therapy dogs for Japanese businessmen. My favorite movie is Labyrinth, I collect marionettes, and I love the formality of Downton Abbey, so I look at a dog like this as a living performance, a fantasy creature, or a thing of excess. His name is Zephulet, who was said to be a famous ghostwriter. The only person who's ever known who that is was a retired guy who stopped me on the street from The New York Times Magazine or The New Yorker, I don't know the difference anymore.
Do a lot of people stop you guys on the street?
All the time. So many women. My dating life has doubled. If you have a life that consists of puppets, golf, and cigars like mine does, it almost guarantees you'll be single. With Zephulet, it's as if I were a naked girl walking down the street — that's how much attention I get. It's almost annoying. A few years ago, I would have been begging for this, but now it's like I don't want to talk about how old he is, whether he's going to get any bigger, or if he's going to change color, you know?
Lightning Round
Neighborhood: Noho.
Favorite restaurant: Candle 79. "I've been in an ongoing fight with myself for 20 years over whether or not I'm a vegetarian."
Favorite book: "I love Lolita. I read it every two months or so."
Favorite street: "I like little nooks like Jersey Street or Minetta Lane or Grove Street."
*This article appears in the February 20, 2017, issue of New York Magazine.