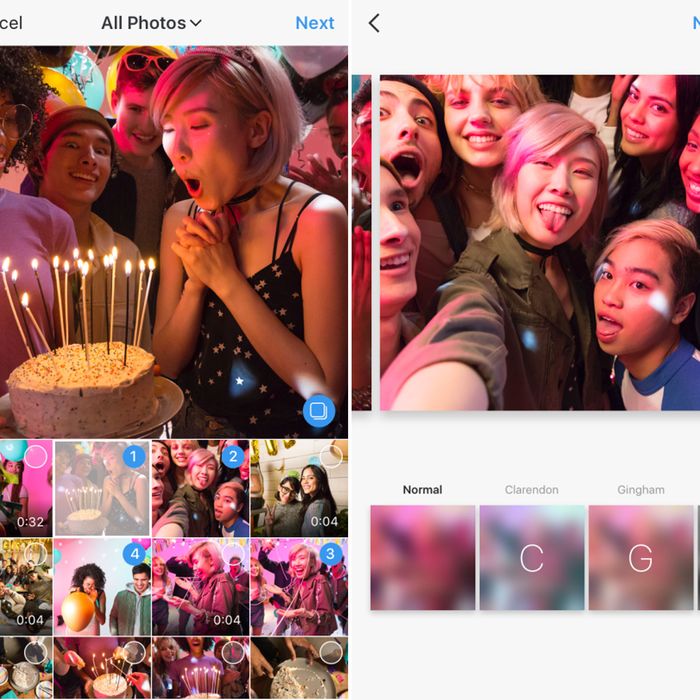 Select up to ten photos and add to a single Instagram post.
Photo: Courtesy of Instagram
Yesterday, Facebook-owned Instagram released a new feature for the photo-sharing app. You can now share multiple photos and videos (up to ten!) into one post, and slide through them like an album. The different parts of the post can get different filters, but the post as a whole shares a caption and location tag.
Since the carousel-style feature has rolled out right before one of the biggest fashion nights of the year (the Oscars), we suspect many makeup artists and stylists will be rounding up the looks they worked on so they're all in one place. This may seem like content overload to many, but there are several reasons that this update could possibly be life-changing. For example:
• It's your friend's birthday and she looks fantastic in a photo in which you were mid-sentence, and the photo where you look your best she … doesn't. You can share both with the world!
• You've started a potential stop-motion video career, but haven't quite nailed the software. Just put the photos in an album and have your followers swipe through.
• As Instagram states on their blog, you can share a step-by-step cake recipe. Or a cocktail recipe. Or a pizza recipe. This is great for recipes.
• Five of your friends are convinced they do the best impression of Little Edie, so you record them all in an album and have the public vote.
• When you have a life-changing experience and want to share before and after photos (dyed your hair pink, tried your first Cronut, returned from a breakup retreat) side-by-side.
• All of your selfies are good.
• Instead of posting photos of your cat every day, take one photo every day for ten days, and post ten-day interval albums!
• After weeks, you've nailed a coveted reservation and you need to share each and every photo of the tiny items on the 22-course menu.
• One of the best things that you can use this feature for is sharing ten photos of a memorable trip, rather than worrying about choosing one that sums up how life-changing and beautiful it was without filling your feed!