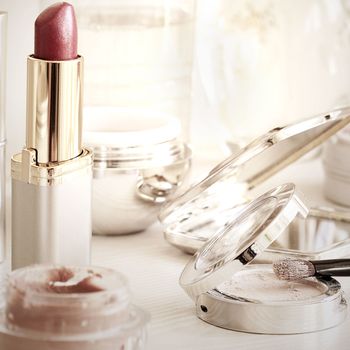 Get Sex Diaries delivered every week.
New York's Sex Diaries series asks anonymous city dwellers to record a week in their sex lives — with comic, tragic, often sexy, and always revealing results. This week, a fashion-industry professional whose mother paid for her recent plastic surgery: 23, straight, single, Downtown Brooklyn.
Day One
6:45 a.m. Alarm blares. Adderall, coffee, Lululemon leggings. I walk to the gym in Dumbo and get in a half-ass workout. If we're being honest, everyone else at the gym is so ugly I don't care how lazy I look.
11 a.m. I re-read a text Patrick — my most serious "not-relationship" — sent last night. Still ignoring it. He could treat me better, but because he's Ivy educated and oozes "trust fund," I think our concepts of "nice" are different. He's very entitled. Still, I'm in love with him and want to show off my new boob job, which he hasn't seen yet. Patrick and I met in Vegas a year ago. He's 25, two years older than me. I was on senior spring break with my sorority sisters (seriously). I kissed him at a pool party, then I made him Venmo me $350 to cancel my flight home and stay with him one more night. Now we both live in New York and the Vegas shine has dulled. Patrick is hilarious and outgoing, with a perfect body and a stupidly nice apartment. He told me a month ago that he doesn't want a serious relationship, which really hurt my feelings. I'm still keeping him in the mix, just in case, but looking for a serious relationship … specifically one that ends with us living together in a mansion in Connecticut.
11:15 a.m. Okay, mayyyybe I''ll grace Patrick's phone with a slutty Snapchat. I'm not at work today and can devote my time to my real passion: men.
2 p.m. Work on my memoir about all the men I've dated. That's my end-goal, professionally. My job as a publicist and stylist at a fashion company in the Garment District is fun, but definitely not everything. It gives me great content, though! Writing my memoirs in mansions — that's what I want in life.
8 p.m. Log onto Facebook. Creep on Cameron's profile, another i-banker. He and I have a date with this week. We met on Bumble (apps aren't my thing, but I'll let a guy slide in once in a while). Cameron's profile says that he's from Texas, which means my bottle-blonde hair will do half the work for me.
Day Two
7:15 am. Photo-shoot day at work. I wake up to a million texts from my super-glam but crazy fashion-designer boss, Jennifer: "The model is a size 8. We don't have enough shoes." I pack a bag of seven pairs of my own shoes and figure out how to lug them to the studio. With my boob job, I'm still not supposed to lift anything. Jennifer asks if I can also do the model's hair … ?
9 a.m. Luckily my skills as a girl translate into professional hair expertise.
10:30 a.m. Lights, camera, hot model, let's fucking go!
2:10 p.m. "And what will you have for lunch, Jennifer?" the photographer asks my boss. "I'm just going to go downstairs and have some fresh air," she says.
5 p.m. I take a few Snapchats of the model on set and post them. The boys I'm dating love this fashion shit.
7 p.m. The texts start avalanching in. Patrick asks how the shoot is going. Evan, another Ivy guy and family friend, says the model stole his look. Andres, a younger architecture student in California that I fuck, tells me the model has nothing on me. Compliments and attention after a long day — I'll take 'em.
Day Three
10 a.m. Work, work, more work. Fashion is like being in love with a beautiful girl who will never fuck you, but lets you smell her hair every once in a while.
2 p.m. Sometimes I'm amazed at how frivolous this job can be. Is that white charmeuse silk too yellow? Does that Instagram picture fit our aesthetic?
5 p.m. Cameron, the banker from Bumble, asks to do dinner and drinks tonight — Italian in Soho. Yum, yes!
I'm from Charleston in South Carolina. My mom believes I should be southern, sweet and hot. She was the one who encouraged (and paid the $10,000 bill for) my breast augmentation after graduating. I wasn't really sold on it, but Mother knows best, right? I had them done in my hometown two months ago and went from a B to a D, nothing drastic, what my surgeon called a "sophisticated, low-key addition." People where I'm from have no taste — I had to beg my surgeon to keep them relatively small.
7:50 p.m. Cameron waits patiently at the table. He's six-foot-three of Wall Street dreamboat in a blue linen button-down that shows off his Texas-size biceps. "Do you like red?" Yezzir! We split a bottle and gnocchi. Cameron has an older brother, conservative values, and parents who aren't divorced. My southern mother would be so proud.
I'm from Charleston in South Carolina. My mom believes I should be southern, sweet and hot. She was the one who encouraged (and paid the $10,000 bill for) my breast augmentation after graduating. I wasn't really sold on it, but Mother knows best, right? I had them done in my hometown two months ago and went from a B to a D, nothing drastic, what my surgeon called a "sophisticated, low-key addition." People where I'm from have no taste — I had to beg my surgeon to keep them relatively small.
10 p.m. After dinner, Cameron and I have more drinks at a French bar he picked because it shares my name. This kid is good, he did his homework. I'm not even bothered by the bratty French cocktail waitress who judges Cameron when he orders two absinthe cocktails. Cameron asks lots of questions, is polite and handsome. I like him, but as with all bankers there's an underlying sliminess I just can't shake.
11 p.m. Cameron and I are making out on Houston! Sliminess aside, this is fucking amazing. Someone give my boobs and me a medal. I keep it classy and hail a cab for myself. Call me old-fashioned, but I don't sleep with guys I actually like.
11:15 p.m I start mentally comparing Cameron with Patrick in the back of the taxi. Cameron is super hot, basic, and semi-predictable. Patrick is an emotionally unavailable nerd, brilliant, and average looking. These feelings are too much to handle and besides, I'm not done partying. My friend Jameson is out in Greenwich Village with his colleagues. This cab driver must think I'm such a slut.
11:30 p.m. Drinking for drinking's sake with more bankers. I am a creature of habit! Jameson and his big blue eyes are steady on me so I fall into them. We get beers, then get yummy cheese pizza and head to his place in Hell's Kitchen.
1 a.m. Nothing happens with Jameson. He just fondles my boobs for a bit.
Day Four
5:45 a.m. Jameson spoons me. He's cuddly, basically just a friend. Whatever. I make him get up for work. "I'm so happy we finally got to do this," he says to my breasts.
8 a.m. Another day, another morning Uber ride home.
10 a.m. My boss is being interviewed at Sirius XM today! Cool shit. I'm allowed to come with because humble brag, I made it happen. Howard Stern checks me out in the studio lobby. Life is complete! Hungover, but happy.
6 p.m. Sneak out of work, crawl home, die happily in bed.
Day Five
5 p.m. My BFF Alexandra is here from Florida! She's excited to be in a metropolis. I'm excited to have her in town; New York girlfriends get grating at times.
7 p.m. Beers! Alexandra and I meet at a small basement bar in Greenwich Village. Ugh, missed her. She's so pretty and loving and actually has on lip gloss and her hair is blown dry, nothing like NYC girls. Note to self: lip gloss and trying more.
8 p.m. Tuna poke and wine at the Lucky Bee on the Lower East Side. Alexandra wants to meet "daddies" this weekend. Challenge accepted.
11 p.m. Head home early, we have a big day planned tomorrow.
12 a.m. I'm such a good friend … I text every Manhattan male in my phone asking about their plans for tomorrow. Any cute friends for my girl in town?
1 a.m. There are a few biters, including Cameron and Jameson. Patrick's off skiing with friends. Why didn't he invite me along?
Day Six
11:15 a.m. Alexandra and I get coffee and macarons, then explore Lincoln Center.
2 p.m. Walk her through Central Park. Snow!
2:30 p.m. This walk has become a boy hunt.
2:35 p.m. We saunter into Tavern on the Green. With the cream marble, glass windows, and snow falling … MY GOD! This place is so New York. A svelte older man in fitted khakis and Bean boots stops us in the lobby. I caught him off guard, I can smell it. He smiles big and goofy and says, "Hi!" The doll of a hostess does us a favor and seats us at the bar right next to him and his friends.
3 p.m. Sticky buns, mimosas, and a game of Cat and Mouse to see who makes the first move.
3:15 p.m. Khakis & company are Europeans. Alexandra is smitten; I am indifferent.
3:30 p.m. We are now on the Euros' bar tab and Alex has — somehow — already made out with two of them. I love NYC because there's always a sexy foreigner in a tourist bar who's happy to keep a blonde girl company.
5 p.m. Now I'm making out with Khakis in the snow. He's 41 (my oldest yet!), lives in Amsterdam, and has the most precious accent! He also has two cats … and a wife.
6 p.m. Alexandra has now kissed three of the Dutchmen. I'm getting bored. Time for a change of venue. "Come to our table at the Box later!" the Euros insist.
9 p.m. New bar, new boys. These are red-blooded American hedge-fund guys (yay!).
12 a.m. A thousand beers later and I can barely stand, but Alexandra and I are going to the Box.
2 a.m. Dancing on tables near the Dutchmen.
3 a.m. Kevin, hedge-fund guy, and friends from the last bar have stalked us to the Box. Stalking is a new level, but I'm ready to be so drunk in his bed. In the cab home, Alex leans over and says, "Are you going to tell him?" "Tell me what?!" Kevin asks. "I just got new boobs!" Kevin melts. Thanks, Mom!
Day Seven
10:30 a.m. Kevin and I wake up fully clothed in his UES loft. Morning sex!
10:45 a.m. Oh my god: 30-year-old men are so much better in bed than 20-year-old men! We fuck twice. I pull my silk cami off and suddenly Kevin is sitting on my chest, dick between my breasts. This is new! He swings me on top of him after and I make him watch me and my new breasts ride him. I could do this forever.
12 p.m. Byeeee, Kevin! I'll never see him again, which is fine — but the southern girl in me is a bit shameful. That's New York, though. I locate Alexandra in Fidi. Hangovers equal bagels.
2 p.m. Lox and schmear on an everything from Russ & Daughters. We eat the bagels in the lobby of the Indigo Hotel like degenerates.
2:15 p.m. "You girls want to share those bagels?" Two handsome blond guys stop to chat on their way off the elevator. They ask for my number and want to party later. These boobs have changed my life! But I can't go back out tonight.
5 p.m. Brooklyn. Bed. If I dared drink again I would die … but I'm the reigning queen of NYC now. Alexandra takes off for the airport. Forty-eight hours with her was not enough! Patrick texts to see what I was up to this weekend while he was out skiing. I send him back pictures of us doing lines in the bathroom at the Box. Unsure if these escapades are getting me any closer to having a mansion in Greenwich with Patrick, but they do make fantastic memoir content.
Get Sex Diaries delivered every week.
Want to submit a sex diary? Email sexdiaries@nymag.com and tell us a little about yourself.