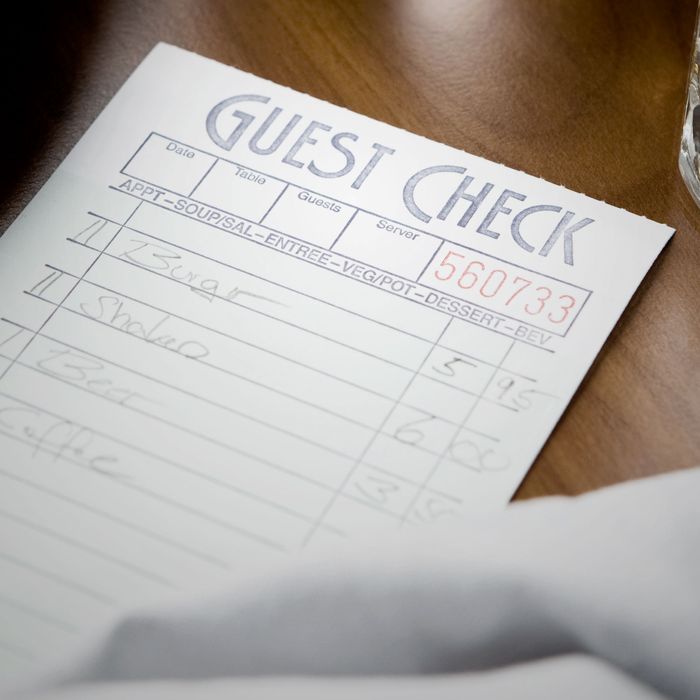 Get Sex Diaries delivered every week.
New York's Sex Diaries series asks anonymous city dwellers to record a week in their sex lives — with comic, tragic, often sexy, and always revealing results. This week, a 40-year-old man who works in the food industry and finally feels mature enough for a serious relationship: straight, Cobble Hill, single.
DAY ONE
9 a.m. I wake up whenever I want to because, well, I don't have kids. I don't take that for granted! I'm the only guy I know without kids by now. I'd love to have some soon, by the way.
I have a date with a nice lady tonight so I decide to hit the gym. I don't know what one has to do with the other, but it seems like a good idea.
10 a.m. I'm at Equinox. There are some attractive women here. They're all married. Why do women wear huge diamond rings to run on a treadmill? Ass sweat and Tiffany's — odd combo!
Noon Now is a good time to explain that I'm between jobs. I ran a restaurant that recently closed. I was the GM; a lame title for the guy who did fucking everything. After that closed, I spent a few months cleaning my life up. As in, quitting drinking, quitting fucking (as much as I'd been), quitting treating myself like shit. Lately I'm feeling great and ready to find a new job, possibly a girlfriend. One day at a time.
2 p.m. I am neither a chef nor a foodie, but I know how to make a motherfucker of a turkey sandwich. It's all about the aioli.
4 p.m. Some light flirtatious texting with tonight's date, Melissa. I don't know much about her at this point. She could Google me and find out a lot about me, and I'm sure she has. Doesn't everyone Google dates these days? Well, unfortunately for me and my romantic life, someone wrote about my failed restaurant and my drinking problem, calling me "a mean drunk." I can't get it off the internet so I just have to live with it. My mom is not proud. Anyway, I met Melissa at a yoga class in Williamsburg. She's a lawyer covered in tats. Cool mix. I pick a little bar/café I like in Cobble Hill.
7:30 p.m. Beat one out in the shower, just before a date. Standard.
8 p.m. Melissa is there before me, looking beautiful. I think she has a luminous aura.
8:15 p.m. I order a tea. Turns out she doesn't drink either. Nice. We talk about everything right away. She broke up with a serious boyfriend about two months ago. I haven't had a serious girlfriend in almost five years, not since I was 35.
11 p.m. We had a great time. The only thing was that she got weird when we were kissing after the date at another "romantic" bar (more tea!). I asked if she wanted to come back to my place and she seemed offended by that, or offended by something. Then she kind of shut down and hopped on the subway. I hope she liked me. I liked her.
DAY TWO
10 a.m. Boom, another late start.
10:30 a.m. I get my coffee and eggs ready while listening to podcasts. Today it is that Death, Sex, and Money one, or is it Money, Sex, and Death? It's an older one, and they're interviewing one of the girls on Veep. Which is better than one of the girls on Girls — that show makes my soul hurt. I hate that show so much. They are all the worst.
11:30 a.m. Melissa texts. This one is for the books: She says she had a great time but next time "no splitting the bill!" WHAT? Mind you, I don't even remember splitting the bill. Maybe the final bar, we did. But honestly, I thought I paid? And if we did split, I am almost positive it's because she insisted. I admire the balls on her, and by balls I mean honesty. Quickly, though, I start to feel turned off about the whole thing and don't text back. I am not a cheap bastard. I might be unemployed, but I made a lot of money consulting for a corporate brand last year and saved a lot of money.
5 p.m. I miss happy hour. I might drink again. Just not today.
DAY THREE
9 a.m. I'm already at the gym. Swiping left and right while speed-walking on the treadmill. Got some old-school hip-hop Spotify playing. I match with someone on Tinder who is exactly my type. Paula. She's black, sassy, artsy. I send her a note and turn up the music.
10 a.m. Chatting it up with Paula. She's been separated from her husband for about a year. Three kids, all under 10. Interesting. I'm down. We make a date for tomorrow. She lives near me; we both love the same places.
9 p.m. I took a couple meetings this afternoon. It's all shit. The future is bleak. I went to Cornell for this stuff but that doesn't help much — and my lousy attitude doesn't help at all. Trying to snap out of it. I have therapy tomorrow.
11 p.m. Watched Loving. Super-beautiful film. Feel melancholic as I fall asleep.
DAY FOUR
8 a.m. Early therapy sesh in city. Grab a strong coffee at Everyman Espresso first.
10 a.m. I like my therapist. Been seeing her for a few months. Quitting drinking wasn't that hard. It's managing my grumpy attitude that I struggle with. Being happy and sunny doesn't come easy to me. We talk a lot about my upbringing — which was pretty good, actually. It's hard to pinpoint the culprit. I don't believe in antidepressants. Plus, I don't think a limp dick would make life more cheerful.
7:30 p.m. Paula and I are playing the most epic version of "Would you rather!?" I ask: "Would you rather blow Trump or get eaten out by Pence?" I'm a classy man. But hey, she is laughing uncontrollably. She's a high-school teacher, which I find incredibly sexy.
10:30 p.m. I PAY THE BILL. Kiss on the cheek good night. I walk home, as does she — different directions. I kind of want to pretend I'm in the movies and turn back around to kiss her dramatically … but I don't.
DAY FIVE
11 a.m. Helping a buddy out on a film set today. It's an indie film and he needs me to be a "hot guy standing at the bar brooding." Um, I can maybe do that. I don't have to speak, thank goodness. I ask another fake actor to take a picture of me at my post. Paula told me to do that for her. I send the picture and put my phone away.
4 p.m. When I look at my phone again Paula's texted back twice. One time with those red kissy lips and then the fist-pump emoji. The second time with a selfie of her and her youngest one. IT IS ADORABLE.
8 p.m. I'm pretty tired. I text Paula to ask when I can take her out to dinner. Kids are invited too, I let her know. She says that's cool of me to offer but that she'd prefer some kid-free time and can meet up two nights from now. Excellent.
DAY SIX
Noon I get a job offer. It's for a new restaurant in Greenpoint. The chef has a great reputation. Hours are rough but pay is good. I accept right away.
4 p.m. I can't say I'm doing cartwheels over the job. I'm pretty much over the restaurant industry. But being unemployed makes me feel so bad about myself, at least this can transition me out of that. I start tomorrow. But I'll be done in time for dinner with Paula.
7 p.m. My ex works in the food industry too and suddenly I have a weird pit in my stomach, thinking about her and all our overlap. We broke up because things just got crazy. We both partied too hard. We both fucked around on each other. It was either so good or so bad. Extreme highs and lows. Then she left me for a successful chef in Atlanta. Last I heard, they were engaged but I honestly have no idea. I just hope she isn't anywhere near me, certainly not at my new job tomorrow. I would like to be with someone again. I feel ready and willing. Mostly, I feel mature enough to handle a solid relationship with the care it deserves.
DAY SEVEN
7 a.m. Good morning, working world! I have not missed you.
9 a.m. Today is an introduction to everyone and everything. No issues yet. Cool place. The chef seems warm and normal. He has a wife and kids, which is always a good sign (he has a life).
5 p.m. Short day because the resto isn't officially open and won't be for a few more days. Some of the servers gave me dinner ideas for tonight. Grateful for that. I text Paula the place I decided on — great pasta, nice pours of wine.
8 p.m. When she shows up, it's obvious that we're both pretty tired. I really try to rally. I don't want my low energy to come off as disinterested. I am the opposite of that. To tell the truth, I haven't been able to stop thinking about her.
10:30 p.m. Dinner was really sweet — she made a big deal about my new job and had the waiter bring over two glasses of Champagne. After dinner, she invites me to her place. (Kids are with their dad.) I happily go. Not tired anymore!
Midnight We made love! Don't laugh. That's what it was and it was incredible. I feel a real connection to her. Tonight, I am a very grateful man.

Get Sex Diaries delivered every week.
Want to submit a sex diary? Email sexdiaries@nymag.com and tell us a little about yourself.