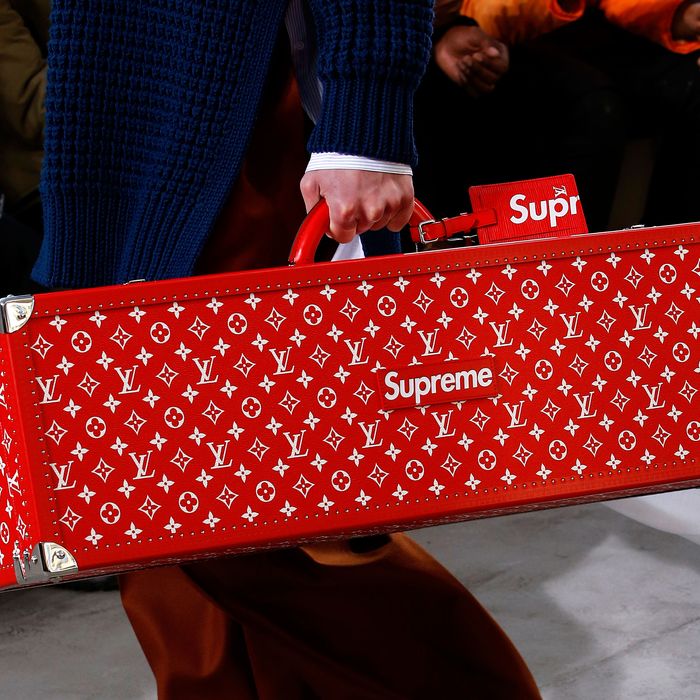 Photo: Estrop/Getty Images
In January, at the Fall 2017 men's show in Paris, super-serious luxury company Louis Vuitton debuted a runway collection in collaboration with the famous skate-brand Supreme. Comprised of a whopping 23 pieces, it included a denim jacket ($1,974), a duffel bag ($2,345), and travel trunk ($6,171) — and the repeating LV monogram emblazoned with Supreme's red-box logo. Menswear blogs went bananas. Hysterical critics called it a "murder-suicide" for two brands that had a famously contentious relationship. Seventeen years ago, Supreme made skate decks that bore more than a passing resemblance to LV's signature monogram design. Although the decks were beloved by collectors, Vuitton sent a cease-and-desist. But the collaboration makes perfect sense if you look at the trajectory of both streetwear and luxury, and these two brands in particular.
Supreme may technically be a skate brand, but it operates much more like a luxury fashion label. In fact, Vuitton and Supreme share more than a few marketing strategies. Both traffic in scarcity. Both have harnessed cool through well-chosen artists' collaborations (Supreme with contemporary American artists Marilyn Minter, George Condo, Jeff Koons; Louis Vuitton with international pop-artists Sylvie Fleury, Yayoi Kusama, Takashi Murakami). Both represent the pinnacle of taste — albeit in different socioeconomic strata. But perhaps the most obvious overlap is the way both Supreme and Vuitton let their simple, repetitive logos do all the work for them. A good logo, when well applied, will take you pretty far. That's why the collaboration is funny, brilliant, and a bit of a troll all at once. It's a naked admission of why people buy the things they buy. Signaling. The question of whether the collaboration benefits Supreme or Vuitton (or neither) has the whiff of out-of-touch snobbery — it's a partnership of equals.
Over the years, Supreme has steadily become a reliable player in the firmament of menswear. No matter where your tastes fall on the uptown/downtown-flashy/understated xy-plane — Supreme is cool. Except for the occasional business story, it's largely ignored by the fashion press, and eschews most advertising other than street posters. Though streetwear sites will cover "'Preme" relentlessly and breathlessly, you will rarely see the brand in fashion shoots because there's no point — the clothes sell out immediately. With weekly drops coming out in limited quantities, an avid shopper would have to set up a bot for Thursdays at 11 to have any chance of buying anything.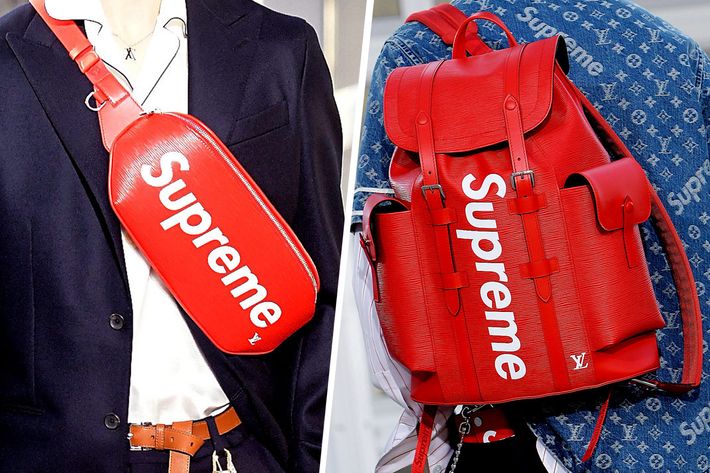 Credit for Supreme's enduring hipster-status belongs to founder James Jebbia, who, since 1994, has been a rigorous steward of the brand. British-born and notoriously press-shy, Jebbia launched Supreme in New York while working at Stüssy, another skate-juggernaut of the early 1990s. In direct contrast to the dirty, downtown skaters that first wore his clothes, the logo was clean, industrial, and referenced Barbara Kruger's bold-red-block-with-white Futura lettering ("I shop therefore I am").
Unlike brands that diluted their cachet through licensing in the '70s and '80s (Halston, Gucci, and YSL), Supreme has always been fastidious about controlling its product and image. "Supreme followed that old-fashioned concept of staying the course," says Cathy Horyn, the Cut's fashion-critic-at-large. "It never looks like it's trying too hard — it has authenticity and isn't over-merchandised or overproduced because anytime you overproduce, you're in trouble."
There are only ten Supreme stores in the world — six in Japan, one in Paris, one in London, one in Los Angeles, and the original in New York. Contrast that with the 3,300 Gaps worldwide — and more than 500 Burberrys (not to mention the myriad department stores and online merchants where you can find the brand.) Jebbia has said that if he knows Supreme can sell 600 pieces, he will make 400.
That mentality of growing a business incrementally, of fiercely controlling where product can be obtained, of shrouding yourself in secrecy (Supreme didn't respond to multiple interview requests) is anathema today. Nowadays, brands become flush with venture-capital funding, inundate us with Facebook ads, and compete for more "followers," a better mobile experience, and additional SKUs until it's finally time to cash out. "Supreme realized that bigger isn't better — better is better," says Andy Spade, brand consultant and co-founder of Partners & Spade, and co-founder of Kate Spade. "I work with a lot of companies that are just like, 'How do we grow?' Supreme could quadruple or grow ten times in size and people would buy it — but they haven't."
"It's thinking small," says designer Steven Alan (who also opened his first store in Soho in 1994), "and resisting the temptation to oversaturate the market. But Supreme is not just a New York phenomenon — it's in Japan and Korea and China and Europe, where who knows how the numbers work out." Scarcity, though (at least in the United States), has helped Supreme weather more than two decades of upheaval in the fashion business, not to speak of 9/11 and 2008.
And yet the limited-edition model doesn't truly explain Supreme's appeal. Supreme is nothing and Supreme is everything — its very lack of design is its greatest strength. A piece of Supreme clothing is a vessel, relying on its wearer to animate it with meaning. It's why the same Supreme tee looks as effortless (and uniquely so) on Kate Moss as it does on Mike Tyson as it does on Neil Young as it does on Kermit the Frog. "It's very subtle," says Alan. "I think the ostentatiousness of a lot of luxury brands are getting challenged, even when they used to be popular in, say, Japan or China. But with Supreme, I can wear it; my son can wear it. That is a very difficult thing to do."
If Hermès is caviar and Uniqlo is celery, Supreme would be butter: a luxury item with a populist sensibility that enhances whatever it touches. Supreme x Levi's. Supreme x Nike. Supreme x Undercover by Jun Takahashi. Supreme x Comme des Garçons. But nothing has been on the scale of Louis Vuitton. It's clearly a flash point in the history of a brand associated with authenticity and rebellion — collaborating with, perhaps, the ultimate symbol of the men's luxury establishment. Guy Trebay called it James Jebbia's sellout moment. Vogue.com lamented that pieces in the collection were so expensive that Supreme had lost its gritty, of-the-people allure (debatable considering that most people wearing Supreme likely bought it at a huge markup from the resale market, where a $40 T-shirt can go for $100 to $1,000). These arguments, however, misunderstand Supreme's appeal, especially for those who buy, wear, and collect it. They're not here because the brand is affordable. To them, Supreme is hip-hop. The irony, of course, is that Louis Vuitton is now often associated with hip-hop stars, too. Nearly two decades before Kanye declared himself the Louis Vuitton don, Sir Mix-a-Lot was calling out fakes with "Swap Meet Louie." So, it seems, high came to low and vice versa.
"It's the subversiveness of it," says Spade. "That's what the LV thing is. It's that big corporate thing you'd never suspect. It's like when Bob Dylan played electric guitar and everyone freaked out. That's what you want from Supreme. Next thing you know, they'll collaborate with GE — every time I think I've figured them out, they veer left." Surprise, it turns out, is the ultimate luxury.