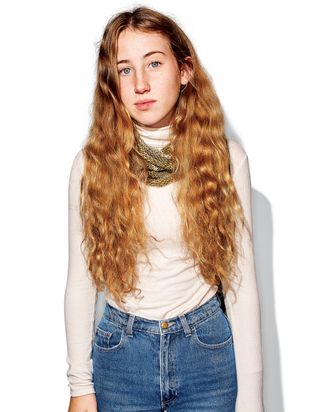 "I just got off Instagram, and I'm not on Facebook. Nobody is on Twitter. I am on Snapchat, though."
Photo: Bobby Doherty/New York Magazine
Celia Draycott, High-School Sophomore
How's sophomore year treating you?
Good, I have a free right now. I go to Saint Ann's, and there are just no words to describe it. I love it here. But I have nothing to compare it to, since it's the only school I've been to.
So what are the kids into these days?
Well, politics and social justice are huge among my friends. Especially after the election. Everything from bashing Trump to other stuff. As for fashion, the '80s are extremely in. Turtlenecks and high-waisted jeans. Patches, pins, and embroidery are huge — I recently embroidered an eye onto the back pocket of my jeans. And then for social media, I just got off Instagram, and I'm not on Facebook. Nobody is on Twitter. I am on Snapchat, though. And there's this new app called Houseparty. Basically, you're just FaceTiming with up to eight people, and anyone you're friends with can join your call. So, like, my friends and I will all be at home doing a Houseparty, and some random person three grades below will join in.
Lightning Round
Hair: "I wash it, and when it's still wet, I braid it and sleep on it."
Favorite thrift store: L Train Vintage.
Currently reading: "I just finished Hamlet."
Currently watching: "I'm always watching The Office. I didn't watch it when it was on TV, but I watch on Netflix."
Favorite street: Verandah Place in Cobble Hill. "It feels European."
*This article appears in the February 6, 2017, issue of New York Magazine.