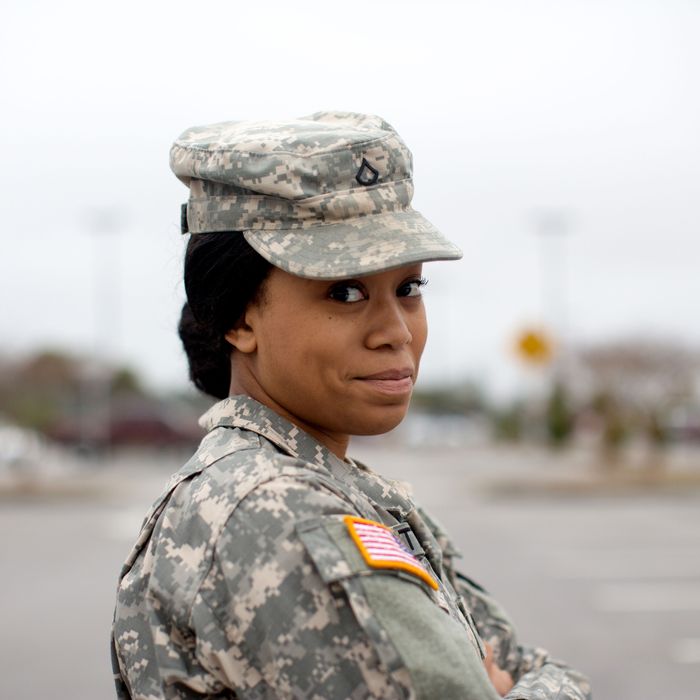 Photo: Sean Murphy/Getty Images
After coming under fire in 2014 for restrictions that limited the ways black servicewomen could wear their hair, the Army has quietly lifted its ban on dreadlocks, the New York Times reports. The change came in an Army directive issued last month that updated the Army's grooming policy, allowing Sikh men to wear beards and turbans and Muslim women to wear hijabs. And buried deep in the directive was the line, "Female soldiers may wear dreadlocks/locks in accordance with the guidance in paragraph 3-2a(3)(f) for braids, cornrows, and twists."
Although braids, cornrows, and twists were already allowed, those styles need to be taken out to give the scalp a break and to re-braid new growth at the roots, Nikky Nwamokobia, who runs a natural-hair beauty channel on YouTube, told the Army Times. Locks are easier to maintain, and they're safer and more cost-effective than the chemical straightening treatments women would sometimes resort to.
Nwamokobia, who teamed up with Marine Corps staff sergeant Cherie Wright to push for the change, said the most important part was removing the stigma around dreadlocks as unclean or messy. "I read the regulation on it in detail, and it seemed as if someone who really didn't understand what [dreadlocks] were wrote it," she said.
Black servicewomen were understandably stoked to learn the ban had been lifted — in a Facebook video, Staff Sergeant Chaunsey Logan said she could hardly believe it when a friend sent her the news. "January 5, in the year of our Lord 2017, we are now allowed to wear locks in uniform," she said, adding that she printed off a copy of the directive just to make sure it was real.
Captain Danielle N. Roach, who told the Times she got frequent straightening treatments, said the change ended "trials and tribulations" for black women who struggled to keep up with Army regulations. "I didn't think it would happen before I retired," she said. "When I heard it, I was like, 'There's no way this is real.' It's a shock to a lot of people."