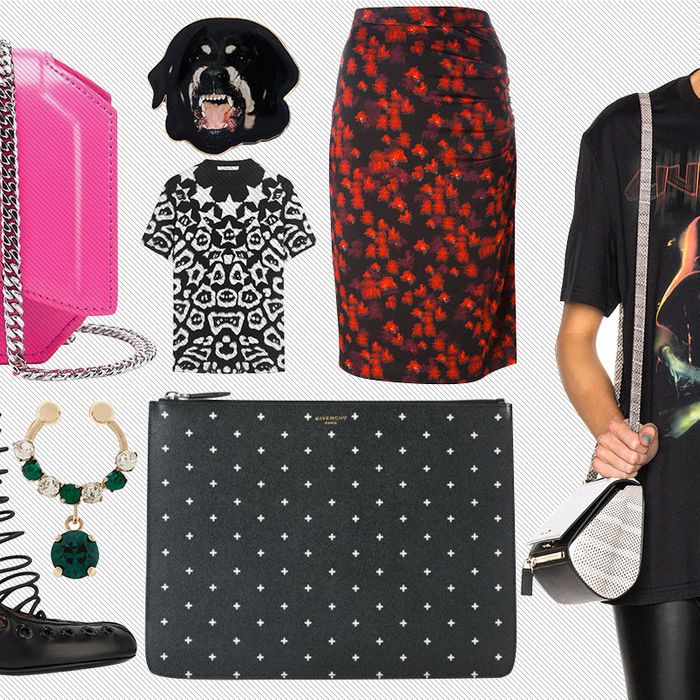 Yesterday Givenchy announced that Riccardo Tisci would be parting ways with the brand. During his 12 years at the helm, Tisci managed to promote inclusiveness, hype up streetwear and made athleisure sexy. This spring marks his last collection but before you decide to blow the budget to own a piece from his finale, take pause. His best, most iconic designs are actually on deep discount right now.
Obsessed with the Rottweiler print Tisci made a Givenchy signature? Grab a cool, oversize pin that's 50 percent off. Rather own something a bit slinkier? There's a printed red skirt that, when worn with sheer black tights, will earn you the Carine Roitfeld seal of approval. Or maybe you need something to satisfy your inner Hypebeast? There are enough printed tees to fill your closet. Scroll down to see some of our favorites that you should buy now, before he's rumored to take over at Versace.
Tisci introduced the highly street-style friendly Rottweiler print back in 2011 and it's basically synonymous with the brand since. If you want one, this oversized pin will cost you $125 which is a relative steal compared to the other pieces with the imagery.
Face jewelry for both men and women popped up repeatedly on the runway, especially oversized pieces. You could grit your teeth and get a septum piercing or just buy this faux one and save yourself the pain.
Only Tisci could make a polo shirt worthy of any Hypebeast.
Really, any of Tisci's graphic tees would be a smart purchase since it's such a huge part of what he contributed to the brand. Grab this one, wear with jeans and super-high heels.
If the other tee is too aggressive, this vaguely animal-print one is a softer way to own the trend.
Fact: At least three stylish people can be spotted during any fashion week holding a Givenchy clutch.
Strappy, sexy, and not exactly the most comfortable shoe but if you're the type to suffer for beauty, this is probably already in your shopping cart.
If you'd rather own one of his signature cone-heeled pieces, this colorful pump is a good buy. It's flashy and memorable.
Tisci loved to infuse sheerness into the simplest of pieces to transform them into something sensual, like this white blouse that's pretty much see-through save for the section over your chest.
A classic-cut blazer with just a bit of edge so you don't feel like a working stiff.
Wear it with sheer black tights or fishnets, stiletto pumps, plus a silk blouse unbuttoned to your navel, and you're basically Carine Roitfeld.
Tisci loved a slip dress, especially if it was lacy and see-through, but for most women, this is a more realistic choice that you can wear to any fancy event.
During Tisci's time at Givenchy, the brand debuted many shapes like the Antigona, Nightingale, and more. They all featured clean lines and heavy hardware like this bright-pink version.
If you buy something through our links, New York may earn an affiliate commission.