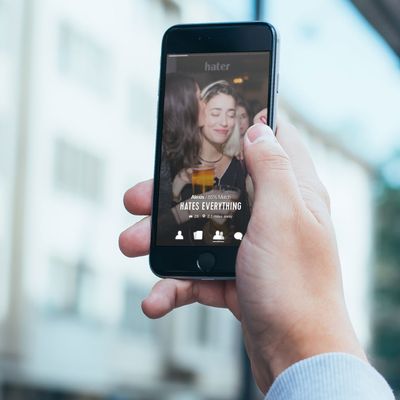 Positivity is often advised whenever you start dating someone new: Along with hiding that you still Instagram-stalk your ex's ex and consider a box of Wheat Thins to be a suitable dinner, you're also not supposed to constantly bring up things that you hate. But what if there was a different way — a way that encouraged you to get your dislike of Harry Potter and Tom Hanks out of the way early on?
Hater, a new dating app that publicly launches on February 8, flips the script of its competitors and matches people based on things that they mutually dislike. CEO Brendan Alper, 29, a former Goldman Sachs employee who quit to become a comedy writer, says that Hater was initially a sketch idea. "The more I thought about it, the more I thought 'Hey even though this was a funny idea, it actually makes a lot of sense,'" Alper tells the Cut. (On that note, I'm still waiting for Missed Connections for Assholes to be a real thing.)
A swipe-based app, Hater first has you swipe down for hate, up for love, right for like, and left for dislike or opt out for neutral (there's also the option topress down and see what percentage of people responded with each reaction). There are over 2,000 topics right now — including Donald Trump, gluten-free, camping, marijuana, butt selfies, and Taylor Swift as a person — and eventually, the plan is to add user-generated topics. (Especially considering today's political climate, they will be vetting these topics carefully, with Alper emphasizing: "We view hate speech as completely unacceptable, we have zero tolerance for any sort of bigotry or hate speech or discrimination.") After swiping through for a bit, you can see your matches, with each percentage determined by your shared dislikes.
Aside from being a gimmicky angle into the dating-app market, there are some past scientific studies that show Hater might be onto something. Back in 2006, Jennifer Bosson, a social psychologist at the University of South Florida, led a series of studies that examined how people bond via shared negative attitudes toward others. In one study, participants were asked to list one thing they liked and one thing they disliked about a fictitious character named Brad. Then they were told they would meet someone who either liked or disliked the same thing about Brad. The study found that "people who expected to meet a stranger felt closer to this person when they believed that they shared a negative — as opposed to a positive — attitude about a man named Brad."
"It's not that we enjoy disliking people," Bosson told The New York Times Magazine then. "It's that we enjoy meeting people who dislike the same people." And who knows? Maybe the love of your life hates cargo pants just as much as you do.