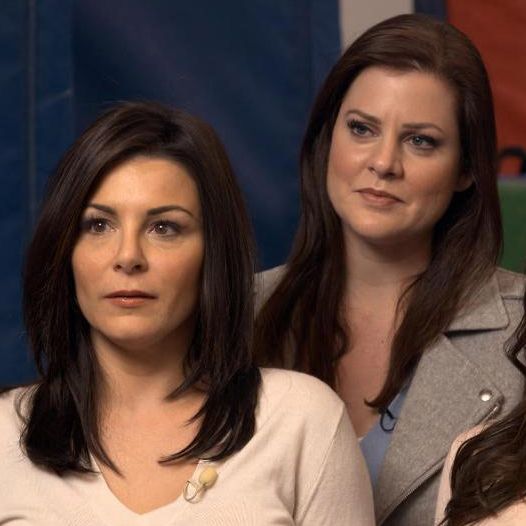 From left, Jamie Dantzscher, Jessica Howard, and Jeanette Antolin.
Photo: CBSNews
Three former elite U.S. gymnasts sat down with 60 Minutes on Sunday, publicly speaking out for the first time about allegedly being sexually abused by former USA Gymnastics doctor Larry Nassar.
Nassar is currently being held without bail in Michigan after being indicted on federal child pornography charges. He's also been accused of sexual assault by more than 60 of his former patients. Opening up to 60 Minutes chief medical correspondent Jonathan LaPook, the three women — who ranged from national champions to an Olympic medalist — spoke of turning to Nassar, an osteopathic physician, to help with their gymnastics-related injuries. Many of the appointments occurred at Karolyi Ranch, a training facility owned and operated by famed coaches Bela and Martha Karolyi.
Jamie Dantzscher, who won a bronze medal at the 2000 Olympics in Sydney, told 60 Minutes that she started to see the doctor around age 13 for lower-back pain. "He would put his fingers inside of me, move my leg around. He would tell me I was going to feel a pop. And that that would put my hips back and help my back pain," Dantzscher said. Likewise, former gymnast Jessica Howard began seeing the doctor around age 15 for hip pain. She says Nassar would massage her and tell her not to wear underwear during her appointments.
"I remember thinking something was off, but I didn't feel like I was able to say anything, because he was this very high-profile doctor and I was very lucky to be at the ranch working with him," Howard said. Jeanette Antolin, who competed with the U.S. national team from 1995 to 2000, added that she simply thought she was undergoing normal treatment — "You don't complain about treatment" — and didn't realize that the behavior was inappropriate until about a year ago.
According to 60 Minutes, Nassar has denied the allegations and called his treatment "legitimate." LaPook noted that there is a "rare therapy" for back and hip pain where specialists massage areas inside the vagina, but when it comes to minors, it is expected that the procedure would involve a chaperone and the use of a glove. However, Nassar often saw the girls alone and allegedly did not use a glove.
Attorney John Manly, who represents the women interviewed, as well as 40 others, told 60 Minutes he believes the alleged abuse has affected members from every single U.S. Olympic gymnastics team since 1996. "This is somebody who is a serial predator, but the story here is that no one was watching to protect these girls, and they put medals and money first," Manly said.