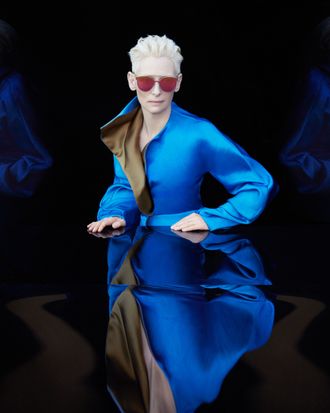 Tilda Swinton in Gentle Monster's new campaign.
Photo: Erik Madigan Heck
For a new collaboration with Korean eyewear brand Gentle Monster, Tilda Swinton designed a collection of colorful sunglasses. Launching March 1, the shades come in three different hues and styles, including thick red frames and mirrored rose-pink lenses. Swinton stars in campaign images and a sleek short film shot by Erik Madigan Heck.
In the film, inspired by Swedish director Ingmar Bergman's acclaimed drama-fantasy The Seventh Seal, Swinton plays two characters from the movie: the knight, who wears white for a fencing duel, and Death, who walks in a flowing red gown.
"Gentle Monster has always been an avid admirer of Ms. Swinton's artistry," says Taye Yun, Gentle Monster's U.S. vice-president. "Not only is she Gentle Monster's muse, but she also represents the core identity of what Gentle Monster is all about." Watch the video below.