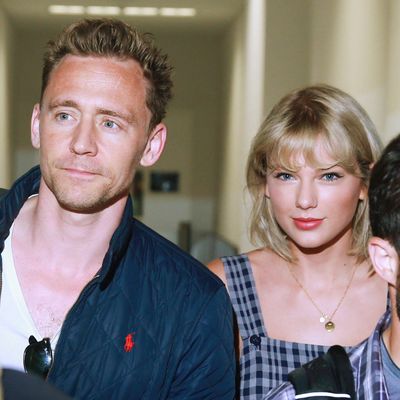 Tom Hiddleston and Taylor Swift.
Photo: Newspix/Newspix via Getty Images
Required celebrity-gossip reading for this morning is this just-published, in-depth profile of onetime Taylor Swift boyfriend Tom Hiddleston, written by the incomparable Taffy Brodesser-Akner for GQ. In it, Hiddleston addresses his whirlwind, extremely public relationship with Swift for the first time since they ended it last summer. Brodesser-Akner gets right to the point: Was the relationship real? Hiddleston says — emphatically — Yes: "Of course it was real." Then he explains why he wore a tank top that said "I <3 T.S." on it in full view of the paparazzi on the 4th of July:
"The truth is, it was the Fourth of July and a public holiday and we were playing a game and I slipped and hurt my back. And I wanted to protect the graze from the sun and said, 'Does anyone have a T-shirt?' And one of her friends said, 'I've got this.'" The friend pulled out the "I ♥ T.S." tank top that Taylor's friends are contractually obligated to own. "And we all laughed about it. It was a joke."
So that's his statement on the entire relationship: an explanation of the tank top. "It was a joke," he repeats. "Among friends."
That's not all Hiddleston has to say about Swift; in fact, he met Brodesser-Akner before her early-morning flight back to the States so he could keep explaining "Hiddleswift" and the nature of fame to her. Read the full story here.