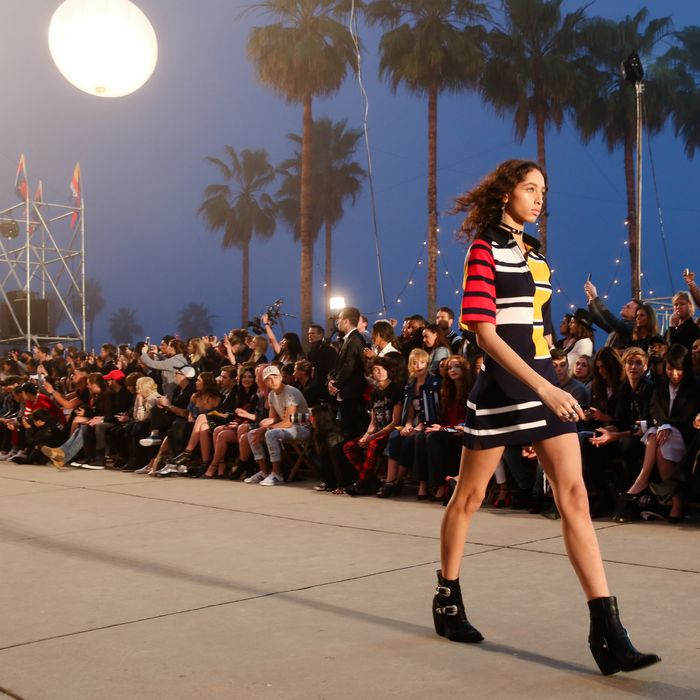 Tommy Hilfiger Spring 2017.
Photo: David X Prutting/BFA.com
Last night, Tommy Hilfiger exchanged his usual immersive New York shows — which have included a faux ski slope and beach — for the hard-to-beat reality of the Venice Beach boardwalk. Hilfiger is one of four New York designers showing in L.A. this season, and his collection had a West Coast freshness and optimism, with an Americana tinge and plenty of '70s touches, like patchwork maxidresses. If you didn't make it to the show, or watch the livestream, we've conveniently broken it down for you by the numbers.

Palm trees: Innumerable.

Hadid count: 2. (Gigi, Bella.)

Barbies in the likeness of Gigi Hadid: 1.

Planes: 1. A Tommy-branded jet filled with sweatshirted supermodels.

Stripes: Too many to count.

People who just starred in the Super Bowl halftime show: 1.

Black-Eyed Peas: 1 (Of the Fergie persuasion. Also, #FiGi is apparently now a thing).

Already-sold-out items in the collection: Reportedly, most of them.