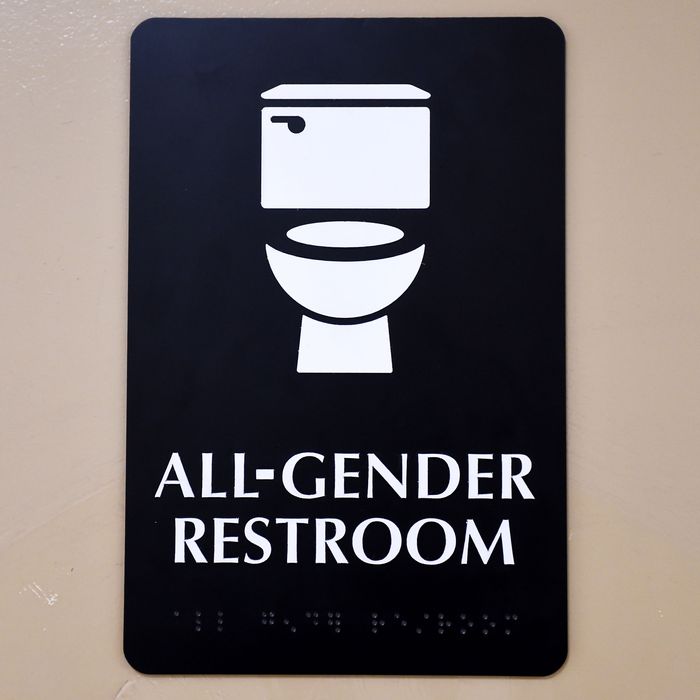 A sign outside Santee High School's gender-neutral restrooms at their campus in Los Angeles, California, on May 4, 2016.
Photo: MARK RALSTON/AFP/Getty Images
Under the Obama administration, public schools had federal guidelines specifying that transgender students must be allowed to use the bathrooms and lockers of their choice. Those memos stated that not allowing students to use the facilities corresponding with their gender identity was a violation of Title IX, which bars discrimination based on sex. On Wednesday, however, those protections were wiped clean when the Trump administration revoked the previous federal guidelines.
Officials with the Education and Justice departments notified the Supreme Court, which is set to hear a case related to the matter next month, that the administration is ordering schools to disregard the previous memos, according to the Washington Post. The new two-page memo to schools states that the Trump administration will not rely on the previously established guidelines regarding transgender rights and that more legal analysis is necessary before deciding on the matter. The previous guidelines, the memo states, were written "without due regard for the primary role of the states and local school districts in establishing educational policy."
While the new memo doesn't give any clarity as to how schools should operate with regard to the facilities transgender students use, the letter does state, "Schools must ensure that all students, including LGBT students, are able to learn and thrive in a safe environment." That statement is likely a compromise on behalf of Education Secretary Besty DeVos, who was hesitant to sign on to the language in the new memo, according to the New York Times. The new attorney general, Jeff Sessions, however, was reportedly decisive in wanting to revoke the previous guidelines because of the current court cases litigating the matter.
Reports surfaced earlier in the day that DeVos and Sessions were in disagreement over the issue of transgender rights. DeVos has had a softer, albeit quieter, stance toward LGBT rights. Conversely, Sessions has voted against protections for the LGBT community. Between the two, Session's viewpoint eventually won President Donald Trump over and as a result, DeVos eventually signed on to the memo. However, her statements signal how cautious she remains. On one hand, she declared that states and local districts should decide school policies. Yet she also ordered the Education Department's Office for Civil Rights to investigate any claims "against those who are most vulnerable in our schools," according to the Times.

Supporters of the transgender community see the issue of bathroom access in public schools as a fight over civil rights. In response, hundreds of protesters have already gathered outside the White House to denounce the administration's decision.