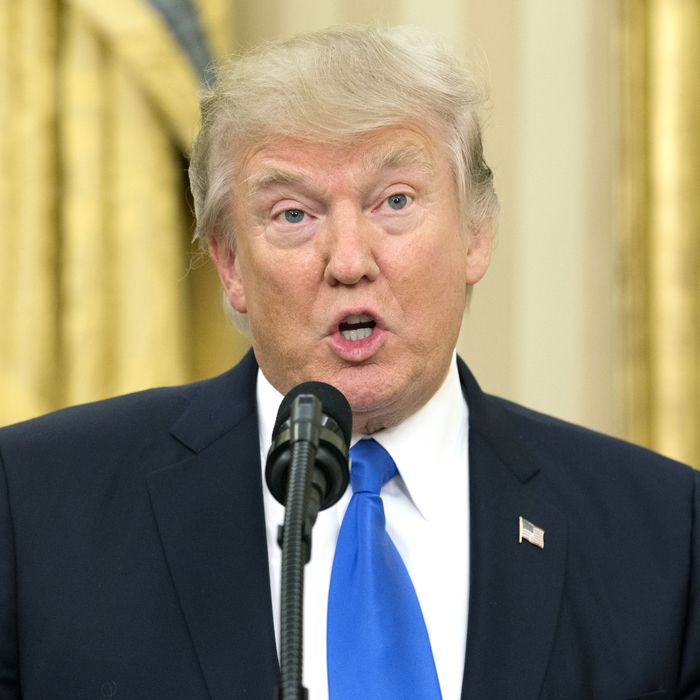 Donald Trump.
Photo: Bloomberg/Bloomberg via Getty Images
While it might not be revelatory news that a reality-TV star who decorated his house in floor-to-ceiling gold is obsessed with appearances, according to a new story from Axios, Donald Trump is fixated on how the people who work for him look.
We've already heard that he was furious with Press Secretary Sean Spicer over the ill-fitting suit he wore to his first press conference, but he apparently has a history of judging employees' dress and grooming habits.
Via a source who worked on the campaign, Trump wants his female employees "to dress like women," adding, "even if you're in jeans, you need to look neat and orderly." Though, per Axios, women who worked in campaign offices "felt pressure to wear dresses to impress Trump."
Men are reportedly not spared from the judgment either, with a source saying, "You have to be sharply dressed. Preferably, I would say, solid colors. … You should have a good physical demeanor, good stature, hair well groomed." Ties are also apparently a requirement, with a preference for wider ties. (No word how Scotch tape plays into this dress code.) Steve Bannon is reportedly the one exception from these rules.
Another small and telling detail from this story? "Aides quit trying to show him tapes of previous debates while getting ready for the next one, because he would only focus on himself — and always applauded what he saw."