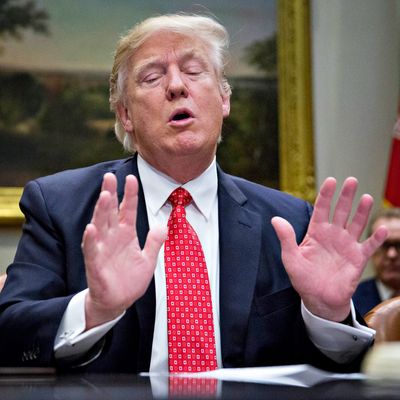 My towels are the best towels. So soft. You wouldn't believe it.
Photo: Pool/Getty Images
The early days of Donald Trump's administration have included a series of embarrassing leaks that keep surfacing about the president and his peculiar habits: For starters, he's reportedly obsessed with employees' appearances, and he's been known to wrap up his day at 6:30 p.m. for a bit of rage-tweeting and TV-watching in his bathrobe.
While we've barely had time to fully digest the bathrobe story, another small detail has emerged via the Huffington Post:
At the same time, he's registered a complaint about the hand towels aboard Air Force One, the White House aide said, because they are not soft enough.
Soft towels on the presidential plane — all the better to wipe Lay's potato chip crumbs off your large hands before you launch into another Twitter tirade about the bad people.