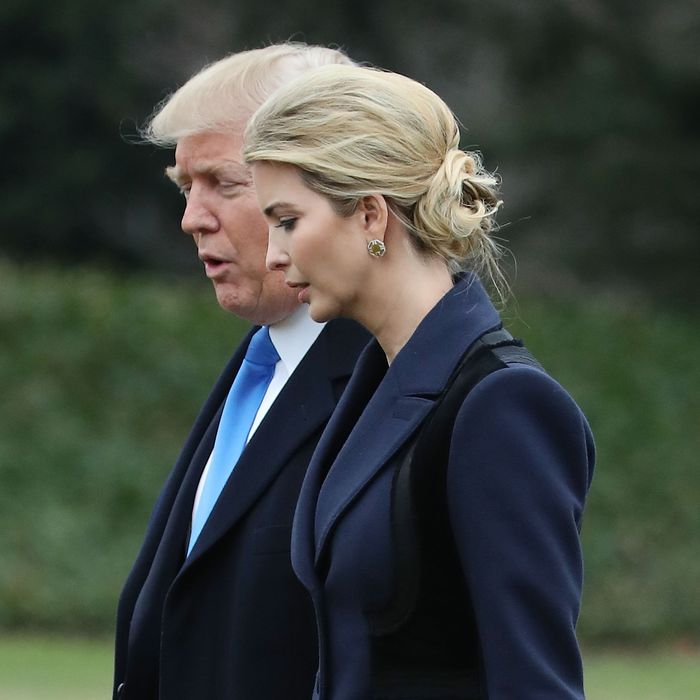 Donald and Ivanka Trump.
Photo: Mark Wilson/Getty Images
Last week, Nordstrom confirmed that they'd be dropping the Ivanka Trump brand from their stores, citing the "brand's performance." Shortly afterward, Neiman Marcus did the same — meaning the #GrabYourWallet boycott may have effectively lowered sales of the brand.
Back in January, Ivanka Trump confirmed that she'd be leaving both the Trump organization and her eponymous brand once her father was sworn in as president of the United States. This didn't stop Donald Trump from tweeting angrily at Nordstrom over the news that they'd dropped his daughter's brand.
Update: During his press briefing on Wednesday, press secretary Sean Spicer was asked about Trump's Nordstrom tweet, which had also been retweeted from the official @POTUS account. Spicer said, "He has every right to stand up for his family and applaud their business activities, their success. When it comes to his family, I think he's been very clear how proud he is of what they do and what they've accomplished. For someone to take out their concern with his policies on a family member of his is not acceptable and the president has every right as a father to stand up to them."