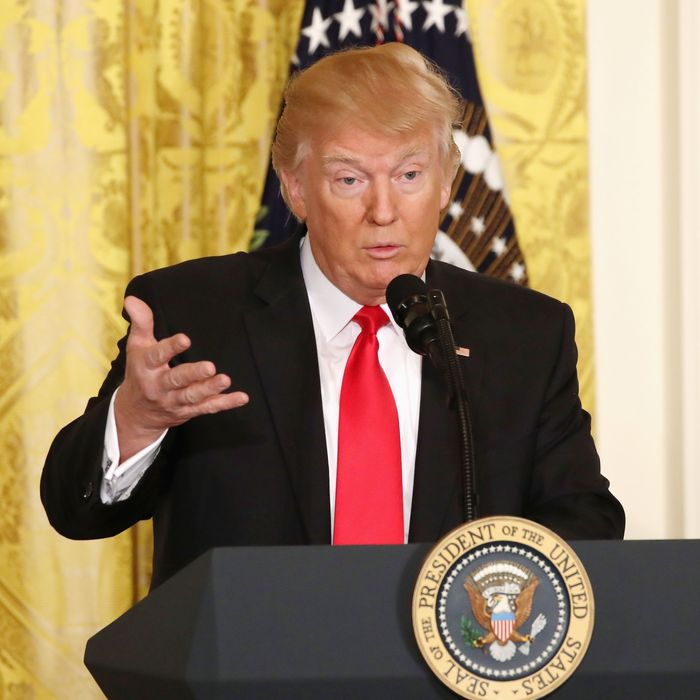 President Donald Trump.
Photo: Mark Wilson/Getty Images
President Donald Trump will issue "further guidance" on an Obama administrative policy aimed at protecting transgender students in public schools, White House press secretary Sean Spicer said during a Tuesday news briefing.
As Politico reports, advocates expect President Barack Obama's directive to be rescinded soon. The policy was designed to protect transgender students from harassment discrimination, maintaining that Title IX guarantees their rights to use bathrooms and locker rooms that align with their gender identities. During the press briefing, Spicer told reporters that President Trump believes the matter should be decided by the states.
"That is an issue that the Department of Justice and the Department of Education are addressing," Spicer said, per BuzzFeed News. "I think that there will be further guidance coming from DOJ in particular with respect not just to the executive order but also the case that is in front of the Supreme Court."
Spicer continued, "The president has maintained for a long time that this is a states'-rights issue and not one for the federal government. So will there be further guidance coming out on this? I think all you have to do is look at what the president's view has been for a long time. That this is not something that the federal government should be involved in. This is a states'-rights issue."
Politico notes that close to half of U.S. states have filed suit over Obama's guidelines, and the U.S. Supreme Court is set to hear arguments over the matter next month.