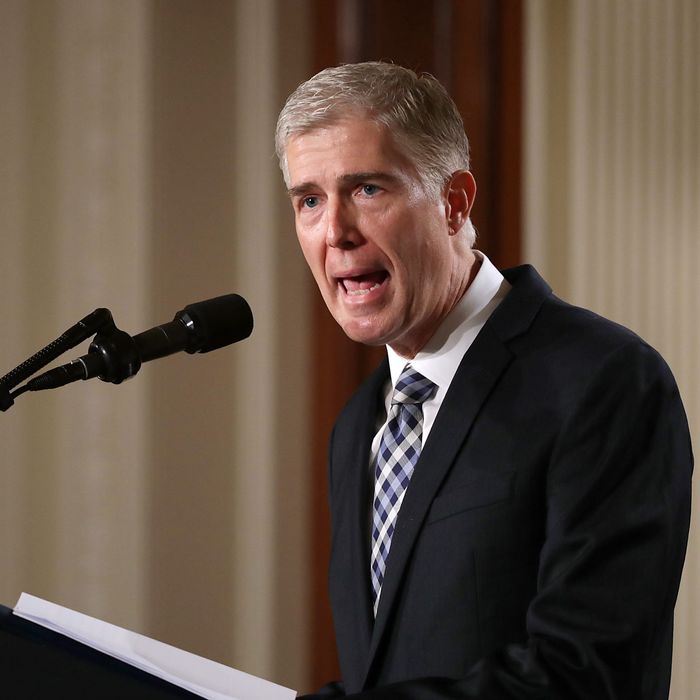 Neil Gorsuch.
Photo: Chip Somodevilla/Getty Images
President Donald Trump campaigned on an anti-abortion platform, while vowing to appoint pro-life Supreme Court justices who could potentially overturn Roe v. Wade. So it's no surprise that his nominee for the Supreme Court seat that has been vacant since Justice Antonin Scalia's death nearly a year ago — 10th Circuit Court of Appeals Judge Neil Gorsuch of Colorado — could pose a severe risk to women's reproductive rights.
Gorsuch never actually ruled on the issue of abortion while serving on the 10th Circuit, so there's no official record of his stance on Roe v. Wade; however, when you consider that fact alongside Gorsuch's conservative views on the topics of birth control and assisted suicide, it seems likely that the judge may have more anti-choice leanings, Vox notes.
As the Atlantic reports, in his 2006 book The Future of Assisted Suicide and Euthanasia, Gorsuch wrote, "All human beings are intrinsically valuable and the intentional taking of human life by private persons is always wrong." He went on to say:
"Once we open the door to excusing or justifying the intentional taking of life as 'necessary,' we introduce the real possibility that the lives of some persons (very possibly the weakest and most vulnerable among us) may be deemed less 'valuable,' and receive less protection from the law, than others."
Additionally, Gorsuch's track record of putting the religious beliefs of corporations ahead of women's health raises alarms. While sitting on the 10th Circuit, he ruled in favor of craft chain Hobby Lobby in a suit over the contraception mandate of the Affordable Care Act. The retailer argued that it shouldn't be forced to provide insurance to cover the costs of all forms of birth control, since it went against the religious beliefs of its shareholders. In his opinion, Gorsuch wrote: "No one before us disputes that the mandate compels Hobby Lobby and Mardel to underwrite payments for drugs or devices that can have the effect of destroying a fertilized human egg."
Furthermore, as Slate points out, Gorsuch recently wanted to rehear (and potentially reverse) a 10th Circuit decision that stopped Utah from defunding Planned Parenthood. In his opinion, Gorsuch seemed to give credibility to Utah governor Gary Herbert's claims that Planned Parenthood trafficked fetal tissue, while the majority of other justices on the panel dismissed the claims as political.
Therefore the nomination of Gorsuch to the Supreme Court may be deeply concerning for the future of women's health in the United States. As Jodi Magee, president and CEO of Physicians for Reproductive Health, put it in a statement, "He has a record of undermining health care access for women and is not someone who will reject medically unnecessary restrictions that endanger women."