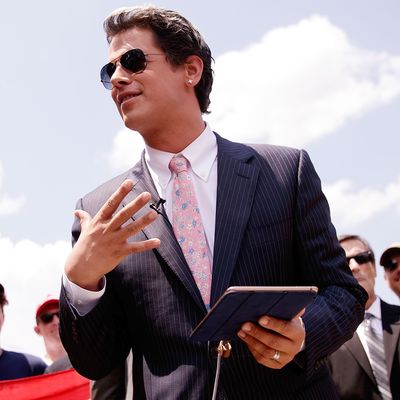 Milo won't be addressing Berkeley students.
Photo: Drew Angerer/Getty Images
On Wednesday, the University of California, Berkeley canceled a speech by alt-right troll Milo Yiannopoulos after demonstrations erupted across campus. Yiannopoulos, who's been using his campus visits to do things like mock transgender students by name, was invited by Berkeley College Republicans, who reportedly thought of his presence as a way to "jolt the liberal campus with a different perspective."
In the weeks leading up to his visit, more than 100 faculty members wrote a letter to the school's chancellor requesting his speech be canceled, but university officials defended his right to free speech, according to the New York Times. But after protesters threw fireworks and started fires in what university police called a "violent demonstration," the event was ultimately canceled.
In a statement to the Times, campus officials condemned the violence, saying it would "overshadow the efforts to engage in legitimate and lawful protest against the performer's presence and perspectives." Milo, of course, took to Facebook to rant about liberals: "The Left is absolutely terrified of free speech and will do literally anything to shut it down," he wrote.
Meanwhile, the president responded with a suggestion of his own.