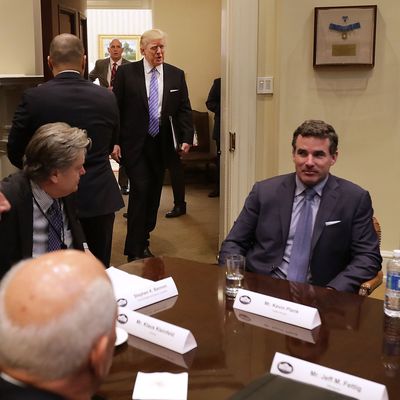 Under Armour CEO Kevin Plank.
Photo: Chip Somodevilla/Getty Images
Under Armour's CEO Kevin Plank appears unfazed by the prospect of a boycott of his company's products. Surely, the thought must have at least crossed his mind, given the swift condemnation on the internet from shoppers who lashed out against companies like New Balance, L.L. Bean, and Uber. The three businesses were singled-out in recent months for their endorsement of or association with the Trump administration and its policies. So when Plank publicly declared his admiration of President Trump in an interview on Tuesday with CNBC's "Fast Money Halftime Report," some shoppers quickly threatened to shop elsewhere.
During the interview, Plank mostly spoke about Under Armour's plans to recover from losses in sales. Yet, in his comments about President Trump, Plank didn't hold back his praise."To have such a pro-business president is something that is a real asset for the country," Plank said, adding, "People can really grab that opportunity." As Business Insider points out, Trump is seen as being friendly to big business. Trump has committed to rolling back regulations on Wall Street and recently signed an executive order directing departments to identify two regulations that can be reduced for every one that is added.
All of this, of course, sits well with Plank, who has met with Trump and other business leaders to discuss how to bring manufacturing back to the States. "He wants to build things, he wants to make bold decisions and be really decisive," Plank said, referring to Trump's emphasis on the border wall and big infrastructure. "I'm a big fan of people that operate in the world of publish and iterate versus think, think, think, think, think." Indeed, Trump has pledged to bring more manufacturing jobs back to the U.S. In that respect, Plank could likely offer some perspective. According to GQ, almost all of Under Armour's products are manufactured overseas, save some specialty products in Maryland.