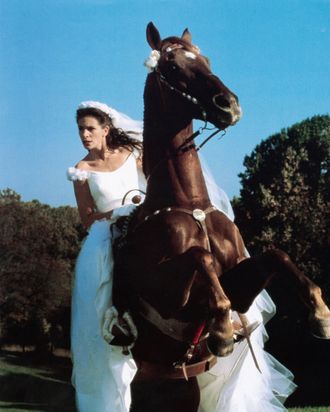 Photo: Paramount Pictures
I remember the first time someone called me a "slut." I was 15, and so was she.
Charismatic, flirtatious, and coy, this confident and deeply tanned Southern California mean girl teased me with the term as part endearment, part initiation — a code word that I was now a member of a vaguely secret society of girls, rapacious and transgressive in their sexual thoughts and desires.
But I internalized that jab as my identity.
Good girls don't think about sex. Bad girls — girls who are sluts — do.
Over the years, my inner relationship identity ("flirt," "tease," "easy," "casual," "good time"), as well as my understanding of other women's, has changed.
There was the psychiatrist who finally got me on Zoloft (thank God) and proudly told me (when I inappropriately asked if she was married) that she was in fact "single — happily single!" There was the singer-songwriter who told me The Ethical Slut was her bible and moral compass when it came to polyamory. There was the hilarious girlfriend who would always joke after sending me screengrabs of her latest Tinder disaster, "ALONE … FOREVER ALONE!!!"
And there was me. I was "single," "married," "separated," "divorced," "ready to find love," "serial monogamist," "prone to dating perpetual bachelors," "taken," "committed," "terrifying to men," "dude kryptonite," "just fun for sex," "signed up for way too many stupid dating apps," "broken," "damaged," "sloppy," "a mess," "never going to get married again," "spinster," "unfuckable," "unloveable," and, when I began this column one year ago, "unwifeable."
I liked and settled on that term and its neon glare of low status. Because I've always been a firm believer in the near-sacramental quality of personal and public humiliation as a means of setting yourself free. Say it before they can. Sure. Yes. Fine. I'm a slut. I'm a hot mess. I'm unwifeable. If I have no problem with that, then why should you? I'm not afraid of anything, least of all your stigma. That's the best you have? Try fucking harder.
But the falsity of such bravado collapsed on Valentine's a few days ago, as I unexpectedly found myself sobbing in my husband's arms after a two-hour-long therapy session that stirred and released more pain than I realized was still fermenting beneath the surface. Insecurities I hadn't broached in years.
"Vulnerability," I said to my husband between gasping sobs, "is too hard. It feels like I'm dying."
But as I spoke, I found myself stumbling upon a realization that works like a makeshift delete key on all that blurry and burdensome garbage that weighs us down as seemingly unmanageable and unfaceable pain.
What, I asked for the sake of argument, if all these tyrannical fixed relationship identities didn't actually exist? What if we saw them for what they really are? Names. Words. Nothingness. It's not exactly "loser" or "winner" or "failure" or "success," but it is a limitation, a category, a box, a jail cell of descriptive trappings.
What if we stopped seeing ourselves as a wife or an ex or a girlfriend or any kind of fixed status at all? Instead what if we saw ourselves in that very moment of where we truly are, wherever that is, as we take a hot gulping breath of air, nervous and sweaty and afraid, running through an entire box of tissues revealing our deepest triggers and insecurities and secrets and shame?
That's what happened to me as I lay crying on my husband's lap. I spoke to him about a lifetime of pain, including a sense of dread and superstition that daring to utter any of these negativities would somehow infect the air and he would see me as grotesquely as I feared others did.
Instead, there was an exorcism in honesty. I saw the words hang in the air, changing and mutating in the space of every few seconds, akin to that exciting state of "flow" that Mihály Csíkszentmihályi first coined when applied to the all-consuming peak of creative process, but right then and there, instead being applied to my relationship.
Maybe I wasn't unwifeable. Maybe I wasn't even a wife. Maybe I was a state of pure potential.
Then we were intimate. Except it was an entirely different kind of intimate than usual.
Often times, when I have sex, I have difficulty achieving orgasm unless I go outside of myself. Because, honestly, I cannot bear to be alone with myself in that raw and exposed state. Too much is at stake. Too much is revealed. And so, instead, I often go into one of those fixed relationship identities. The very first one, in fact. A slut.
I imagine myself as someone constrained in this role, limited by it, and as a result, absolutely safe within its concrete walls. Protected and impervious to fear and the possibility of being hurt. It is a tough, impenetrable shell and the armor of the label protects me from anyone seeing what is truly ugly and nasty and beautiful and in turmoil below the surface.
But after opening myself up to him and slashing and burning these self-imposed limitations left and right, the steel bars transmuted. They became flimsy notions. Cobwebs at best. Easily knocked down and torn through. There were stakes.
In fact, the reason that I called this "Unwifeable No More" is because this will be my last column while I work to complete the Unwifeable book over the next few months. It's an ode to that original identity in a way, an unpacking of how I internalized all the "un-"s throughout my life. Unacceptable. Unimaginable. Unhinged. Unwanted.
The process, like that experience on Valentine's Day, is a terrifying one — a retreat from the safety of fixed limitations. But it also feels like an escape hatch. Because what happens when the labels, identities, and limitations cease to exist? For me, it feels like a blank slate. Unstoppable, unashamed, unrestricted — unafraid to start again.